Novo Tellus is giving ISDN Holdings some uplift when it comes to telling its technology story to the market.

In the past two quarterly briefings (and broker roadshows), Novo Tellus partner Keith Toh was on the management panel facing investors.

When he took questions, he had substantive answers. (See: ISDN HOLDINGS: What Novo Tellus sees in it)


Mr Toh was appointed a board member of ISDN in May 2019 following Novo Tellus' purchase of a new issue of ISDN shares, amounting to a 6.4% stake, in March 2019. (See: ISDN: To Become No.6 investee company of Novo Tellus private equity fund)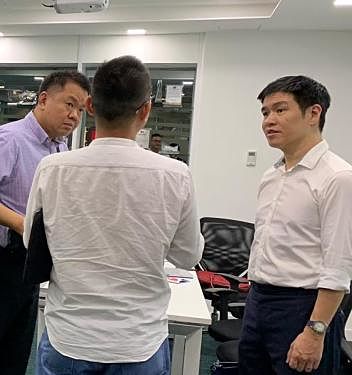 Novo Tellus' Keith Toh (right), after 2Q19 results briefing. Photo by Robin MohThe very first question at the recent 2Q19 results briefing was how private equity firm Novo Tellus, an early investor-cum-catalyst in AEM Holdings amazing turnaround story, was "helping" ISDN.

ISDN's president and MD Teo Cher Koon remarked that for the first time in 14 years since ISDN's listing in 2005, a board director (Keith Toh) has joined him or ISDN's CFO in investor engagements.

Then there's the constant communication between Mr Toh and Mr Teo.

As Mr Toh said: "CK and I are in contact every week and we have started working on a few strategic initiatives.

"Generally, we are following the playbook we have for our other investments -- build up the customer base, the technology road map, market access, and drive operational discipline, economies of scale, cost discipline and all that."

One of these initiatives is to reorganise its China business which has offices in various cities, and consolidate them. This is expected to be completed by this year-end, said Mr Teo.

And, to be sure, it would go beyond achieving cost efficiencies.

Then there's industrial software (which I don't understand enough to talk about nor, so it seems, some attendees).

(You may get a bit more insight from CIMB's report: ISDN: Catalysts include organisation streamlining, hydropower earnings)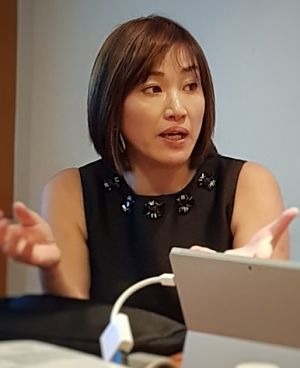 CFO Christine Ho. NextInsight file photo.To a question on accounting risks associated with operating in China, ISDN's CFO Christine Ho elaborated on ISDN's various controls and monitoring system on its trade receivables.

A centralised approach is being adopted which would be more beneficial.

Mr Toh said Novo Tellus had done due diligence on this very aspect.

In considering ISDN or any other company for investment, Novo Tellus looks to see if they have working relationships with top-notch global companies.

These global companies are expected to have done their own audits on corporate governance and other aspects of their partners.

ISDN has global partners such as maxon motor group of Switzerland, and Dirak Asia, an arm of its German parent.

Through various interactions with the ISDN board, Mr Toh reckons that it has been "very transparent to us" and it is serious about corporate governance.


Resilient but not unaffected by trade war, weaker RMB
ISDN stock price

21.5 c

52-week range

18.5 – 26.5 c

PE

13

Market cap

S$91 m

Shares outstanding

422 m

Dividend
yield

3.3%

One-year return

-4.6%

Source: Yahoo!
ISDN's 1H2019 results have been affected by the weaker RMB and US-China trade war.

• Revenue declined by 9.3% to S$147.0 million but the gross margin held steady at 25.4%.



•

Net profit attributable to shareholders was S$5.5 million, down by 44.9%.

In China, ISDN primarily manufactures and sells domestically. Its diversified customers, end-industries and geographies are helping to buffer the effects of the US-China trade war.

China accounted for 70% of 1H2019 revenue (followed by Singapore at 15%).

"The on-going trade disputes have created a negative drag on the global economy, and coupled with the weaker Renminbi, have affected our first half financial performance.

"We take some comfort in knowing that our diversified customer base has helped ISDN weather past periods of economic difficulties effectively, and is already helping to mitigate impact from macroeconomic headwinds today.

"Our initiatives to broaden our geographic footprint in South East Asian countries like Vietnam should continue to build long-term growth diversification and increase exposure to promising new high growth markets close to our corporate headquarters in Singapore.

"While we are managing the business with caution, we continue to strengthen our core business value by upgrading our technological capabilities to position ourselves better to capitalise on the powerful long-term growth of Industry 4.0 spending throughout Asia."

-- Teo Cher Koon,
ISDN's Managing Director and President

The Powerpoint materials for ISDN's 2Q19 results briefing are here.