At ISDN's 1Q19 results briefing this week, Keith Toh, a partner of private equity fund Novo Tellus Capital Partners shared his fund's views on ISDN. Novo Tellus recently bought a 6.4% stake in ISDN through a new share placement (at 20 cents apiece). Novo Tellus, in a celebrated story, invested several years ago in AEM Holdings and has helped it emerge with top-rated chip-testing solutions for its key customer, Intel Corp. (See earlier article: ISDN: To Become No.6 investee company of Novo Tellus private equity fund)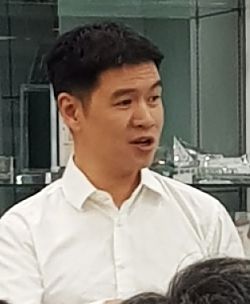 Keith Toh, 44, partner, Novo Tellus, was appointed a non-executive director of ISDN on 10 May 2019 after Novo Tellus bought a stake in ISDN.
NextInsight file photo"We are a tech-focused private equity fund. We have developed a playbook over time and it's been fairly successful for us to perform quite well as a fund.

"ISDN fits exactly what we're looking for. We look for companies that have done the hard work over many years -- that is, they have built up customers, technology, market presence, scale, profitability and growth.

"It's rare to find all of those but you have a company that CK founded and built over time and has accumulated that collection of assets.

"On top of that we try to look for companies that have those qualities and are hitched to big disruptive trends in technology – cloud computing, Industry 4.0, 5G….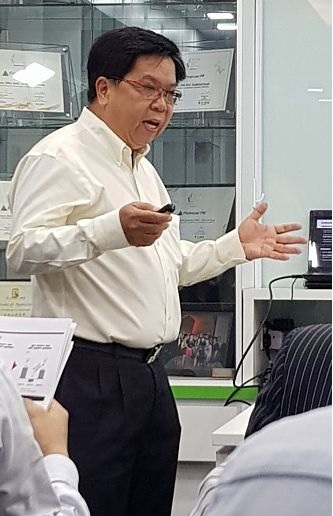 Teo Cher Koon, MD and President of ISDN Holdings. NextInsight photo."This one is very clear: As CK (photo) describes it, it's hitched directly to Industry 4.0, the transformation of Asia's industrial base. The company is very strong in China, Vietnam, Singapore with different degrees of industrialization but the big market for ISDN is China which accounts for 70% of its revenues.

"And the big theme in China, for us at least, is the automation of China's industrial base. It is an irreversible trend.

"Then we say, well, if we take that basic conviction that China will need to address labour costs, productivity and embrace its own technology ecosystem -- why ISDN?

"The answer to that to us was ISDN has access to critical technologies and as China automates its factories the demand for higher and higher end automation will begin to percolate through.

"And ISDN - we've done the benchmarking. We have a 200-page consulting report, we hired industry insiders to help us think through this. ISDN has access to that very high precision, high performance high efficiency small form-factor type of motors that seem to be where market demand must go if China's to continue advancing its economy.

"How we met the company is a good illustration of what ISDN does. We use our network for most of our deals. We don't go to investment banks -- we know technology. ISDN came through a company we know which produces industry 4.0 machines.

"It's about as advanced as you can imagine -- what it produces is about the size of this room, it's for the semiconductor industry, they run hundreds of millions of chips through it and the chips go on to power a large part of the cloud economy, the data centers, very high value chips.

"The company we were in discussion with told us, hey we recently evaluated ISDN alongside two global robot companies and they said it's just as good and so we thought we'd have to call this company.

"The specific thing they were evaluating ISDN for is in this entire room size machine is one robot arm – there're many smaller arms – but one big one and it moves tens of millions of chips and if that arm goes down, the entire machine goes down, which means the entire production line stops.


ISDN stock price

22 c

52-week range

18.5 – 24 c

PE

8.7

Market cap

S$92 m

Shares outstanding

422 m

Dividend
yield

3.1%

One-year return

-

Source: Yahoo!
"This company had evaluated ISDN as a single source supplier for that arm. They were going to the top chip supplier of the world and saying this is our machine, this is what we stand behind, this will run your operations 24/7, fully automated, and the one critical piece in here, we're going to entrust it to ISDN.

"That tells us a lot.

"We know this much about technology, and if the engineers are saying this company is at least as good as the top robotics companies, that says a lot to us about what ISDN can deliver.

"So once we met CK and started talking to his customer base, we realized that the customers are selecting ISDN for medical equipment, heart pumps -- stuff that cannot fail, critical infrastructure, high-speed rail, surgical equipment and semiconductor manufacturing.

"These are highly engineered systems and the customers are not looking for off-the-shelf things, which is why 41% of ISDN's headcount are engineers."