Page 1 of 3
MTQ CORPORATION'S stock price is at a year-low of 63.5 cents after it posted a net loss of S$2.3 million for 1QFY2016 due to weaker demand for oilfield engineering services in Singapore, coupled with the impact of a weaker Australian dollar.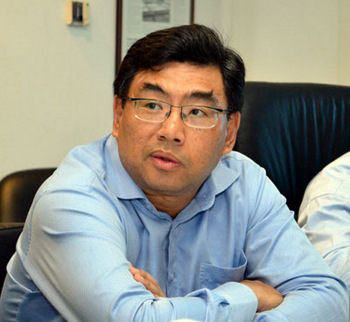 Group CEO Kuah Boon Wee. NextInsight file photo"This is a challenging environment but I am confident of what we are doing. We just have to wait for better markets," said Group CEO Kuah Boon Wee during a teleconference with analysts yesterday (Wed).
The Group's balance sheet remains strong with S$41.2 million in cash and net gearing of 11.4%. Its borrowings were reduced from S$60.4 million as at 30 June 2014 to S$58.5 million as at 30 June 2015.
"The number one priority now is to look for revenue growth opportunities," added Mr Kuah.
Revenue had declined by 22% to S$610.0 million. Gross margin declined to 26%, compared to 34% a year ago.
"Neptune Marine Services has expanded on its revenue opportunities in the Middle East. We are also looking to expand in downstream maintenance work, an area that is benefiting from lower feed prices," he said.