MTQ CORPORATION'S FY2015 profit attributable to shareholders may have taken a hit by 79% year-on-year to S$5.0 million, but the profit crunch did not stop it from maintaining its dividend payout.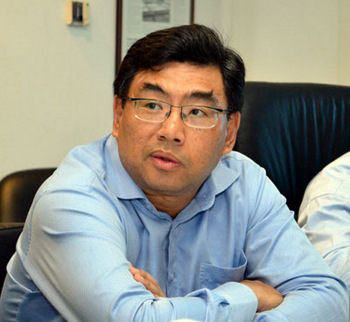 "We will focus on improving our cost structure as demand has been muted by a lower rate of oil rig deployment," said Group CEO Kuah Boon Wee.
NextInsight file photoThe oilfield equipment engineering services provider posted a decline in revenue by 6% year-on-year to S$295.6 million for FY2015 (year end March).

Its proposed final cash dividend of 2 cents per share, when added to its interim 2-cent dividend, translates into a yield of 5.2% based on a recent stock price of 77 cents.

It bottom line was affected by a goodwill impairment charge of S$6.8 million arising from its Binder and engine systems' businesses.

Binder, an Australian pipe support and suspension solutions provider focusing on the oil & gas industry, was acquired by MTQ in January 2014.

"The goodwill impairment is a one-off item that arose partly because Binder's business value had been indirectly affected by the fall in oil prices," said Group CEO Kuah Boon Wee during a briefing for fund managers and analysts on Tuesday.

"The Singapore oilfield and Binder businesses are suffering from reduced activity levels and significant improvements are not expected in the short term," he said.

Excluding the goodwill impairment, the Group would have posted profit attributable to shareholders of S$11.8 million.

On a more positive note, revenue from its oilfield engineering business in Bahrain nearly doubled to S$15.4 million.

Its Bahrain operation has gained market share, and margins have also improved.

MTQ's Neptune (subsea) business and engine systems business also remained profitable.

There is further positive news: Group's cash and cash equivalents increased from S$37.4 million to S$44.1 million, while net gearing decreased from 16.9% to 10.5%.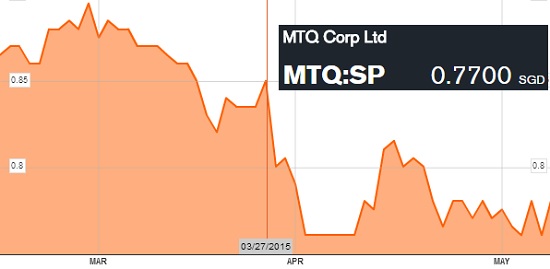 Market cap: S$119 million | Price-to-book 0.85X | Current price earnings 25.5X
Bloomberg data