MTQ CORPORATION, which has paid interim and final dividends for more than 10 consecutive years, has decided to scrap its 1HFY2016 dividend (year end 31 March).

Given the low activity level in the oilfield industry, its rich historical dividend yield exceeding 7% will be missed by shareholders.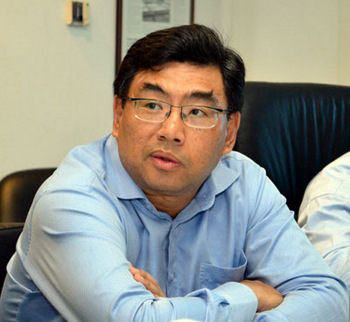 Group CEO Kuah Boon Wee.
NextInsight file photo"We decided to be prudent and conserve cash in a tough operating environment," said Group CEO Kuah Boon Wee during a teleconference with analysts on Friday.

The Group narrowed 2QFY2016 net loss attributable to shareholders to S$501,000 (1QFY2016: S$2.3 million). 2QFY2016 revenue was S$57.8 million, down 3.7% quarter-on-quarter while gross profit margin remained flat at 26.0%. The Group's balance sheet remained strong with cash and cash equivalents of S$38.8 million and a net gearing of 12.2%.

"We managed to reduce staff cost by retrenching staff outside Singapore. We also did not renew contracted staff nor replace resignations," said the Group CEO.

For details of its financial results click here. Below is a summary of questions raised by analysts who participated in the teleconference, and the replies provided by Mr Kuah and CFO Dominic Siu.


Q: Binder has narrowed its loss quarter-on-quarter (qoq). How does it look year-on-year?
Kuah Boon Wee: The qoq improvement was slight. Losses were higher yoy. Binder is focusing on power and LNG, sectors that need more government investment in light infrastructure. We see opportunities for Binder. For example, we have secured work for the next phase of Singapore LNG, as well as work from Petronas.
Margins are relatively low in a manufacturing business [like Binder's] compared to a services provider, and everyone [in the industry] is facing margin pressure.
Q: What was booked under the "Other Income" item?
Kuah Boon Wee: We had an insurance claim of S$1,766,000 for ROV assets. There was a corresponding asset write-off of over S$6 million booked under "Other operating expenses".

| | |
| --- | --- |
| MTQ | 56 cts |
| 52-week Range | 43 cts - $1.325 |
| Market Cap | S$86.5 m |
| Historical dividend Yield | 7.14% |
| Gearing | 0.12 x |
Q: Why are you not paying an interim dividend when your net gearing is less than 13%?
Kuah Boon Wee: In the past few years, our cash position strengthened while we reduced our borrowings. So, we were able to pay more dividends.

The board deliberated on this carefully and we decided to be prudent in the current tough environment.
Dominic Siu: In the current volatile environment, cash is king.

Q: Is the Group keeping cash for any new project?
Kuah Boon Wee: We just want to be prudent and maintain healthy cash reserves.

Q: May we have an operational update of the vessel that you are working with Apache on?
Kuah Boon Wee: We took at small interest in a diving support vessel deployed for Apache a couple of years back when the end-user was very concerned about lack of availability of offshore vessels.

In contrast, many assets are currently available in the market for deployment in the kind of work it wants. We have found it awkward to own assets on someone else's boat and decided to part ways. We will continue to work with Apache in other areas, but not as partners in one vessel.
We have entered into an agreement to sell the vessel. It is primarily about recovering our asset and moving on. We will realize cash for fixed assets and the gain is likely to be reflected in the next quarter's results.

Q: How are you able to realize a gain in vessel disposal under the current market environment?
Kuah Boon Wee: This wasn't just an asset sharing deal. It was a joint venture in a business with a 5-year plan. We have already depreciated part of the related asset value.