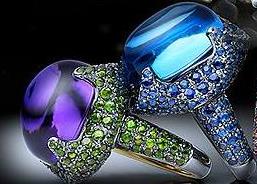 UBS has a 'Buy' call on Chow Sang Sang. Photo: CSSUBS: CHOW SANG SANG a 'Buy' on gold sales

UBS said that following channel checks, it is reiterating its "Buy" call on jewelry and gold retailer Chow Sang Sang (HK: 116), while trimming the target price to 23.5 hkd from 25.0 previously (recent share price 19.54).

"Our channel checks indicated a double-digit same store sales growth (SSSG) for Chow Sang Sang in July, which was mainly driven by gold products," UBS said.

The Swiss research house raised its second half SSSG forecast from 6% to 8%, with the full-year projection at 21%.

UBS also lifted its forecast for full-year sales contribution of gold products at Chow Sang Sang to 67% from 63%, reduced its gross profit margin outlook by 1.1 percentage point to 17.6%, and lowered its earnings estimate by 7%.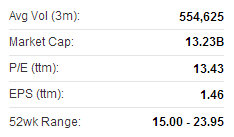 CSS recently 19.54 hkd"The valuation of Chow Sang Sang is inexpensive, with spot price trading at 11x to 2013 P/E forecast."

Chow Sang Sang Holdings, founded in 1934, is a leading retailer of jewelry products in Greater China. It operates under the Chow Sang Sang and Emphasis brand names with a self-operated retail network of about 274 stores in China, 58 stores in Hong Kong/Macau and 20 in Taiwan. While jewelry manufacture/retail contributed the majority of its revenue (80%) and operating profit (90%), it also conducts wholesale of precious metals and securities/futures brokerage. It was listed on HKEx in 1973.


---

China Yinsheng: PAX GLOBAL kept 'Buy' on new market breakthroughs

China Yinsheng Wealth Management said it is maintaining its "Buy" recommendation on PAX Global (HK: 327), China's top Electronic Funds Transfer Point of Sale (EFT-POS) play.



Photos: PAX Global

"PAX successfully broke into emerging markets in the first half of year, providing new growth points for the future," Yinsheng said.

The research note has a 3.0 hkd target price on PAX Global (recent share price 2.75).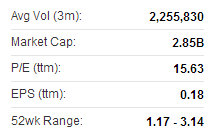 PAX recently 2.75 hkdIn the first half, PAX Global's gross margin was 35.5%, representing a decrease of 3.9 percentage points from year-earlier levels, mainly due to the declining selling prices in Chinese and overseas markets.

"However, when compared to 32.6% in 2H2012, an improvement was seen, as the company is committed to improving supply chain management, product design, cost optimization and is actively introducing new products.

"The stock price soared after the release of the results, and investors may look for chances to buy when a correction comes," Yinsheng added.

Earlier this month, PAX Global announced that two of its mobile payment devices obtained Apple Inc's MFi authentication, with the authorization to be used with iPhones, iPads and other Apple mobile devices, for running mobile payment applications on such devices.

In addition, PAX said it would step up R&D efforts into mobile payment facilities.


---

See also:

CHOW SANG SANG A Beneficiary

PAX GLOBAL 'Going Global' As China Sales Surge