This article was recently published on Silly Investor's blog and is republished with permission.

IN THE LAST 2 months, the only new addition to my portfolio was Mapletree Industrial Trust (MIT).

I have, however, accumulated ST Engineering, Sembcorp Industries, Lee Metals and Lippo Malls Reit.

I think I can still sleep well with these additions except Lippo Mall. I do think it is attractively valued, but I would like Lippomall to form a smaller part of my portfolio. I will readjust it when the price is right.

In fact, depending on the earning results, I might take some money off the table too.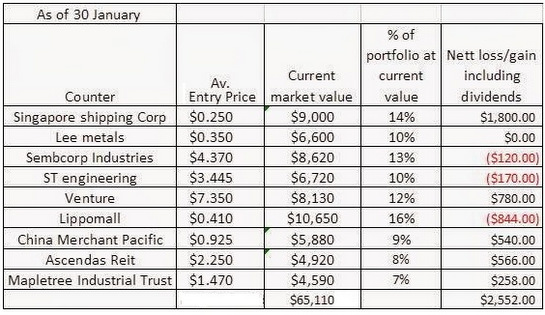 I am actually bullish on industrial reits. Ok, you might think I am bullshitting, but I like to buy when they are not at the peak of the cycle when everything look rosy.

If you look at my previous analysis of MIT, I think Industrial property cycle is far from the peak, although I have no idea what is the bottom, and such investing style usually makes me swim deeper into the red.

I averaged down on Sembcorp Industries and ST Engineering. I like the diversity of their businesses and when viewing them together, you have SIngapore INC without banking

I also doubled my stake in Lee Metals, granted the iron ore price is breaking new low quite frequently, I believed Q4 turned in EPS of 1 cent.

If I am correct, then I think my base value of 4 cents EPS in a downcycle is safe.

If profits fall more drastically or worse, Q4 become loss making, then I make a wrong call. I am expecting 1.5 cents to 2.5 cents dividends for its FY.

So, am I looking to add anything? I did look at Keppel Corporation when it slipped near to $8, but I think no need to see anything now la.

If anything, I will be selling some shares to lock in profits.

Will update when the earning results are out.
Q: How long do you intend to hold your stocks?


Silly Investor: It depends, each has a different buying reason.

For Singapore Shipping Corp, I will definitely not sell it until I see how they are going to pay out dividends given the increase in income due to higher charter income from their new ship charters. If they increase dividends, I will continue to hold as I see this as a dividend grower.

If they do not, then I MIGHT take profit.

As for Venture, I believe the next 2 years will be clear sky where they can sustain their payout. So if at anytime I gain 3 years worth of dividends, I will take profits PROVIDED the hypothesis about the business remains intact.

Just like Lee Metal, I think if they can sustain 1 cent EPS per quarter, I will just hold.

I feel like "trading" SembCorp Industries. I will hold 1 lot regardless but might go in and out for the other.

Recent story: INVESTOR: "My delusional financial journey so far"