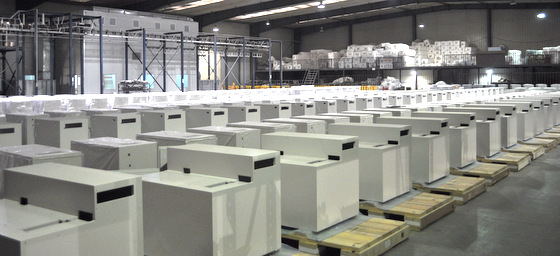 @ Dutech's factory in Nantong: Row after row of semi-assembled ATMs. Inside them are safes made by Dutech. Wincor Nixdorf used to buy just the safes but has since directed parts to Dutech to assemble into partial ATMs.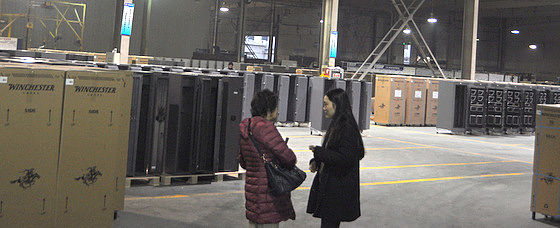 @ Dutech's factory: Gun safes ready for shipment to the US: The safes store multiple firearms such as rifles, and bullets.
Photos by Leong Chan Teik

WE RECENTLY VISITED Dutech Holdings' plants in Nantong and Sutong Science & Technology Park -- both of which are about two hours' drive from Shanghai where Dutech's HQ is based.

Key takeaways:

1. Chairman and CEO: Dutech's boss is among a rare group of head honchos of SGX-listed companies who have Ph.D degrees and are controlling shareholders of their companies.

Dr Johnny Liu earned his doctorate degree in material science in the US, where he once was VP of International Operations for Thermal Dynamics. He holds a 42.8% stake in Dutech.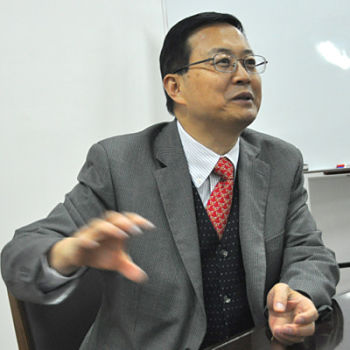 Dr Johnny Liu, 51, Chairman and CEO of Dutech Holdings, was once a guest professor at Shanghai Jiaotong University. He has several publications and patents to his name. 2. One-of-a-kind business (on the SGX): Dutech, mainly, manufactures 'high-security' products -- safes for ATMs, offices and homes, and gun safes, and gaming machines.

Its key customers are Wincor Nixdorf and Diebold, the world's No.2 and No.3 ATM suppliers, respectively. (No.1 is NCR which has one exclusive OEM).

These 3 companies have about 50% of the global ATM market. (Their ATMs can be found islandwide in Singapore too).

Since last year, Dutech has been enjoying strong growth in a new business, producing gaming machines for use in casinos.

In aggregate, 'high-security' products generated RMB735.1 million of revenue for Dutech in 9M2014.

3. High barriers to entry: Dutech has all three industry certifications (UL, CEN and CCC, respectively) for ATM safes sold in the US, Europe and China.

Each new model of an ATM safe needs to be shipped to the respective authorities for certification. It takes months and a tidy sum of money for various tests to be carried out, including attacks to determine how hack-resistant a safe is.

The certifications represent one of Dutech's competitive advantages. In addition, Dutech reckons that its key customers face high switching costs -- ie, it's challenging for them to find quality suppliers who also have the production scale of Dutech.

Reflecting its entrenched relationship with its key customers, Dutech has gone from being OEM purely to a provider of significant ODM services too because its customers pass on R&D and engineering tasks to it.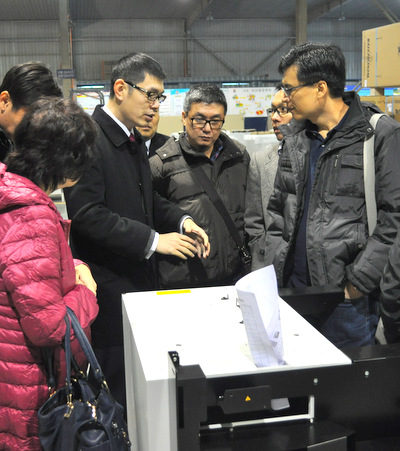 CFO Walter Cao (in jacket and tie) taking questions from Singapore investors on Dutech's production of ATM safes.4. Growth drivers: While Dutech has become a big player in the ATM market, and is optimistic about growing 10-15% a year, it is targeting to win a share of the "intelligent terminals" market which is a lot more massive.

It has secured one customer -- Scientific Games International (SGI) -- for its gaming machines which are used in casinos. SGI, which is a subsidiary of Scientific Games Corporation, a US$1 billion company, is expected to channel more business to Dutech this year and beyond.

Gaming machines aside, Dutech is seeking to produce other "intelligent terminals" such as ticketing machines and self check-in machines for use at airports.

Value-adding is also a key growth driver, whereby Dutech not just produces the security safes but also semi-assembles ATMs and gaming machines.

Its new plant in Sutong Science & Technology park will be devoted to producing intelligent terminals, and has the capacity to support Dutech's growth for the next 5-10 years.

5. M&A: Dutech acquired 90% of a German company, Deutsche Mechatronics, in 2H2014. This company, which devotes a lot of its resources to R&D, has the capabilities to enable Dutech to penetrate further into the "intelligent terminals" market.

"We are very strong on the mechanical side. Deutsche is very strong in software and electronics. With the acquisition, we have the ability to install everything for Wincor Nixdorf and Diebold," said Dr Liu. "It's not just the ATM safes but also the intelligent terminals."

For details of the acquisition, see Dutech's announcement.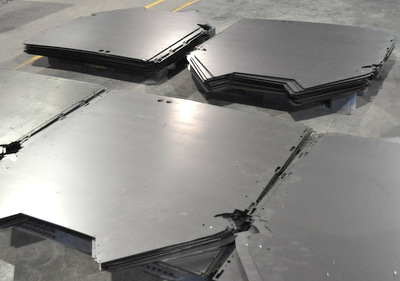 Steel plates are the key raw material for Dutech. Steel prices have been falling in recent years owing to overcapacity at steel producers, which is good news for Dutech.Though loss-making, Deutsche Mechatronics is being streamlined and is expected to turn around in due time.

That would be a repeat of the success story of how another German company, Format, the largest safe manufacturer in Germany, turned profitable in 2014, about three years after it was 100% acquired by Dutech.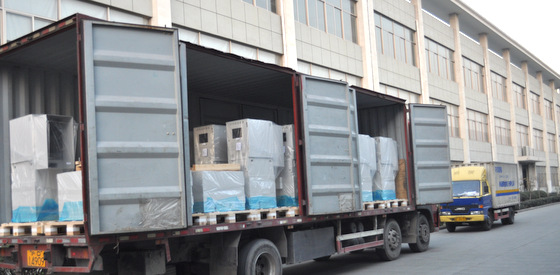 Semi-assembled ATMs ready to be shipped out from Dutech.One cost-saving method was for Format to transfer the production of certain components of its high-end safes to Dutech in China.

Compared to Format, Dutech enjoys a significantly lower cost-structure with respect to land and labour -- particularly, engineers.

Dutech is on the prowl for another company to acquire and it would not be a surprise if it proves to be another good acquisition.

Dutech has demonstrated its skill in M&A by turning around Format and by acquiring 90% of Deutsche Mechatronics for 1 m euros while the latter's net tangible assets was 13.7 m euros as at June 2014.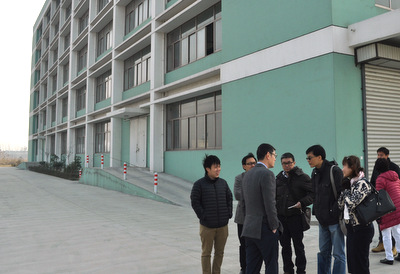 @ Dutech's new plant in Sutong Science & Technology Park, where the company will focus on producing gaming machines and other intelligent terminals. This plant and the one in Nantong have a combined 60% utilisation rate and management expects it to reach 100% in 2-3 years6. Gross margin: Indications are that Dutech would be able to keep its margins stable in 2015.

In fact, Dutech's gross margin in 9M2014 actually rose 4 percentage points to 26.3% owing to lower steel costs and higher sales of ATM safes and gaming machines compensating for a fall in sales of gun safes. The latter has the lowest gross margin.

Management believes that a net margin of 10% is realistic and achievable over the long term.

7. Dividends: Dutech had RMB177.4 million in cash as at end of 3Q2014. On its balance sheet sat RMB46.6 million of borrowings, almost all of which are attributable to its Format and Deutsche Mechatronics. This reflects the strong cash-generation of Dutech's China operations.

Dutech has paid a total of six cents dividends for five financial years since its listing in 2007. Based on our conversation with management, we expect it would continue to pay a dividend for FY14 and beyond. And there is no indication it would be lower than 1 cent a share (as was paid out for FY13).



Dutech recently traded at 30 cents. The IPO price in 2007 was 33 cents but Dutech has paid out 6 cents in dividends since then. Chart: www.FT.com

8. Valuation: Excluding a negative goodwill gain arising from the acquisition of Deutsche Mechatronics, Dutech's ROE was 15% while the trailing PE, about 5X.

Price-book: 0.8X, based on S$0.30 stock price and S$0.38 a share in net asset value. Dutech's market cap: S$107 million.

There is no analyst coveage of this stock currently.

Recent stories:

DUTECH HOLDINGS: Expands earnings base with low-cost competitive advantage