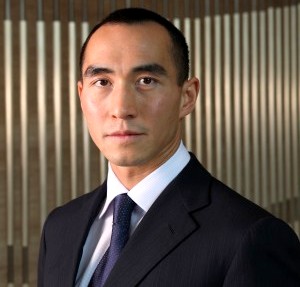 Casino tycoon Lawrence Ho.
Photo: macaubusinessSUMMIT ASCENT Holdings Ltd (HK: 102) said it has inked a preliminary agreement to acquire a 46% stake in a gaming project in the Far Eastern Russian port city of Vladivostok, with Melco Crown Entertainment also planning to take a 5% stake.

Summit and Melco are both under the control of Macau gambling tycoon Lawrence Ho who is betting that gamblers – especially from China -- will flock to the Siberian city to try their luck.

It doesn't hurt that the Russian port city is a short flight away from casino-savvy Mainland China.

Mr. Ho owns Melco along with Australian billionaire James Packer.

The proposed transaction is still subject to the fulfillment of a number of conditions.

The gaming project involves the construction and operation of a casino resort in the Primorye Integrated Entertainment Zone (IEZ), located roughly 20 km from Vladivostok International Airport and 50 km from the city's downtown.

The target company holds a gaming license, conferring it the right to conduct gambling activities in the IEZ for an indefinite period, and intends to construct a casino resort complex on a site referred to as "Lot 9" in the IEZ.

The lot's area is 90,245 square meters with total planned GFA of approximately 31,630 sq m.

The casino resort aims to have around 25 VIP gaming tables, 40 mass gaming tables and 800 slots, and some 119 hotel rooms with other food and beverage amenities.

The superstructure of the casino resort has already been erected.


Summit Ascent is betting that the Russian port city of Vladivostok is a good gambling wager. Photo: rienThe casino resort is expected to open around September 2014 and is expected to be the first legal casino built in the Far Eastern territory of the Russian Federation since the ban of gambling in Russia in 2009.

Total investment in the project is currently projected to be around 130 million usd, 46% of which is expected to be funded by Summit Ascent, 5% by Melco, and the remaining 49% to be funded by the Russian party -- BVI-based firm Elegant City Ltd.

In addition to the proposed 46% ownership of Summit Ascent, the Hong Kong-listed firm will receive a management fee calculated on 3% of the gross gaming revenue for managing the operations.

In addition to the preliminary agreement, Summit Ascent also entered into a non-binding MOU with a related company of the Russian side to develop another casino resort on a site referred to as Lot 10, adjacent to Lot 9.

The second casino resort is expected to contain full entertainment and conference facilities including a shopping mall, a number of F&B outlets, a SPA center, a night club and conference halls.

Strategically located near the border of Chinese provinces Jilin and Heilongjiang, Vladivostok enjoys a perfect location to serve Chinese customers living north of Beijing, particularly the three northeastern provinces of Jilin, Heilongjiang and Liaoning.

Unlike Macau, which levies a gaming tax as high as 39% on gaming revenue, the gaming tax in Russia is very low.

In Russia, the casino only has to pay to the government a fixed monthly tax of 125,000 roubles (3,750 usd) for each gaming table and 500 roubles (225 usd) for each slot machine in operation, with gaming profits exempt from corporate taxes as well.

Summit Ascent Holdings Ltd is engaged in the trading of tiles and building materials in Hong Kong. Should the proposed transaction consummate, Summit Ascent will be transformed into a gaming company focusing on non-Macau gaming markets. The company is owned approximately 37% by its single largest shareholder, Mr. Lawrence Ho.


---

See also:

Gaming Players MGM CHINA, WYNN MACAU: What Analysts Now Say...