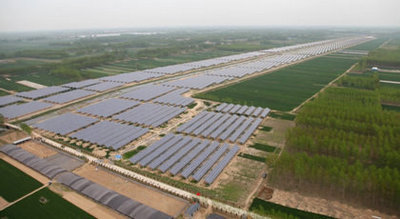 Goldpoly signed a deal for 500 MW in solar capacity in China.
Photo: GoldpolyGOLDPOLY acquires 500 MW solar plants

Goldpoly New Energy Holdings Ltd (HK: 686) signed a conditional deal with a CNPC unit to purchase 500 MW solar power plants in China.

Goldpoly, whose largest shareholder is China Merchants New Energy Group (CMNE), entered into the agreement with Kunlun Trust Co Ltd – a CNPC subsidiary -- for the acquisition of 500 MW of an on-grid photovoltaic project in Xinjang and Gansu Provinces, with the project under construction and scheduled to be completed by end-2013.

The acquisition's fulfillment conditions include obtaining all approval documents from relevant government authorities, completing construction and having the technical conditions to connect to grids along with various financial requirements.

A total of one billion yuan will be invested by Kunlun Trust to fuel the acquisition and upon completion of the deal, Goldpoly and Kunlun Trust will own 60% and 40% equity interests in the project, respectively.

Kunlun Trust is a financial company held by CNPC specializing in investment, financing and financial services.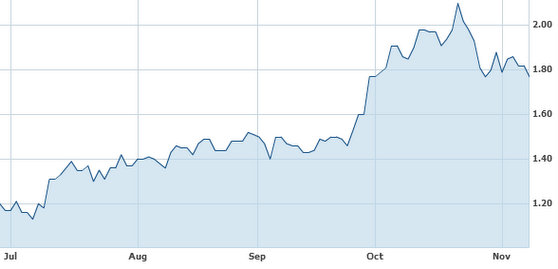 Goldpoly's recent Hong Kong share performance. Source: Yahoo Finance

"We are so pleased that yet another large central enterprise will join our CMNE photovoltaic platform as we work together to build Goldpoly into a global new energy leading flagship firm.

"We will work together with major strategic partners to complete new on-grid solar power plants in the near future, and will continue to integrate resources so as to attract more Chinese and international well-known enterprises and institutions participating in joint investments and construction," said Goldpoly Executive Director and CEO Mr. Alan Li.

Goldpoly New Energy Hldgs Ltd is engaged in the investment, development and operation of solar power stations in the PRC, and has a polysilicon solar cell factory in Quanzhou, Fujian Province, PRC. The Company is listed on the main board in Hong Kong (stock code: 686). On 10 June 2013, the Company completed the acquisition of China Merchants New Energy Holdings Limited, a company focused on the investment, development and operation of solar power stations. Following the acquisition, China Merchants New Energy Holdings Limited became a wholly-owned subsidiary of the Company. The Company turned a new page of development since then, and commenced to fully integrate the solar power stations business to create a leading global operations platform for photovoltaic power stations.

---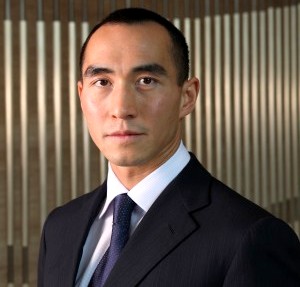 Summit Ascent is 37% owned by Hong Kong tycoon Mr. Lawrence Ho. Photo: macaubusinessSUMMIT ASCENT resumes trade, unaffected by Russian probe

Summit Ascent Holdings Ltd (HK: 102) has resumed trading of its Hong Kong-listed shares after a short hiatus following a Russian investigation into the activities of an indirect minority shareholder, saying the probe does not affect its investments or operations.

Summit Ascent requested a halt in trading between Friday, Nov.8 and Monday, Nov. 11, with trading resumed on Tuesday Nov. 12.

On Nov. 7, Russian press reported that Mr. Oleg Drozdov had been detained for investigation by Russian law enforcement authorities.

The newspaper reported that the investigation related to an allegation of business malpractices in connection with the construction by OOO Vladivostokservis of a solid waste treatment facility constructed in Vladivostok.


Summit Ascent is looking to expand its business scope, planning a September 2014 launch for a casino complex in Russia's Far East city of Vladivostok (above). Photo: rienAs previously announced by Summit Ascent, Mr. Drozdov is an indirect minority shareholder in Oriental Regent Ltd -- an investment holding company which wholly owns First Gambling Company of the East LLC (FGCE), which itself is developing a gaming and resort project in the Primorye Region of the Russian Federation.

Oriental Regent is owned as to 46% by a wholly-owned subsidiary of Summit Ascent; as to 5% by a wholly-owned subsidiary of Melco International Dvpt; as to 19% by a wholly-owned subsidiary of Firich Enterprise Ltd; and as to 30% by Elegant City Ltd.

Elegant City, a company incorporated in the BVI, is wholly owned by Mr. Drozdov.

Promptly after becoming aware of the newspaper report, Summit Ascent requested the trading halt to enable an establishment of facts and release an announcement in relation to the allegation.


Summit recently 12.68 hkdSummit Ascent has since confirmed that the investigation does not relate, in any way, to the Primorye Gaming Project or to Oriental Regent or FGCE.

An investigation is still ongoing and no formal charges have yet been pressed against Mr. Drozdov.

Summit Ascent has also received direct assurances from Mr. Sidorov, First Vice Governor of the Primorsky Administration which administers the Gambling Zone of the Primorye Region, that the investigation and allegations relating to Mr. Drozdov will not, in any way, affect the Primorye Gaming Project or Summit Ascent's investment in the Primorye Gaming Zone.

Summit Ascent will make further announcements in relation to developments regarding this matter, as and when appropriate.

Summit Ascent plans to operate and own 46% of a casino project in the Integrated Entertainment Zone (IEZ) in Russia's Primorye Region near Vladivostok, with a September 2014 launch targeted.

The property has 32,699 sq m GFA, with 25 VIP tables, 40 mass market tables, 800 slot machines and 119 hotel rooms.


---

See also:

GOLDPOLY Wins 'Buy' Call

SUMMIT ASCENT Sets Sights On Russia