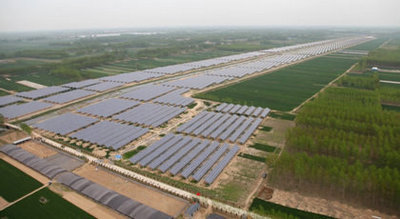 Goldpoly is expanding its solar power capacity.    Photo: GoldpolyGOLDPOLY Signs Up Major New Investors

Goldpoly New Energy (HK: 686) has completed the issue of US dollar-denominated convertible bonds due 2016 with an aggregate principal amount of 50 million usd.

The purchasers are comprised of a subsidiary of China Orient Asset Management Corp, a subsidiary of Fosun Group and three funds run by US-based asset management firm York Capital Management.

The 5% secured guaranteed convertible bonds issued are convertible into shares at an initial conversion price of 1.60 hkd per conversion share.

Assuming full conversion, the bonds will be convertible into approximately 242 million conversion shares, representing approximately 11.1% of the enlarged issued share capital of Goldpoly.

Goldpoly also issued a total of 55 million placing shares at 1.7 hkd each to Value Partners (HK: 806) and Yinhua Fund Management, which will subscribe for 50 million shares and 5 million shares, respectively.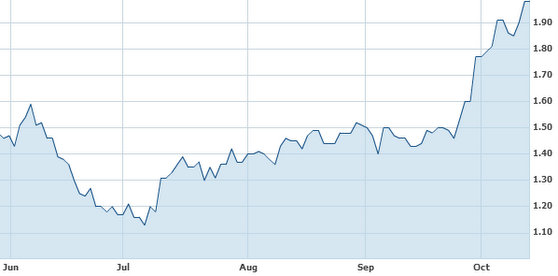 Goldpoly's recent Hong Kong share performance.     Source: Yahoo Finance

The placing shares account for 2.75% of the enlarged share capital of Goldpoly.

Goldpoly plans to use the net proceeds of approximately 91.7 million hkd from the placing to finance possible acquisitions of solar power plants when opportunities arise.

Goldpoly New Energy Hldgs Ltd is engaged in the investment, development and operation of solar power stations in the PRC, and has a polysilicon solar cell factory in Quanzhou, Fujian Province, PRC. The Company is listed on the main board in Hong Kong (stock code: 686). On 10 June 2013, the Company completed the acquisition of China Merchants New Energy Holdings Limited, a company focused on the investment, development and operation of solar power stations. Following the acquisition, China Merchants New Energy Holdings Limited became a wholly-owned subsidiary of the Company. The Company turned a new page of development since then, and commenced to fully integrate the solar power stations business to create a leading global operations platform for photovoltaic power stations.


---

China Yinsheng Assigns 'Buy' Call to GOLDPOLY

China Yinsheng has a "Buy" recommendation on solar power play Goldpoly New Energy (HK: 686) with a target price of 2.00 hkd.

The stop loss is 1.7 hkd.



Solar energy play Goldpoly is currently trading at around 1.98 hkd.Goldpoly is principally engaged in the operation of photovoltaic power plants.

"As the Mainland vigorously supports the PV industry, the subsidy policy is shifting from construction subsidies to electricity generating subsidies and Goldpoly currently holds over 130MW in grid-connected photovoltaic power plants.

"The company will continue to actively build solar power stations, with an aim to operate 5GW in photovoltaic power plants within five years," China Yinsheng said.

The research note added that the entire PV sector is significantly recovering recently, and Goldpoly shows a proven track record in its investing in downstream stations.

Investors may look for chances if the stock price gets corrected.


---

SIJIA Clarifies Auditing Timing

Sijia Group (HK: 1863) expects the completion of its auditing process next month.



Sijia recently 1.37 hkdThe new materials manufacturer appointed Zhonghui ANDA as auditors for the year ended December 31, 2012.

Sijia Group projected Zhonghui ANDA will complete its auditing work for the results in 2012 before end of November.

Trading of Sijia's Hong Kong-listed shares continue to be suspended until further notice.

Sijia Group is a leading manufacturer of Reinforced Materials in the PRC, and is principally engaged in the design, development, manufacture and sale of Reinforced Materials (polymer processed high strength polyester fabric composite materials and other reinforced composite materials), Conventional Materials as well as downstream related inflatable and waterproof end products targeting the outdoor leisure sports consumer market. To capture the growing business opportunities in the PRC's clean energy industry, the Group began the sale of biogas tank materials and biogas tank end products in 2009.
 
---
See also:
GOLDPOLY'S Investment Merits
SIJIA: New Energy Powering Sales