China is ISDN Holdings' key market, so when Covid-19 lockdowns were imposed there in 1H2022, it was inevitable that its results would be affected.

As ISDN has shared in its press release:

 Inbound manufacturing components and materials did not reach on schedule as air and ground logistics networks, as well as transportation between the Group's facilities were interrupted.

 Outbound product distribution could not function as normal as employees were confined to facilities or home while logistics providers were prohibited from crossing regional and/or national boundaries.

 Significant disruption to customer sales and project work with ISDN.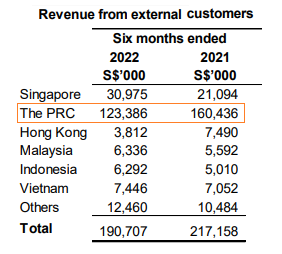 ISDN's revenue from China dropped from S$160 million in 1H2021 to S$123 million in 1H2022 (see table).

But things have turned a corner. No surprise really -- since the same economic uplift has, broadly, already taken place in major economies that have transitioned to living with Covid.

"Conditions improved significantly in June and July 2022 as PRC lockdowns were lifted, resulting in significant growth in production, deliveries, orders and revenue," said ISDN.

While China slowed down in 1H2022, outside of the PRC, the Group's businesses continued to post solid growth riding on Asia's strong industrial production and investments in upgrading capabilities with industrial automation (see table).


Stock price

47.5 c

52-wk range

46 – 78.5 c

PE

7.9

Market cap

$208 m

Shares outstanding

439 m

Dividend
yield

3.1%

1-yr return

-28%

P/B

1.1

Source: Yahoo!
The Company's industrial automation solutions are used in multiple settings:
• advanced factories,
• electronics and semiconductor manufacturing,
• digital transportation,
• connected and intelligent machines,
• advanced medical devices,
• 5G and cloud hardware and software that underpin the global digital economy.

The above applications point to large and lasting trends that ISDN is riding on:

Post-COVID shifts…

…are benefiting ISDN's group business

► Global semiconductor shortage and the emerging semi- supercycle

Strong growth in Group's semiconductor segment, where ISDN's solutions power global semi capital equipment. ISDN should benefit from Asia's growth momentum in semiconductors and ongoing shift to advanced IC manufacturing & packaging.

► Accelerating Industry 4.0 adoption

Group continues to see growth as its 10,000+ customers shift towards more advanced industrial automation, including labour automation, machine intelligence and increasingly bespoke capabilities.

► Next-generation technologies

ISDN's solutions power manufacturing and products for key next-generation technologies including Industry 4.0, 5G, cloud/edge computing, advanced medical equipment, and clean technology.

► Shift to clean technology

ISDN continues to back the global shift to cleaner economies, with its core industrial solutions that promote platform re-use and upgrades, and with its growth portfolio of clean energy and disinfectants.



Source: ISDN
What is ISDN's Industry 4.0 offering?
Keith Toh explains: ISDN doesn't seek to deliver to the market a standard product platform for Industry 4.0. It's almost the opposite of that. ISDN has assembled, over 30 years, a very broad range of technologies and capabilities to deliver what we call the full stack of Industry 4.0 and that starts at the very bottom -- from motion control components that move the fingers, arms of manufacturing machines all the way to the PLC and the control software that controls the move motion intelligently and then popping up from that the software that coordinates machines on the line, the software that orchestrates lines in a factory, and then the communications – wireless, wired-- that run between robots, between components inside a machinery, and then sitting above all of that manufacturing execution systems the supply chain, the IOT connectivity.

That's an enormous stack of technology that doesn't spring into existence overnight. The capabilities have to be built customer by customer, engineer by engineer, over many years and the proposition for ISDN is not that we have a single platform to deliver. There are vendors who provide large-scale technology platforms -- we recognize foremost that customers in China and Asia who are adopting Industry 4.0 do not want to buy a gigantic platform that looks like a Swiss army knife that can do lots of things. They generally prefer platforms that are very tailored to the specific business because a manufacturer of solar panels is going to be quite different from an advanced transportation train signal control system and that's going to be different from an industrial network that goes up into satellites as well as down on the ground in the field.

While investors should rightly turn their gaze to 2H2022, a brighter period, here is a look-back at ISDN's 1H2022 profit fall that reflects setbacks from China's Covid lockdowns :
S$'000

1H2022

1H2021

Change
(%)

Revenue

190,707

217,158

-12.2

Gross Profit

54,078

58,193

-7.1

Gross Profit margin

28.4%

26.8%

+1.6 ppt

Pre-tax profit

20,713

26,066

-20.5

Net profit

16,133

19,388

-16.8

Profit Attributable to Shareholders

11,070

12,167

-9.0

For more, see the presentation deck here.