Excerpts from UOB KH report

Analyst: Adrian Loh

-- Upstream suffered a nine-year period of underinvestment over 2014-21 when capex halved.
-- Industry is still unwilling to spend with capex expected to only increase by 5% CAGR over the 2021-24 period.
--With such anaemic levels of spending, oil and gas prices will stay higher for longer.


• Apart from Keppel and Sembcorp Marine, there are 14 other oil price plays in Singapore with a total market capitalisation of just over S$2.5b (see table below).

These small and mid-cap companies are largely in the downstream/offshore marine space with only three E&P companies.

While E&P companies directly benefit from higher oil and gas prices, O&M companies only benefit when higher levels of activity and capex flow through from the upstream companies.

• No debt and generating lots of cash. Two notable characteristics of these 14 companies are that:

a) half of them were debt free as at end-FY21, and
b) the majority of the companies generated double-digit free cash flow yield in FY21.
It would appear that some capex has been flowing into Singapore's O&M companies in 2021 and ytd.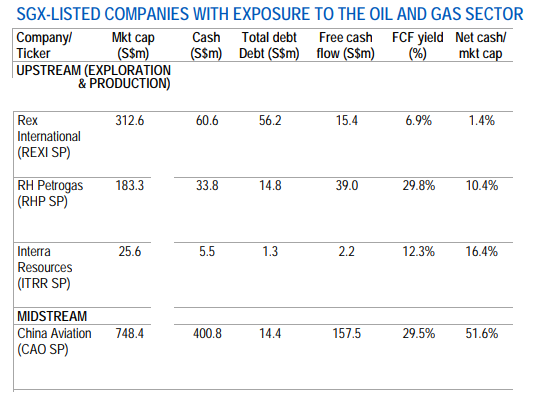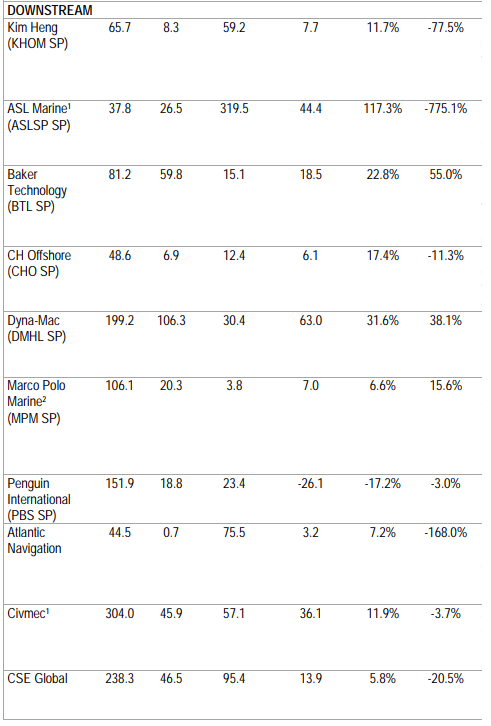 Source: UOB Kay Hian, Bloomberg, companies• Positive free cash flow generation in 2021. With the exception of Penguin, all the companies profiled in the comparable companies table on the previous page generated positive free cash flow (FCF) in 2021.

In our view, this potentially points to an equally strong year in 2022 given that oil prices remain high, thus underpinning the robust activity levels that has continued in the O&M sector this year.

• High free cash flow yield. As a result of the positive FCF, we note that the majority of companies generated double-digit FCF yield.

Note however that ASL Marine's FCF is deceptively high given that it has very high depreciation: in FY21, its depreciation of S$33m was almost as much as its current market capitalisation of S$38m.

In addition, we highlight its very high net debt levels of S$288m as at end-Dec 21 and resultant high interest cost of S$11.3m for 1HFY22.


• Lots of cash. Half of the companies that we looked at were in a net cash position as at the end of their fiscal year 2021.

Three companies in particular – Baker Tech, China Aviation and Dyna-Mac – had net cash levels that were more than 40% of their market capitalisation. Should these companies continue their strong financial performance in 2022, the probability of higher dividends cannot be ruled out.

We believe that activity levels in the industry have remained high and thus it will be interesting to see if Singapore's oil-related names have continued to benefit from this in the upcoming 1H22 results season.

Full report here.