Excerpts from CGS-CIMB report

Analyst: William Tng, CFA

ISDN Holdings Ltd
Automation cannot be stopped
ISDN

Share price:
73.5 c

Target:
$1.00
■ ISDN has appointed the general manager of its software business subsidiary as its CTO.

■ We think the significance of this appointment is that ISDN could focus more on growing its software offerings which could help expand margin.

■ We reiterate our Add call with a TP of S$1.00.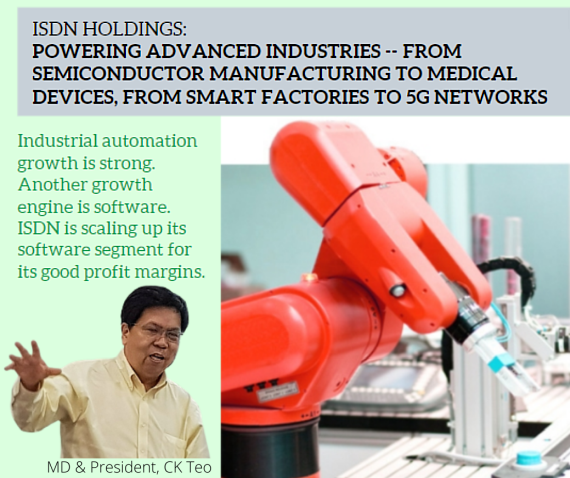 Time to focus on software
On 3 Jan 2021, ISDN announced that it has promoted Mr. Tay Geok Kee as Chief Technology Officer (CTO) of the group. Mr. Tay is currently the General Manager of ISDN Software Business Pte. Ltd. a position he has held since May 2019. He has been responsible for growing ISDN's presence in the Industrial automation software business.

He has over 30 years of industry experience in industrial automation and systems engineering and has led the design and delivery of intelligent control, connectivity and cloud solutions for ISDN's customers across Asia. According to ISDN's press release, Mr. Tay will help deepen the integration of ISDN's many technology offerings throughout Asia and extend its market presence in software, cloud, and systems as the group expands its core business.

Room to improve margin
ISDN's software business accounted for 2.3% of FY20 revenue.

Given its proven strength in industrial automation solutions, the next pathway for ISDN to further improve its profit margin could be via the provision of Industrial Automation related software solutions to its established client base of more than 10,000 customers (at end-Sep 2021) and potential new clients.

ISDN software earns revenue from software licence sales, design and software implementation services. If the business can scale up, there will be opportunities to develop recurring revenue streams via maintenance services and further software upgrade requirements, in our view. ISDN Software's current partners include
AVEVA, Stratus and Skkynet.

Trade sale may extract the most value
Founder Mr. Teo is about 63 years old and owns c.32% of the company. With no second generation family involvement in the business, we think that a potential trade sale in the next 5-10 years as he heads towards retirement may be the most optimal way to maximise value for shareholders.

This is because a potential trade buyer can get a significant stake and presence in the China and ASEAN markets that ISDN has built up since 1987. We note that ISDN has not reported any losses since its listing in 2005.




Reiterate Add
We reiterate our Add call with a TP of S$1.00 based on 12.8x (sector average) FY23F EPS.

A potential re-rating catalyst is earlier profit contribution from its hydropower segment.

Downside risks are loss of customers and inflationary cost pressure affecting its profit margin.

Full report here.