Excerpts from UOB KH report

Small/Mid Cap Strategy
– Singapore Beneficiaries Of Higher Oil Prices

The recent increase in crude oil prices, due to declining global oil inventories and better-than-expected global oil demand with the re-opening of economies after the COVID-19 lockdowns, has triggered renewed interest in the oil & gas sector.

OPEC, together with Russia, has also helped by agreeing to a slow unwinding of supply curbs.

The immediate beneficiaries in Singapore are upstream oil producers such as RH Petrogas and Rex International, in our view.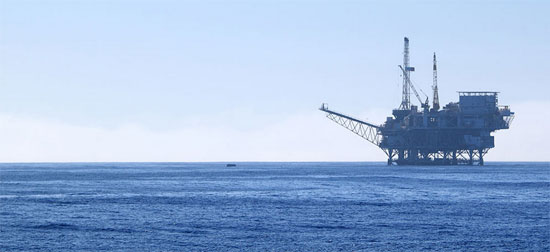 WHAT'S NEW
• Rising crude oil prices have triggered renewed interest in the O&G sector. We highlight SGX-listed stocks which saw a jump in interest in tandem with the higher oil prices, which in our view was triggered by:

a) the weaker US$;
b) slower-than-expected resumption of global oil production;
c) drawdown of crude inventories; and
d) expectations for higher energy demand as economies recover, underpinned by successful COVID-19 vaccine deployment.

• The immediate beneficiaries are RH Petrogas (RHP) and Rex International as they are upstream oil producers. RHP delivered record earnings of US$3.4m (+466% yoy) in 1Q21.

This earnings trajectory appears sustainable, as the strong 1Q21 was driven by:

a) a strong recovery in oil prices;
b) reduced production costs, implemented since mid-20 due to COVID19 (US$27.5/bbl in 2020 vs US$31.5/bbl in 2019); and
c) renewal of a 20-year production sharing contract (PSC) for one of its oil fields in Indonesia.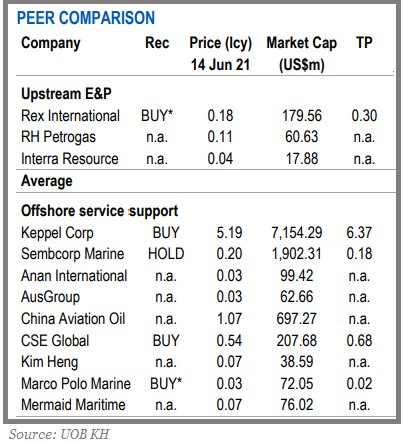 *last updated more than six months agoRHP trades at 7x 2021F PE, annualising 1Q21 EPS of US$0.46cts/share (S$0.62cts/share).

SMM, KEP, CSE Global and other O&M players could benefit from positive market sentiment but much depends on whether oil prices are on a structural upcycle and not on spot oil prices.

• Green shoots are emerging. Our Mar 21 oil & gas sector report indicated that the worst may be over for the offshore marine industry, supported by the improving trends in rig utilisation and day rates.

Oil & gas project commitments for 2021-25 are forecast to increase 66% vs the prior five-year period. In the past six months, the Brent forward oil price for delivery in end-25 has risen 23% from US$48/bbl to US$59/bbl and is thus more supportive of oil industry capex.

• Oil prices are encouraging. The forward oil and gas price view plays a major role as to whether projects are green-lighted or not.

With the Brent oil price having traded at US$55- 80/bbl in the past three years, and if it continues to average at a steady range of US$55- 60/bbl, most oil projects would generate decent IRR in our view.

• Steady growth in consumption support elevated crude prices. According to the US Energy Information Administration (EIA), world energy consumption for 2021 is estimated to rise 6.1%, outpacing expected global production of 2.8% and supporting the 56.4% increase in the forecasted Brent crude price.

For 2022, consumption is expected to grow 3.5% yoy to 101.32mmbpd, compared with production of 101.82mmbpd (+5.1% yoy), as producers are expected to end the global oil inventory draws that have occurred for much of 2020 and leading to relatively balanced global oil markets in 2H21.

Full report here.