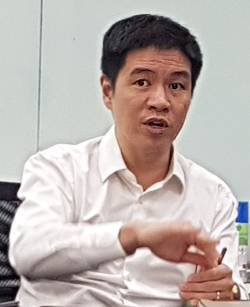 Keith Toh, a partner at Novo Tellus, a substantial shareholder of ISDN, answering investor questions during ISDN's 3Q20 update call:

On Novo Tellus selling some ISDN shares and buying back some later: "Our approach to investing is very clear and very consistent which is, we back companies with very strong long-term potential and we're long-term investors -- that's never changed. We always reserve the right to run our trading operations the way we do but I have one job as a member of the board of ISDN, which is to help the company build as much long-term equity value for all shareholders as possible. Our strategy in that respect has not changed for ISDN, has not changed for Novo Tellus, and certainly has not changed for me and my team as we work with the company to build ISDN for the long run."

On how the partnership works: "We have a deep respect for CK's (Teo Cher Koon) long experience with the company and the industry and so the way we have built successful partnerships are really around that kind of mutual respect. So we bring ideas to each other, we discuss them together, we make decisions together but we typically won't try to come and, you know, force our view. It's been a very good process that's beginning to bear fruit we think in the performance of the company."

Can Novo Tellus persuade ISDN to give forward guidance the way AEM does? "What's most important to us right now and one thing we're quite proud the company is accomplishing behind the scenes, is that ISDN has been consolidating its financial systems. Christine has done a lot of work with the team to roll out an ERP to consolidate financial controls and administration around the region for ISDN, and that provides the company with better controls obviously but, more importantly, a more agile view of what's happening in the business. Together with that, there's a roadmap for rolling out an upgraded CRM system, so we understand our customers better. That really is the critical infrastructure for making a decision on whether to provide forward guidance or not. You know, I'm not going to pre-empt whether we will do that in the future -- that's up to CK and the board."


Excerpts from CGS-CIMB report

Analyst: William Tng, CFA
On track for a record FY20F
■ In its 3Q20 business update call today, ISDN reiterated its optimism for its 4Q20F outlook, driven by still-strong order book.


ISDN

Share price:
39.5 c

Target:
65 c
■ We think ISDN is on track to report a 5-year record high net profit of S$18.7m in FY20F.

■ Reiterate Add with S$0.65 target price.


3Q20 business update call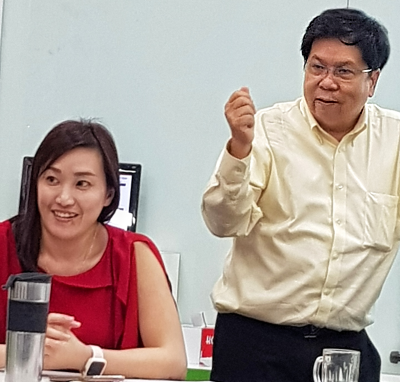 Managing director CK Teo and CFO Christine Ho. NextInsight file photoISDN held a call (17 Nov) to discuss its 3Q20 business update (results released on 4 Nov 2020).

Management remains optimistic of the outlook for 4Q20F based on its still strong order book, driven by the ongoing industrial automation trend.

The company is also working hard to improve on the 25.8% gross profit margin achieved in 9M20.

For its non-core mini hydropower plants business, management aims to have the first two plants operational by 1Q21F and the third plant by 2Q-3Q21F.

The progress in the hydropower business is subject to travel restrictions due to the Covid-19 pandemic.

ISDN has also started preliminary inquiries on monetisation options for its hydropower business.

Recent data points support ISDN's optimism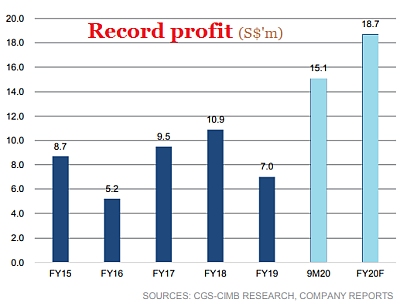 As China accounted for c.64% of ISDN's 9M20 revenue, recent positive economic data bodes well for ISDN's potential performance in 4Q20F.

According to data from China's National Bureau of Statistics (NBS), industrial production grew 6.9% yoy in Oct 2020.

Within industrial production, manufacturing grew 7.5% yoy and within manufacturing, production of new energy vehicles rose 94.1% yoy, while production of microcomputers and integrated circuits grew 28.0% and 20.4 % yoy respectively, as China stepped up efforts to grow its domestic technology sector.

We think ISDN will be a potential beneficiary of this trend as the company, being Singapore based, is a neutral party in the US-China trade dispute and also, ISDN's products are non-US in origin.


Reiterate Add
We reiterate our Add rating and target price of S$0.65 based on 12x (46% discount to peer average) FY22F earnings.

We believe ISDN is on track to deliver a 5-year record high revenue and net profit in FY20F despite the Covid-19 pandemic.

Potential re-rating catalysts for the stock could come from stronger-than-expected sales orders for its mainstay industrial automation business and profit contribution from its hydropower segment.

Downside risks are order delays, cost overruns in its hydropower business and a prolonged Covid-19 outbreak.

Full report here.