The following is an edited transcript of the

Q&A session at

ISDN's 1H20 results briefing. Questions were fielded by President & MD Teo Cher Koon and CFO Christine Ho
.

Q: Regarding motion control robotics sales in China: What percentage of your customers have offered strongest guidance for ISDN's products for the next 12 months? Which industries buy motion control products from ISDN?


The second quarter of 2020 compared with first quarter of 2020, our China business increased by 73%.


Solid growth in core industrial automation
• A strong rebound in demand in the People's Republic of China despite the extended lockdown in 1Q.

• A broad-based rise in demand for ISDN's motion control solutions across Singapore, Malaysia, and Vietnam.
60% of our first half-year revenue came from China.

The top 10 customers contribute probably 15% to our total turnover.

Regarding the next 12 months, our customers, especially in China, may not share with us what is their 12-month plans.

Normally, the orders for ISDN are for only about three months. For the group as a whole, the order book currently is close to $90 million.

Q: With industrial 4.0, are we going to see ISDN software business eventually drive more revenue proportionally? Is your software solution proprietary or do you collaborate with partners to put together a solution?

We are the software architect. We are able to provide the total solution. Obviously, there is the contractor and system integrator but our focus is mainly on the software.

We may want to expand further. We set up this is more than a year ago, we have been laying a lot of ground work so we think it should become more and more attractive.

Q: Are we seeing more enquiries from customers during this period? What are their current needs or demands?


We have a very wide customer base and no single customer contribute more than about five percent of our turnover.


From the feedback that I got from my sales guys on the ground, it seems like it's very positive at the moment.


Q: With the disruption of supply chain, to what extent are we affected now and in the future?

At the moment we don't see any disruption. As for the future, I'm not sure.

Q: What is the usual project gestation period?


Generally, one - two months. Occasionally we may have some projects that take three to six months but those are very minimal.

Q: How do you manage the collection with account receivables in China and then generally what are the credit terms that will give the Chinese customers?

We have been in China for 25 years now -- we started in 1995, so far so good we don't have really serious bad debt, our credit control is still alright.

Generally we try to keep our credit terms to about 90 days.

Q: If the US and China trade war intensifies, how would this affect ISDN?

There is a big opportunity: China is making big investments into semi-conductor manufacturing capability.

And with 5G they are trying to develop an ecosystem, and putting a lot of money into electronic and semi-conductor related projects. That will give us opportunities actually.


Q: Regarding the new disinfectant business, what is the potential size of this market? What percentage do you think ISDN has captured and finally what was the ISDN's initial investment for this project?

The investment is not much. We have not gone into full swing so the expenses are quite minimal.

As for the market size, we are not sure but we have a very good product. Recently we conducted another test which shows our product is also drinkable. We mixed it with water, and it fulfills the PUB water standard.

It has no side effect on the skin, so it's a perfect product as a disinfectant for misting.

And recently a government ministry did tests on six or seven disinfectants, and ours was ranked No.1 in terms of effectiveness.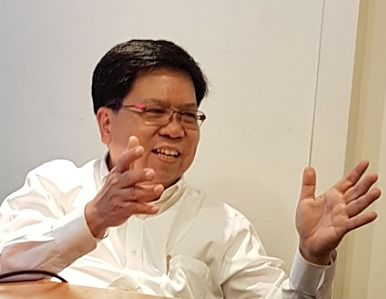 "The best thing is, and I keep saying this, our disinfectant is not solely for use during a pandemic as it can be deployed in agriculture, food and beverage and even construction industry. So the potential is huge, that's why we are so interested to venture into this."

-- CK Teo
Similar products approved by the authorities have a shelf life of less than a month but ours is 12 months. That's the beauty of this product.

Since we started the JV there has been a lot of preparation work to get approvals in order to get into certain sectors, so a lot of groundwork is being done.

Q: Currently I see the commercializing focus is in Singapore, maybe Malaysia. Do you foresee moving into bigger markets like China also?

Definitely. But we cannot travel -- that is our big challenge. We are unable to travel so a lot of work cannot be done.

Q: You purchase the disinfectant product and then install it for your customers and you're charging a margin?

Shipping cost is high, so we bring in the concentrate and we produce a product by blending it and mixing it with water. We also have a ready product from Germany.


Q; Will ISDN monetize its Indonesian hydropower assets?

Yes, it's always our plan to monetize them at the right time.


See also recent story: ISDN: Answers 30 AGM questions! Over 10 pages!