Project name
MIDTOWN GARDENS
Location
TAN QUEE LAN STREET
Developer
GUOCOLAND & HONG LEONG
Land Tenure
99 YEARS
District
7
Gross Plot Ratio
4.2
Total Of Units
585 RESIDENTIAL UNITS
Estimated Commercial Space
2,000 sqm

Mainboard-listed construction group and property developer, Tiong Seng Holdings, said it has been awarded a contract worth S$227.5 million to construct a

private residential

development at Tan Quee Lan Street.

The project is Midtown Gardens whose developers are GuocoLand, Hong Leong Group and Hong Leong Investment Holdings.

The consortium put in the top bid of S$800.19 million (S$1,535 per square foot per plot ratio) in a Government Land Sale tender last year.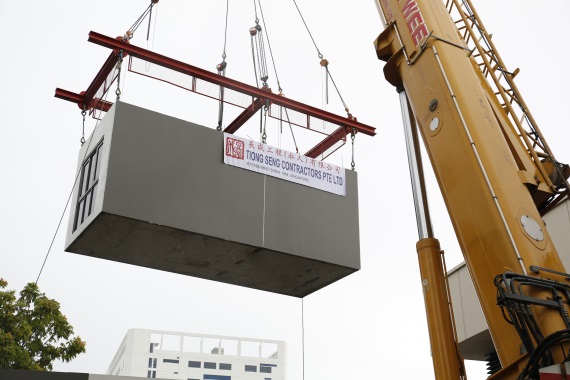 PPVC module being delivered to a construction site. Photo: Company

Tiong Seng will construct two 30-storey residential apartment blocks with more than 500 units. The first storey will comprise commercial space and various communal facilities such as a landscape deck, swimming pool, clubhouse as well as carpark space.


Stock price

13 c

52-week range

12 - 28 c

PE (ttm)

5.2

Market cap

S$55 m

Shares outstanding

445 m

Dividend
yield (ttm)

4%

1-year return

-41%

Source: Bloomberg
Additionally, the development will include an open public plaza, retail space and an underground pedestrian network.

Tiong Seng said the project will harness its in-house Prefabricated Prefinished Volumetric Construction (PPVC) capabilities, whereby free-standing volumetric modules are produced off-site at the Group's production facility before being transported on-site for assembly.

Tiong Seng has an established track record in the application of PPVC technologies, a factor behind its third contract win this year. (See: TIONG SENG: Construction demand in 2020 to remain strong).


"As the built environment sector continues to shift in favour of newer and more advanced technologies surrounding the Design for Manufacturing Approach ("DfMA"), we expect demand for solutions in this space to rise in the years ahead.
"Positioned as one of the industry leaders in developing and adopting cutting-edge construction technologies, we are optimistic that we can build on this momentum to capitalise on future growth opportunities moving forward."
-- Pek Lian Guan,
CEO of Tiong Seng Holdings
(NextInsight file photo)

The latest project wins will increase the Group's construction order book size to approximately S$1.2 billion extending to 2023.