Construction demand in 2020 is expected to remain strong after reaching a five-year high in 2019, said Tiong Seng Holdings in its FY19 results statement.
"Momentum driven by the public sector is likely to persist, with demand expected to reach between S$17.5 billion and S$20.5 billion, or approximately 62 per cent of total projected demand," said the mainboard-listed

construction group and property developer.
S$'m

2019

2018

Change
%

Revenue

405.6

379.1

7

Net profit attributable to shareholders


10.6


8.1


20.3

The industry landscape, on the other hand, remains challenging due to growing competition from foreign players and a shrinking labour pool, both of which continues to keep margins slim.
In view of the competitive industry landscape, the government is investing significantly in initiatives to transform the sector and enhance the competitiveness of local players by building a pipeline of skilled local graduates.

The government is bringing buyers and developers on board to progressively create a healthy environment where contracts are awarded based on quality with lesser emphasis on tender price, said Tiong Seng.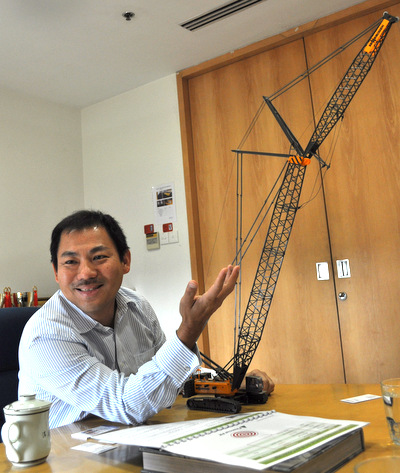 CEO Pek Lian Guan. NextInsight file photoTiong Seng Holdings has been awarded two private residential development contracts worth S$123.9 million.

• The Hyll on Holland project located at the Hollandia site was awarded by FEC Skypark Pte Ltd and is expected to commence in February 2020.

With a contract value of approximately S$99.6 million, the project will involve the construction of six 12-storey residential apartment blocks comprising a total of 319 apartment units.

The Group will also construct a landscape deck, two basement carparks, a swimming pool and various communal facilities.

• 16 Cairnhill Rise project worth S$24.3 million was awarded by TSky Cairnhill (Private) Limited to a 60:40 joint venture between Tiong Seng Civil Engineering (Private) Limited and Ang Tong Seng Brothers Enterprises Pte Ltd.

The project is expected to commence in February 2020 and will involve the construction of one 15-storey residential flat with a total of 39 apartment units, basement carparks as well as facilities on both its sky and roof terraces.