Saw Wei Jie contributed this article to NextInsight



I started looking at Dutech in 2014 and went on a visit, organised by NextInsight, to its factories in 2015 after acquiring a small stake(See article).

CIMB has done a good job providing an overview of the company in its initiation report which I recommend you to read.

My article here will provide additional key points on Dutech's acquisitions (Format Tresorbau, Deutsche Mechatronics GMBH and Krauth Technology GMBH) and long term industry trends.

Based in Germany, t

hese acquired companies came with

technology expertise that has contributed significantly to Dutech's increasing competitiveness in the global market.
Dutech Holdings

Share price:




50 c

Target:


61 c
(Source: CIMB)
Format Tresorbau

Format was initially Dutech's rival. But with a manufacturing base in Germany, its high cost structure meant it could not compete and its owner, Droege Group, eventually sold Format to Dutech in 2011.

Droege Group is an investment & consultancy company headed by Walter P. J. Droege, one of the richest man in Germany.

Dutech issued 28.54m new shares to acquire Format, making Droege Capital the 3rd largest shareholder with an 8% stake.

With the acquisition, Droege Group nominated 2 directors to the board to have oversight of the company. Based on the 2011 acquisition plan, should Droege Group decide to dispose its holding of Dutech shares any time between October 1, 2014 and March 31, 2015 (known as Validity Period), Dutech would have to compensate Droege Group the difference between the realised market price and a pre-arranged sum if the market value of the shares was below the pre-arranged sum.

This allowed Droege Group to exit at a guaranteed profit regardless of market condition.

On May 21, 2014, Droege Group agreed to change the Validity Period to October 1, 2019 - March 31, 2020, with no increase in the pre-arranged sum. This effectively increases Droege Group's investment horizon in Dutech by 5 years.

With 2 representatives on the board, Droege Group's extension could only mean that they are satisfied with not only Dutech's performance but also corporate governance. Dr. Liu has won the trust of the Germans.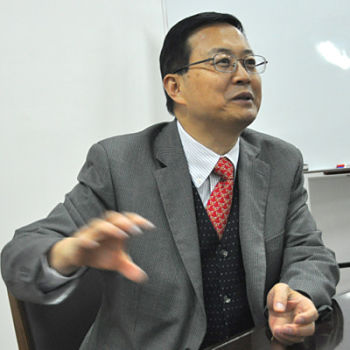 Dr Johnny Liu, CEO of Dutech Holdings.
NextInsight file photo
Deutsche Mechatronics GMBH

On October 2014, Dutech acquired 90% of Deutsche Mechatronics GMBH (DTMT) for RMB 16m with the remaining 10% to be acquired in 2019 for €500k (RMB 3.9m).

It was Droege Group which introduced DTMT to Dutech, and DTMT was acquired at a very attractive price. This resulted in a "gain on bargain purchase arising from acquisition" of RMB 55.9m as stated in the 2014 annual report, which comes from the discounted price Dutech paid for DTMT's land.

In 2015, Dr. Liu was quoted saying "We are very strong on the mechanical side. Deutsche is very strong in software and electronics. With the acquisition, we have the ability to install everything for Wincor Nixdorf and Diebold." (See report)

With DTMT, Dutech is now able to install an entire ATM for Wincor Nixdorf and Diebold as opposed to just the ATM safe.

This is in line with Wincor Nixdorf and Diebold's strategy of outsourcing more hardware production post merger (now known as Diebold Nixdorf).

Did Dr. Liu cleverly anticipate the strategic movements of its customers and prepared Dutech by acquiring the relevant know-how to benefit from this shift ?

Krauth Technology GMBH

Krauth was acquired by Dutech in January this year for €450k. Krauth specializes in manufacturing ticketing machines, a segment that Dr. Liu intends to grow, as mentioned in the 2014 annual report.

Krauth is highly synergistic and results are beginning to show.

Before the acquisition, Krauth was a small company producing up to 200 machines a year. With Dutech as a parent company, Krauth now has the financial resources to acquire additional equipment, increase headcount and take on larger orders that require more working capital.

Furthermore, it can use DTMT's facility should there be any capacity constraints. This should increase DTMT's utilization and profitability.

(See interview with Krauth execuitive on Dutech's acquisition in German).
These synergies are showing results as Krauth recently obtained a large order of 450-550 mobile ticket vending machines to be installed on trams in Austria.

"Two years ago, orders of this size still had been almost out of reach for us. Being now part of a strong company group we are now and will also remain in the position of supplying this kind of system solutions," as quoted in the company in its latest news release.


♦ Long-term trends for Dutech's gun safes and ATM safes
Dutech's high security segment manufactures products such as gun safes, commercial safes and ATM safes, all of which are experiencing long-term growth.

Negative interest rates on deposits in Japan have already spurred an increase in safes as depositors withdraw money from banks and keep them at home. (See report).

This phenomenon is not exclusive to Japan as sale of safes in Europe has been on the rise too.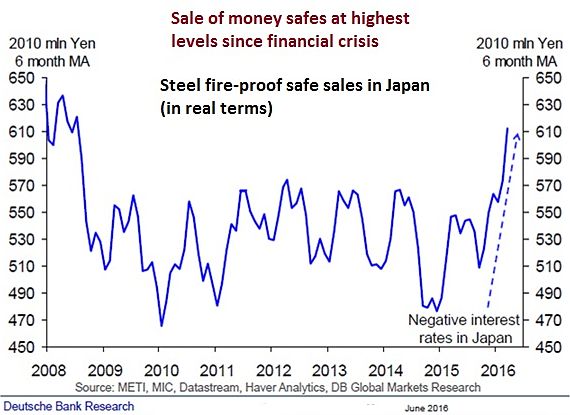 Gun safes are a product largely unique to USA due to its gun culture. The sale of gun safes correlates closely with gun sales as people buy these safes to store their gun collection.

In USA, purchasing firearms from stores requires background checks and this number is published monthly on the FBI's website. Therefore, we can estimate the demand of gun safes via the number of background checks conducted. (See report)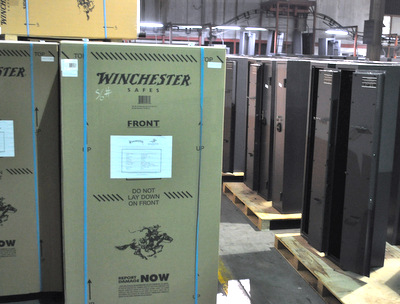 In Dutech's warehouse in Nantong, China: Gun safes destined for the US market. NextInsight file photo.Dutech's sale of gun safes dipped in 2014 after a bumper year in 2013. Since then, sales have increased as shootings in USA become more frequent and people buy guns for self protection and in anticipation of stricter gun controls from Obama's administration.

The sale of guns is expected to reach an all time high in 2016 and with that, the sale of gun safes should rise too.

Lastly, Dutech should be able to increase its sale of ATM safes in the next few years after its newly merged customer, Diebold Nixdorf, outsources more hardware manufacturing to Dutech. I believe this is possible because Dutech:

1) Is the only major affordable manufacturer of UL and CEN certified safes in China.

2) Has a long standing, reliable and substantial relationship with both Wincor Nixdorf and Diebold.

3) Posses the technical know-how to help Wincor Nixdorf achieve its outsourcing goals.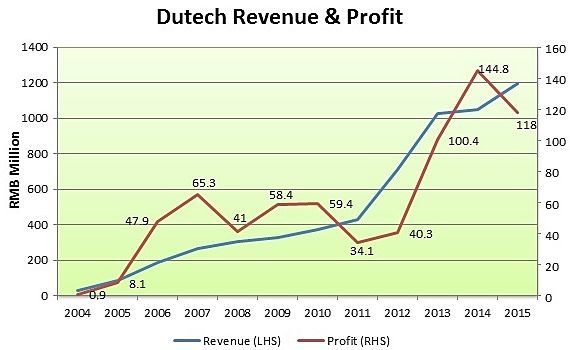 Conclusion
Under Dr. Liu's stewardship, Dutech has grown steadily from inception.
More importantly, he has become a trusted and reliable partner to his customers (Wincor Nixdorf, Diebold), business partner (Droege Capital) and associates (Krauth, Format, DTMT).
This intangible goodwill, together with high standards (CEN IV certification), cost control and innovation will ensure growth and profitability in the long run.