SINWA LIMITED'S 2014 earnings soared 41% to S$9.16m on its robust core business.

The profit attributable to shareholders was $8.42 million, up 24% y-o-y.

Revenue increased 10.7% to S$154.3 million, largely due to growth in its customer base and sales volume for the marine, offshore supply and logistics divisions.

Gross profit increased 8.0% to S$37.2 million.

However, gross profit margin declined marginally from 24.7% to 24.1%, mainly due to the disposal of an Anchor Handling Tug (AHT) in the first quarter of FY2014 and to stiff competition in the market as the industry is going through challenging market conditions.

Marketing and distribution costs grew in line with the revenue growth, increasing 13.7% to S$5.3 million in FY2014, mainly due to higher marketing and delivery charges incurred.

Administrative expenses increased at a much slower pace of 6.5% to S$21.9 million.

Consequently, the Group's net profit after tax grew 41% to S$9.16 million, translating into an increased basic earnings per share of 2.5 cents in FY2014 (FY2013: 2.03 cents).

The Group's cash and cash equivalents amounted to S$24.8 million as at 31 December 2014.

The Board has proposed a final ordinary dividend of 0.5 cent per share. With this, the total dividend for FY2014 will be 2.25 cents per share.

This represents a payout of about 40% of earnings, excluding a special dividend of 1.25 cents.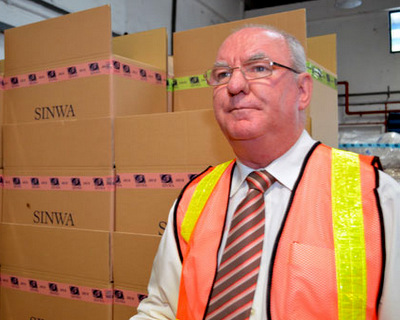 "We took a series of strategic actions to streamline our business model and focused on our core strengths of offshore, marine supply and logistics capabilities. The benefit of these actions has translated into a 41% increase in net earnings for FY2014, even as market conditions weakened in the later part of the year. This demonstrates the effectiveness of the long-term vision and strategy of the management.

"The over-capacity in the shipping industry and weak demand has depressed freight rates, and the shipping market may not improve in the short term. Also, as a number of offshore projects move from construction to production phase in Australia, and clients become increasingly prudent on their expenditures as oil prices stay low, the offshore business will not be immune from the market downturn either. We will continue to focus on and grow our core marine,
offshore supply and logistics business and actively explore further
growth opportunities throughout the Asia Pacific region."
- Bruce Rann (above), Group CEO of Sinwa

Previous stories:

SINWA: Leadership Position Key To New Business

SINWA enters Thai offshore sector; AUSGROUP secures Barrick Gold contract