Sinwa Global has kept up its momentum of paying dividends annually for the past 7 years in spite of intense competition in the sluggish shipping and offshore markets.

It declared an interim half-cent dividend for 1HFY2017, which translates into an annualized dividend yield of 4.2% based on its recent stock price of 24 cents.

The Group's 2QFY2017 revenue increased by 7.4% yoy to S$44.4 million, lifted by higher sales from the marine and offshore supply business in its Singapore and Thailand operations. Profit attributable to shareholders was down 5.4% yoy at S$2.0 million due to margin pressure on its sales contracts.

For more info, refer to its financial statements here.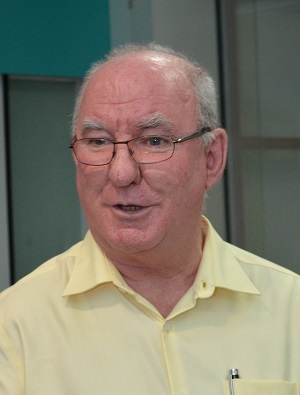 "Our new warehouse and upgraded facilities helps us to optimize our operations and diversify our revenue streams," said CEO Bruce Rann. (NextInsight file photo) In May 2017, it announced that it had secured new supply agreements totalling about A$8.0 million for vessels involved in the Shell Prelude Floating Liquefied Natural Gas project.

The LNG project will be located in the Browse Basin, about 475 km northeast of Broome and over 200 km off the coast of Western Australia.


The Group will be servicing this project from its 10,000 sqm Darwin Facility.

The Group's redevelopment of its warehousing infrastructure in Singapore was completed in 2QFY2017.


Stock

24c

52-week range

20.5c-28c

Market cap

S$81.86 m

Cash reserve
(30 Jun '17)

S$24.98 m

Gross gearing

0.05

Source: Bloomberg / Company
54,000 square feet of space was added with increased freezer, chiller and ante-room capability.

It also upgraded its fleet of delivery vehicles to include refrigerated delivery trucks, enabling products to be procured directly from international manufacturers in bulk and at a more competitive price.

The redevelopment will be equipped with ISO 22000 and HACCP certification, enabling the Group to tender to additional industry sectors, including defence and cruise.

The management expects Sinwa to remain profitable for FY2017.