Sinwa Limited achieved record revenue with net profit of S$9.5 million in FY17.



The net profit increase was 8.8% to S$8.6 million from S$7.9 million in FY16, if you

exclude foreign exchange differences and partial reversal of preceding year's impairment

.





Gross profit climbed 8.0% to S$39.9 million.



Revenue rose 13.4% to S$172.6 million on higher sales from its marine and offshore supply business in Singapore, Australia and Thailand.

Stock

23 c

52-week range

20 – 25 c

Market cap

S$78.5 m

PE (ttm)

8.3

Dividend yield

4.3%

Cash reserve

S$26.1 m

Gross gearing

0.04

Source: Bloomberg / Company
Sinwa's executive chairman, Mike Sim, said: "Despite the gloom and doom surrounding our industry, Sinwa has done reasonably well and we have had a good 2017. This is a company that is prudent and you realise how good being conservative is in tough times."


It proposed a final dividend of 0.5 cent per share, bringing total dividends for the year to 1.0 cent per share.

This represents a payout ratio of 35.8% and a dividend yield of 4.3% (based on a recent stock price of 23 cents).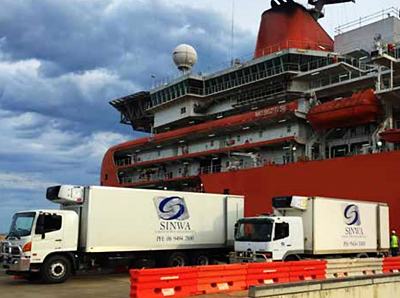 Sinwa supplies equipment and staple items (including fresh, frozen, chilled and dry provisions) to the marine and offshore industry in Singapore, China, Thailand and Australia. Photo: Company Sinwa's balance sheet continues to be strong:

♦ Cash and cash equivalents at end-2017 stood at $26.1 million (FY16: $30.9 m), even after progress payments for a $12 million warehouse which was completed in 2017 and which expands its potential clientele to those in the defence and cruise ship industries.

(Sinwa reported $5.5 million in purchase of property, plant and equipment for FY17).

♦ Total debt stood at $3.2 million (FY16: $5.1 million).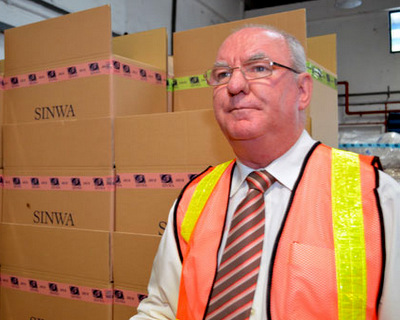 CEO Bruce Rann. NextInsight file photo.Sinwa's cash pile enables it to re-invest in the business and for possible expansion in the region.

By way of example, CEO Bruce Rann said the company's Thailand business is doing particularly well, and "with an increase in turnover from the Chevron contract which we won in March 2017, we have to move to Sattahip to support that contract and our client's growth."

Sinwa will lease a warehouse and invest in equipment such as trucks there. "We intend to expand our supply to the shipping industry out of Sattahip."

Sinwa is also growing in Australia, mainly on the back of the oil & gas industry which is seeing signs of gradual recovery.

Last year, it secured an A$8 million contract to supply to Shell's Prelude FLNG Project. Prelude FLNG is the world's second floating liquefied natural gas platform as well as the largest offshore facility ever constructed.

The supply agreement is the largest single project in Western Australia and the Northern Territory that Sinwa has ever secured.

Sinwa says 80% of its business is derived from supplying to ships and, thus, benefits from the continued increase in vessel arrival tonnage to Singapore.

The remaining 20% is from the oil & gas industry.

Watch video of our visit to Sinwa's new warehouse in Joo Koon Circle -->