SINWA has steadily grown its turnover over the past 2 years even though the marine and offshore industry that it supports underwent a prolonged downturn.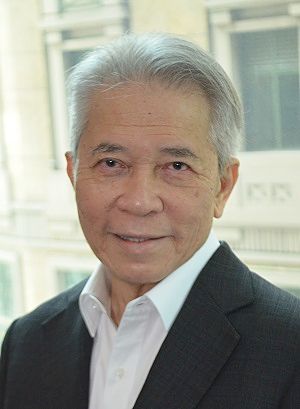 "Sodexo is integral to our expansion in the Asia-Pacific region. It caters to the majority of Singapore universities, hospitals and schools."
– Mike Sim
Executive Chairman
(NextInsight file photo)
Group revenue has grown at a CAGR of 9.3% between FY2013 and FY2015 to S$166.5 million.

At its results briefing on Thursday (11 August), the management of the leading vessel supplies services provider discussed its plans to mitigate the marine and offshore industry downturn by exploring opportunities such as F&B logistics and supply services.

Its expansion will be supported by the completion of its 5,000 sqm warehousing facility in Tuas at the end of this year.

The new facility will solve the Group's bottleneck problem by doubling its storage capacity.

Meanwhile, highlights of its 1HFY2016 results are as follows:
Group revenue increased by 5.7% year-on-year to S$82.1 million

Gross profit margin remained stable at 24.1% (1HFY2015: 23.7%)

Net operating cash flow improved to S$7.6 million (1HFY2015: S$4.0 million)

Balance sheet remains strong with a negligible gearing of 1% (1HFY2015: 3%)
1HFY2016 net profit attributable to shareholders declined by 9.4% to S$4.4 million. This was caused by higher marketing and distribution costs, forex losses of S$481,000 as the AUD slid against the SGD, and depreciation expenses for its warehouses.

For more info, refer to its 1HFY2016 results press release here.
Executive Chairman Mike Sim, CEO Bruce Rann and CFO Elvin Law addressed questions raised by the investment community at its results briefing. Here is a summary of the questions raised and replies provided by the management.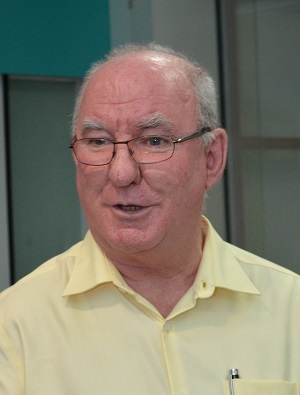 "Our new warehouse in Tuas will give us the capacity to stock the additional line items needed for our growth plans."

- CEO Bruce Rann

(NextInsight file photo)
Q: How is your business in Thailand?

Bruce: So far, our business in Thailand has supported Sodexo's offshore business, which has taken a hit. The number of oil rigs deployed off the coast of Thailand has fallen by about 40%.

However, there are always opportunities. For example, there are a couple of newbuild rigs arriving from Dubai in October that we expect to add to our income from Thailand.

Our facilities in Thailand are up and running with the right business model. We believe we have the best facilities in Bangkok and Songkhla, which are constantly being audited by big multinationals. We are now looking at supporting Sodexo throughout their operations in Thailand.

Q: What is your strategy for expanding in China?

Mike: In Shanghai and Zhoushan, we have indirect ownership through a PRC proxy. We have a Singaporean manager based in Shanghai who is also looking after the Zhoushan business. She is very experienced as she has been in this business for 30 years, including 10 years in China.

Up north in Qingdao and Tianjin, we rely on a sub-contractor. All enquiries come directly to our Sinwa office and we redirect these orders to our local partner who delivers the items to the vessel.

Our preferred way of operating is to have ownership and management rights as in the case of Shanghai and Zhoushan. We are negotiating for this in Qingdao and Tianjin.

Q: Where do your customers at PRC ports come from?

Mike: We serve the same vessels that we serve at the port of Singapore. These include global shippers from Greece, Norway, Germany, France, America and Hong Kong. We do not supply to vessels owned by PRC shipping companies because getting paid can be quite challenging.


| | |
| --- | --- |
| Stock price | 25 c |
| 52-week range | 19.1c – 28.0c |
| Market cap | S$85.3 million |
| PE | 9.3x |
| Dividend yield | 3% |
| Debt / EBITDA | 0.083 |
| Source: StockFacts | |
Q: What are your supplies?

Mike: The business can be segregated into food and non-food. Each food order contains at least 200 items, ranging from vegetables, spices, meat and fish to canned fruit, juices, milk and butter. The order depends on where the crew is from. For example, Filipinos will want Filipino specialties as they have a different diet from Indians, who may purchase Basmati rice and curry powder.

Non-food orders are deck engine stores which can range from galley stores such as kitchen cleaning detergent to safety items such as shoes, goggles, and helmets. Non-food orders usually contain 500 items or more at any one time. The market segment of the product ordered also depends on whether the shipping company is from a first-world nation or a third-world nation.

If we are supplying to a newbuild vessel, the order can contain as many as 2,000 items.

We use an ISO system to track the inventory and logistics of the supplies.

Q: How is the trend for vessels arrival at Chinese ports?

Mike: There is quite a lot of demand for vessel repair at Chinese ports because the price of steel is very competitive there. There are fewer vessels loading and unloading now because of the economic slowdown.