This is an updated report from CIMB which clarifies an error in its dividend forecast.

Excerpts from CIMB analysts' report

CIMB analysts: Raymond YAP, CFA (left) & Jian Bo GAN, CFA
Dividend payments may be lower
We have clarified with NOL that the previous dividend payout policy of 20% of net profit after tax has been rescinded from 13 February 2015, a point which we had missed in our report earlier today. Moving forward, NOL will exercise full discretion on the quantum of the payout.

As a result, we have revised down our dividend payout assumption to just 10% for FY15 onwards, which means we expect a DPS of 5.33 Scts this year, down from 10.55 Scts. Nevertheless, our Add call is intact, with our target price still based on 1.1x CY15 P/BV (average since 2001). A lower DPS means that the residual book is higher, which is why our target price is unchanged. Rerating catalysts include NOL's likely profitability this year, and its first likely dividend in four years.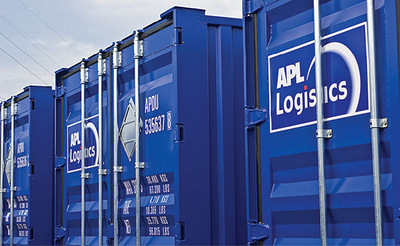 NOL is selling wholly-owned APL Logistics for US$1.2bn, netting a gain of US$900m. Photo: Inbound Logistics.What Happened

We issued a report earlier today on NOL's proposed sale of its wholly-owned subsidiary APL Logistics (APLL) for US$1.2bn, which is expected to net a gain of US$900m when the transaction is completed in mid-2015. We had noted that shareholders may be able to enjoy a DPS of 10.55 Scts this year, based on NOL's stated dividend payout policy of 20% of net profit after tax. However, it has come to our attention that this policy has been rescinded from 13 February 2015, when NOL released its full year FY14 results, as noted in its press release. We had missed this point in our earlier report
What We Think
NOL's future dividend payments will be fully discretionary and dependent on the available investment opportunities and the overall capital management plan of the group. Still, we think it is reasonable that NOL pay at least 10% of its FY15 net profit because

(1) NOL is likely to enjoy a bumper net profit this year because of the material US$900m expected capital gain from the sale of APLL,

(2) the lower bunker costs, efficiency gains from the newbuilding deliveries, and savings from charter returns will lower APL's operating costs, and

(3) the likely rise in transpacific freight rates in FY15 will also help APL turn a small profit this year.

Furthermore, even if APL decides to order six 18,000 teu vessels for around US$140m each (following the likely example of OOCL and MOL), the total capital outlay will be US$840m, less than the proceeds from the sale of APLL, and spread over three years. Most of the capex will be funded by debt anyway.
What You Should Do
Our Add call is intact, because lower dividends means that the future book is higher. The sale of APLL is a coup d'état which will reward shareholders.

Recent story: OCBC says sell NOL... but DBS Vickers says buy