ASM Pacific Technology (ASMPT), which is Singapore-headquartered and Hong Kong-listed, navigated well the global shortage of silicon components to report record 1Q2022 revenue and a 57.1% y-o-y rise in net profit.


Stock price

HK$77.55

52-week range

HK$71.85 – 125

Market cap

HK$32 b

PE

10

Dividend yield

5.1%

1-year return

-33.8 %

Shares outstanding

412.7 m

Source: aastocks.com
CEO Robin Ng said ASMPT shifted to a 'just-in-case' inventory management to strengthen its supply chain resilience for some components and redesigned subsystems to enable more silicon component options for its products.

It also made strategic investments in its external manufacturing capabilities, and is working closely with suppliers to address component shortages.

Coupled with the Group's strong operational capabilities, these actions enabled it to deliver strong financial results, including record Q1 revenue of US$674.8 million (+21.5% YoY).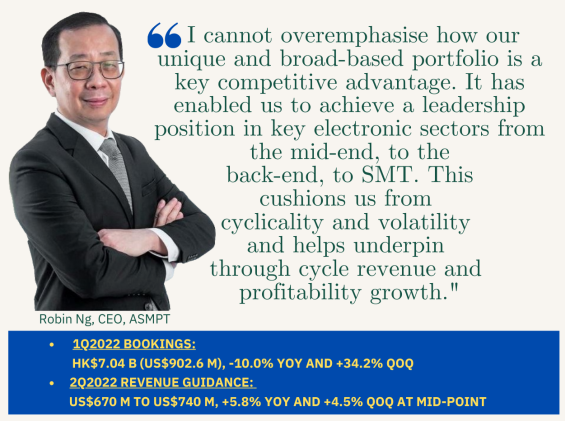 ASMPT is a leading global provider of hardware and software solutions for the manufacture of semiconductors and electronics. Its customers span the breadth of the semiconductor and electronics manufacturing ecosystem. In Singapore, it operates two plants in Yishun, with a headcount of 1,400 approximately, representing over 9% of the total group headcount, including R&D teams.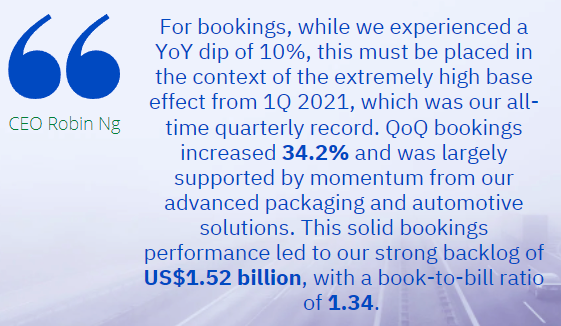 What is "advanced packaging"? Click here.

Advanced Packaging Momentum

ASMPT's advanced packaging solutions have contributed to its strong bookings in 1Q2022, accounting for some 35% of total bookings with the remaining being "mainstream bookings".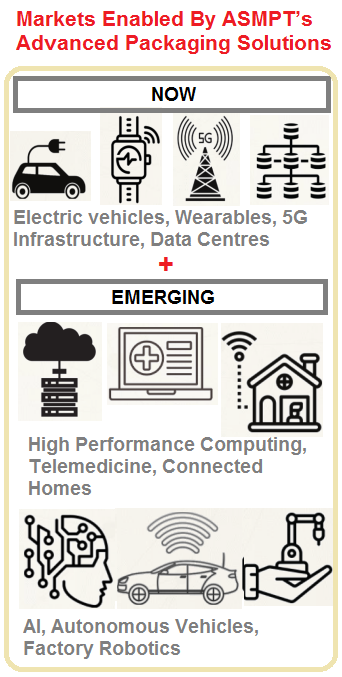 "The breadth of our AP solutions is unique in the marketplace, with strong orders for many of our AP solutions, most of them at record levels for their respective categories. What is noteworthy is that while these bookings tend to be more 'lumpy' compared with mainstream bookings, they are fuelled by long-term capability requirements," said Mr Ng.

Demand from high performance computing applications, and the increasingly demanding advanced display and system-in-packaging or 'SiP' applications, are all secular trends that are less susceptible to short-term capacity cyclicality, he said.


Automotive Solutions

The other significant factor anchoring the group's bookings in 1Q2022 has been strong demand for its automotive solutions, which grew about 49% QoQ.

This demand was all-encompassing, spanning its automotive solutions across both SEMI (semiconductor) and SMT (surface mount technology) segments.

"Global momentum for automotive electrification is gathering pace and is expected to be one of the sustained drivers for our business."


In essence, ASMPT provides a wide range of solutions that link the entire semiconductor packaging and assembly value chain.
Its broad portfolio has two main areas:

• Mainstream Tools providing both Volume Leverage and Cash Generation from a large installed base,

•

Advanced Packaging Tools delivering

high growth and high margins and addressing more complex packaging requirements.
The business mix ultimately helps drive long-term performance more sustainably as it reduces cyclical revenue and profitability trends, and create the conditions for robust structural revenue growth and margin expansion, said Mr Ng.
ASMPT acknowledged that it faces the effects of sporadic COVID-19 measures and continuing supply chain constraints.

"Such dynamic uncertainties can also influence our near-term deliveries. Based on this, we expect Q2 2022 revenue to be between US$670 million to US$740 million, representing growth of 5.8% YoY and 4.5% QoQ at mid-point," said Mr Ng.

"We remain confident about the future. Strong industry tailwinds and secular growth trends from increasing semiconductor content density and complexity in devices are powering profound and long-term structural growth in semiconductor device unit volumes. In tandem, we have also seen leading semiconductor companies announcing bullish multi-year capital investments to ride this growth wave."


Excerpts from DBS Research report (21 Apr 2022)
Valuation:
ASMPT

Share price:
HK$77.55

Target:
HK$138
Our TP of HK$138 is based on an expected mean reversion to its seven-year average forward PE of 17x, implying FY22F forward PB of 3.7x.

We like ASMPT for its cheap valuation, and as a beneficiary of sustainable growth in semiconductor players' CAPEX.

Where we differ:
The market expects ASMPT sales to slow down or even decline due to sluggish or negative growth of smartphone shipments.


"We believe semiconductor manufacturers' CAPEX will maintain high single-digit growth due to underinvestment."
However, we believe semiconductor manufacturers' CAPEX will maintain high single-digit growth due to underinvestment.

Our FY22-23F EPS is 22%/55% higher than the market.

Key Risks to Our View:
1) Slower-than-expected global semiconductor growth due to economic downturn and
2) prolonged lockdown in production area due to Covid-19 outbreaks.


For more info on the 1Q2022 results, click here.