ASMPT (fka ASM Pacific Technology) is a leading global provider of hardware and software solutions for the manufacture of semiconductors and electronics. Its customers span the breadth of the semiconductor and electronics manufacturing ecosystem. In Singapore, it operates two plants in Yishun, with a headcount of 1,400 approximately, representing over 9% of the total group headcount, including R&D teams.


The ASMPT Board approved a share buy-back plan on 20 July 2022, following which the company progressively bought back a total of 2,467,400 shares for HK$152 million.

That translates into an average of HK$61.60 per share, compared to the recent traded price of HK$43.20.

ASMPT said it would buy back on-market shares of the Company up to a maximum value of HK$420 million.

It held cash and bank deposits of HK$3.90 billion as of 30 Sept 2022 (versus HK$4.49 billion as of 30 Sept 2021).

In addition, ASMP

T remains committed towards its dividend policy of around 50% payout on an annual basis.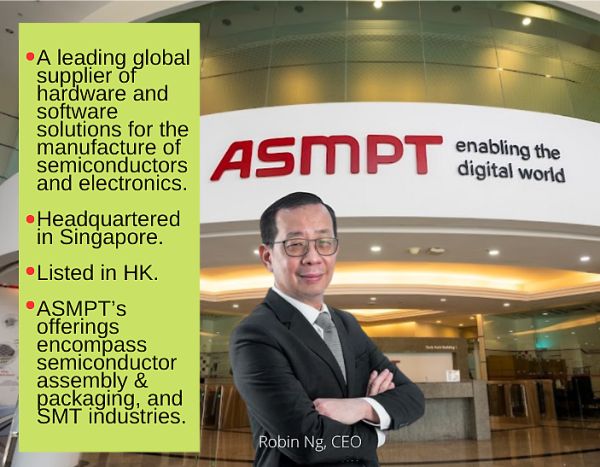 ASMPT's net profit for 9M2022 came in at HK$2.35 billion (+3.8% YoY) but 3Q net profit of HK$616.8 million was -38.5% YoY and -31.8% QoQ.

During an earnings call this week, CEO Robin Ng said results were affected by external factors such as the start of the Russia-Ukraine conflict, followed by sporadic COVID-19 lockdowns in some key markets, plus the progressive increase in interest rates to tame inflation, coupled with ongoing trade tensions.

"Although the supply chain situation gradually improved, there were still bottlenecks for certain materials and key components. The combination of all these factors resulted in a sharp drop in consumer sentiments that led to industry players softening their near-term outlook."

Still, Mr Ng said its unique and broad portfolio functions both as a source of competitive differentiation and as a key contributor to the Group's resilient performance.

"The effects of our unique, broad-based portfolio became even more evident as we navigated the business through the challenging macroeconomic environment of 2022."

Key is the automotive market, which experienced strong performance and was the highest contributor to both Group bookings and revenue for 9M2022. Automotive had strong growth year-on-year in revenue, thanks to a surge in electric vehicle sales across the world.

For bookings, Automotive also did very well, with the biggest share of Group bookings for 9M2022.


Stock price

HK$43.20

52-week range

HK$41.60 – 81.00

Market cap

HK$17.7 b

PE

5.6

Dividend yield

9.0%

1-year return

-48 %

Shares outstanding

410.2 m

Source: aastocks.com
ASMPT has been progressively expanding its Automotive customer base, and increasingly servicing pure Electric Vehicle players on top of hybrid and conventional automotive customers.

As for Advanced Packaging, the Group has the broadest and most comprehensive suite of solutions. In 9M2022, demand for its advanced tools remained robust and these solutions continued to yield stable year-on-year contributions to Group revenue.

Advanced Packaging bookings also remained stable on year-on-year basis despite the overall decrease in Group bookings.

"This signifies that Advanced Packaging is generally less impacted by industry cyclicality," said Mr Ng.

The Group's SMT segment enjoyed both revenue and gross margin improvements. In fact, the SMT segment revenue achieved a record in 9M2022, mainly supported by Automotive and Industrial end markets, with robust demand coming from Europe and the Americas.

"We firmly believe that the Group's SMT business has gained market share during the year with robust demand for its high-end
placement tools leading the way. The strong performance of our SMT segment is a great example of how our unique, broad-based portfolio came into play to help balance out the business segment cycles between SMT and SEMI."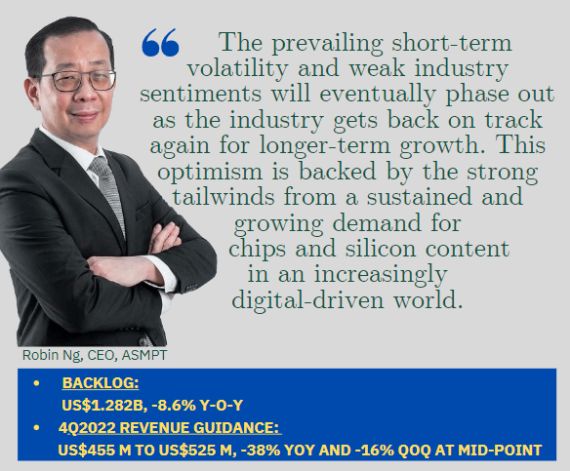 Outlook and revenue guidance
Given ongoing challenging macroeconomic conditions, ASMPT expects its 4Q revenue, which has historically been lower than its third quarter due to seasonality factors, to come in between US$455 million and US$525 million.

That represent declines of 38% YoY and 16% QoQ at mid-point.

"We believe that the prevailing short-term volatility and weak industry sentiments will eventually phase out as the industry gets back on track again for longer-term growth. This optimism is backed by the strong tailwinds from a sustained and growing demand for chips and silicon content in an increasingly digital driven world."

Mr Ng added: "What the Group will continue doing is to execute on its strategic initiatives and keep investing in R&D. We firmly believe that our strong emphasis on R&D will put us in an advantageous position to capture opportunities when they arise.

"As a leading global provider of hardware and software solutions for the manufacture of semiconductors and electronics, ASMPT is poised to continue its long-term growth trajectory.

For the Powerpoint deck, click here.