This is part 1 of a 2-part report. Part 2 is: ASMPT: Q&A on 40% gross margin, semicon recovery


After the semiconductor industry's super-cycle year 2021, the following year was hit by events including the Russia-Ukraine conflict, ongoing trade tensions, inflation and cautious consumer sentiment in the face of an economic slowdown.


Stock price

HK$72.95

52-week range

HK$41.60 – 87.75

Market cap

HK$30.1 b

PE*

11.5

Dividend yield*

4.4%

1-year return

-14.4 %

Shares outstanding

412.7 m

* Based on FY22 EPS $6.36 and HK$3.20 dividend.

Still, ASMPT
's performance for 2022 actually surpassed pre-pandemic levels, recording its second-highest annual revenue and bookings.

CEO Robin Ng said at an earnings call this week: "Part of our success was our ability to effectively tap the competitive advantages of our unique and broad-based portfolio of semiconductor and electronics manufacturing solutions.

"These span mainstream, applicative, and advanced packaging tools, and serve various end-market applications across a global pool of customers. We truly believe our solutions portfolio continues to be a differentiator for us."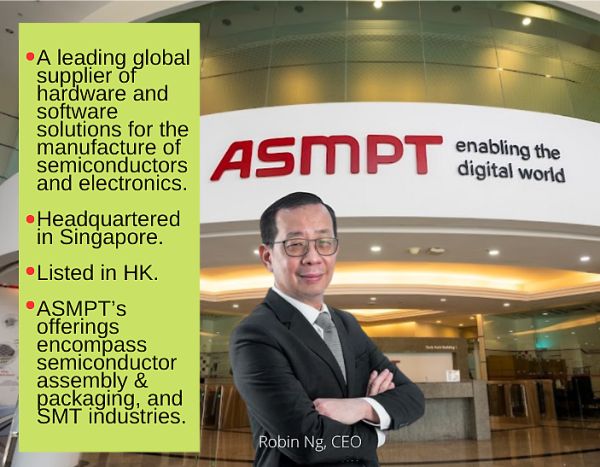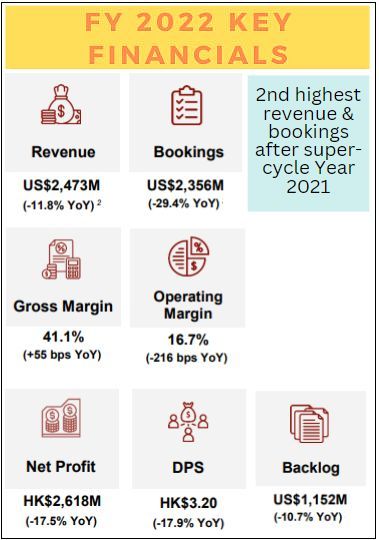 Reflecting different business cycles, the SEMI segment's revenue fell 25.2% y-o-y while SMT segment grew 9.8%. Regarding ASMPT's unique and broad-based portfolio, the Group's SMT segment delivered record revenue in 2022, fuelled by strong demand from the Automotive and Industrial end-markets.

The SMT segment also recorded its highest ever share of contribution to Group bookings in 2022.

"These developments clearly reflect the resilience of our business model even in a semiconductor downcycle."

As for the end-markets, with macroeconomic uncertainties and dampened consumer sentiments, the Consumer, Communication and Computer end-markets were weak in 2022.

However, the Automotive and Advanced Packaging end-markets did well, delivering an aggregate of about 40% of Group revenue for 2022:

• The Automotive end-market benefitted from the global transition to electric vehicles and thus counted China's fast-growing EV manufacturers among its customers.

This end-market enjoyed 20% year-on-year growth in revenue, achieving its highest-ever level of about US$515 million. Automotive also had the highest weightage of Group revenue at about 21%.


• Advanced Packaging solutions contributed roughly US$500 million in revenue for 2022, or about 20% of total Group revenue.

Mr Ng said: "The Group is confident of having the industry's most comprehensive suite of Advanced Packaging solutions across the SEMI and SMT segments."


Heading into 2023, Automotive and Advanced Packaging set ASMPT's orderbook up well, boosting the total backlog to US$1.15 billion. Most of it will be delivered this year.

The Group expects revenue for first quarter of 2023 to be between US$455 million to US$525 million. At mid-point of guidance, this will be a decline of 11.4% quarter-on-quarter.


As for dividends, the policy is to maintain payouts of about 50% of Group's profits on an annual basis.

For 2022, the Board proposed a final dividend of HK$1.90 per share. Including an interim dividend of HK$1.30 per share, the total payout for 2022 is HK$3.20 per share.

For more on the results, see the Powerpoint deck here.