XMH HOLDINGS is finalising its acquisition of 80% of Z-Power Automation and expects to book the latter's financial figures starting in just a month or two (Jan or Feb next year).

The significance of the acquisition is not lost on investors who have noted how an earlier acquisition, Mech Power, has proved to be a saviour for XMH, whose core business was over-dependent on the Indonesian market for its marine engines and engine propulsion systems.

Mech-Power, which produces standby generators for data centres and other buildings, has delivered the bulk of the profits recorded by the group since it was 100% acquired in Sept 2013.

Z-Power will be earnings-accretive too, according to XMH. Z-Power reported $1.9 million net profit on revenue of S$21.4 million in calendar year 2013. (See: announcement)

Z-Power specializes in the assembly, retrofitting and manufacturing of type-tested switchboards, distribution panels, console, control systems, switchgears and other integrated marine automation products. (For more, see: XMH HOLDINGS: To acquire 80% of Z-Power for S$13.2 million

)



The two acquisitions reflect XMH's strategy of using its large cash pile -- built up in good times -- "to buy profits".

Its IPO in 2011 and a subsequent share placement raised a total of about $29 million largely applied to developing a 7-storey industrial building-cum-HQ in Tuas, which will be completed in 2015.

As at end-Oct 2014, XMH had $23.9 million cash and $3.9 million in borrowings.

The cash pile is set to fall as XMH will dig into it to fully pay in cash the $12.8 million purchase consideration of Z-Power (The amount has been lowered from the original $13.2 million and terms of payment changed).

In the recent 2Q (ended Oct 2014), XMH reported net profit attributable to shareholders of $711,000 (down 64.9% year-on-year).

And for the first six months of its current FY, net profit came up to $2.1 million (down 54.9% y-o-y). Some key matters, as discussed at the 2Q results briefing this week:




» Indonesia: What was once a thriving market has turned out to be dampened for the past year or so, largely due to a fall in external demand for coal which has affected XMH's potential Indonesian customers who own, operate or build tugs and barges.

Market demand for XMH's marine diesel engines and propulsion systems was expected to pick up significantly after the Indonesian presidential elections in July this year but that has not happened.

XMH deputy CEO Alphonsus Chia said a pickup won't come about until probably the tail-end of the current FY. And much depends on the Indonesian government executing its policy to develop ports (For more, see Bloomberg story).

.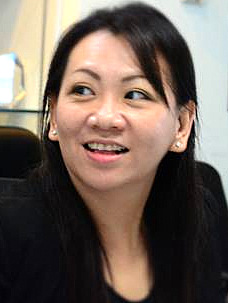 Jessie Koh, finance director of XMH. NextInsight file photo» Vietnam: XMH is gaining traction in Vietnam, with the government's new policy of subsidising up to 2,100 new fishing boat and 205 logistic ships to support fishing activities.

XMH seeks to increase its penetration rate in the country by recently appointing a second dealer for its marine diesel engines and propulsion systems.

XMH secured its breakthrough in April this year and orders have been racking up. They will be delivered through 2016, said XMH's finance director, Jessie Koh.

XMH is the distributor for Mitsubishi engines in various countries including Singapore, Indonesia and Vietnam.

For more, see:
» Gov't to support new fishing fleet
» Vietnam to make 30,000 steel-clad boats for fishermen by 2020

» Mech-Power: This has proven to be a larger engine of growth for XMH than the latter had expected prior to the acquisition.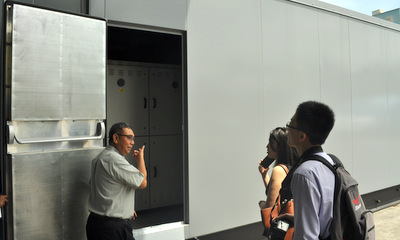 This entire thing is a standby power generator set for a data centre. It was manufactured at Mech-Power's factory in Johor.
NextInsight file photo.Mech-Power, which accounted for $26.6 million of the $45 million revenue of XMH in 1HFY15, is enjoying a business boom particularly with data centres, which account for about half of its revenue.

In its most recent announcement, XMH said Mech-Power had secured $11.3 million of contracts for Changi Airport Terminal 4 and a 5-storey data centre.

There could be more good news to come: Mech-Power is hiring new talent and will execute strategies for additional revenue streams, said Mr Chia.

In Xin Min Hua (XMH's subsidiary that does the marine engine business), an infusion of new talent has also taken place in recent times and will continue.

In the middle of next year, the group's new HQ in Tuas will be completed and will house the management of all the three core businesses, paving the way for greater business integration and increasing synergies.
Recent story: NRA lowers fair value of XMH to 31 c; OSK-DMG keeps it at 42 c