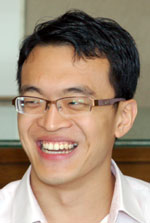 OSK-DMG analyst Lee Yue Jer, CFA (left), has a target price of 42 cents for XMH Holdings. It is based on 12x FY15F P/E and a forecast S$15.3 million in net profit. See: XMH, CENTURION: What analysts now say

Another analyst, Joel Ng of NRA Capital, has a lower target of 31 cents. See
his report below…..



NRA Capital analyst: Joel Ng (left)



 Earnings below expectations. 1Q15 profit of S$1.4m was less than half of our S$2.9m net profit expectations, due to lower-than-expected revenue from its distribution business segment and higher-than-expected operating expenses.
Weak distribution business was mainly due to continuing slowdown in Indonesian operations.


 Maintain Neutral. Given the lower-than-expected results, we lower our FY14-16 forecasts by 6-12%. As a result, our fair value is lowered to 31 cents from 36 cents, still pegged to 12x FY04/15 PER. We maintain our Neutral recommendation as we think that weaknesses in its key market will continue to persist in the short term. Its decent 4% dividend yield should, however, provide some support.



 Acquisition of Z-Power to contribute meaningfully next FY. The group will pay S$13.2m in cash for 80% of Z-Power, with the deal expected to be completed in the next few months. If the deal goes through, it will begin contributing only end FY3Q15. In our previous report (dated 3-Sep 14), based on our assumptions from BH Global's Annual Report, Z-Power's performance was S$21.3m and S$2.1m for its top and bottom line, implying a PER of 8x, making the deal earnings accretive for XMH. We have not factored this in our forecasts until more details are available.


 Indonesia starting to pick up. Although business is starting to pick up in Indonesia after the conclusion of their presidential election, key risks remain. For one, China's campaign to clean up its air has led to the banning of low-grade coal, which will mainly affect Australia and Indonesia. Second, its economy continues to be weighed down by the increasing energy subsidies that will account for 14% of its total budget next year, leaving less for the country's much needed investment in infrastructure to support future growth.





Lastly, its trade imbalances have affected its currency that remains weak against the USD. Nevertheless, we remain optimistic on Indonesia's favourable demographic trend and its strong local consumption demand that will help drive economic growth above 5% (according to Bloomberg's consensus estimates) over the next few years. However, we think XMH's Indonesian business will continue to be affected in the short term.

 Revenues increased 20.5% yoy to S$25.8m mainly from MPG's offset by decreased revenue from its distribution and after-sales business segment. Gross profit margins increased 0.9% pts to 25.8% due to higher gross margins from all business segments.