XMH HOLDINGS last year made a 100% acquisition of Mech-Power Generator, a move that has proven to be highly positive for its top- and bottom-line.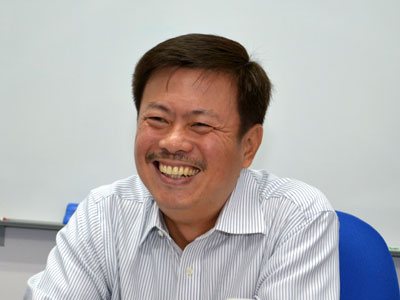 "Z-Power is a sound brand name in the industry and is a valued partner in providing excellent solutions and quality products to the marine and offshore industries. The acquisition will allow XMH to leverage on Z-Power's extensive technical knowledge to improvise on its current product range and add a fully complementary suite of products to the Group's current range. This will allow the Group to extend a much more comprehensive package to its customers."

- Elvin Tan, Chairman & CEO of XMH Holdings (above)

This morning, XMH announced it has entered into a
MOU
for its second acquisition -- an 80% stake of Z-Power Automation.
Following the release of the news, the stock price traded up 2 cents to 33.5 cents.
Z-Power specializes in the assembly, retrofitting and manufacturing of type-tested switchboards, distribution panels, console, control systems, switchgears and other integrated marine automation products
(see corporate video above).
Apart from a handful of customers that are common to both companies, Z-Power will also provide XMH with significant exposure to a wider customer base to cross-sell its products.

The acquisition of Z-Power will also bring onboard the Niigata brand of main engines and propulsion systems for which Z-Power is an OEM, as well as the technical service and maintenance support.

This will further expand XMH's suite of products which are synergistic to its core business of being a diesel engine, propulsion and power generating solution provider in the marine and industrial sectors.
XMH said that Z-Power has consistently been profitable in the last few years, with the last reported financial year's revenue coming in at S$21.4 million. No profit figure was given.

The purchase consideration of S$13.2 million (for an 80% stake) is similar in size to the S$17.45 million which XMH paid for a 100% stake in Mech-Power.

The Z-Power vendors will be paid in two tranches, with the first tranche of S$10.56 million to be paid shortly after the completion of the acquisition.

The second tranche of S$2.64 million is to be paid on the first year of the completion of the acquisition.

The vendors are listed company BH Global Corporation (which holds a 60% stake in Z-Power) and four individuals -- Ang Cheng Siew, See Hoon, Tang Hing Yiu and Tai Mui Foong.