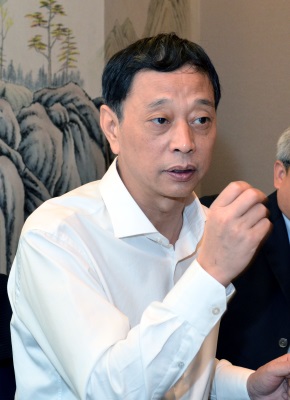 Fang Ming, CEO of Ying Li International. NextInsight file photo.Ying Li – Has its share price run its course?

After my write-up on Ying Li on 10 Sep (see my write-up posted here), Ying Li surged 46% (in two months) from $0.135 on 10 Sep 2015 to an intraday high of $0.197 on 9 Nov 2015. It has since weakened 23% to close at $0.152 on 11 Dec 2015.
Has Ying Li's share price run its course? Let's take a look at its current and upcoming developments and you can make your own decision.

Strong project pipeline instills confidence

According to Ying Li's project pipeline, there are several projects such as San Ya Wan Phase 2B and likely 2C, Ying Li IEC Phase 1A, Ying Li International Plaza office and Future Beijing Residential projects (with varying degrees) to contribute to FY16F results.

It is noteworthy that FY15F has meaningful contributions from two projects only, viz. Ying Li International Plaza office and San Ya Wan Phase 2A. Thus based on the project pipeline and barring unforeseen circumstances, FY16F is likely to be a better year for Ying Li.

Easing measures by the PRC government

This point was mentioned in my earlier write-up. From Mar 2015 to Sep 2015, China has repeatedly eased purchase restrictions for home buyers (be it 1st time buyers; 2nd time buyers, or foreign buyers). This trend is likely to continue amid China's slowing property sector. It is noteworthy that the property sector in China comprise of approximately 25 – 30% of China's GDP (if we include the upstream and downstream industries such as appliances, cement, furniture, glass and steel etc.)

Chongqing – strong GDP and robust disposable income

China has been often quoted as slowing down and there are worries about the implications of its economy on companies which operate in China. However, different parts of China grow at different paces. According to China Daily, Chongqing has scored tops in GDP growth among all Chinese provincial level regions for seven consecutive months.

In addition, Chongqing's disposable income per capita has been growing at a CAGR of 10% since 2008 (see Figure 1 below). This bodes well for both property sales and Ying Li's rental business as its customers (who rent the work area from Ying Li) are likely to do well.

Furthermore, Chongqing is the largest city in China by land size (82,400 sq km) and it is one of the largest cities in the world by population size.

Figure 1: Chongqing's growing disposable income
Source: Company
Chongqing – strategic and advantageous location

Chongqing has been selected to be the 3rd Government to Government Project between China and Singapore. This is a significant event. Suzhou Industrial Park (1994) and Tianjin Eco-city (2008) are the first such projects. Such projects are significant as they bring long term benefits to the areas. For example, Suzhou Industrial Park is widely regarded in China as an iconic manufacturing base.

In addition, Chongqing lies on a strategic location along the new "Silk Road Economic Belt". Consequently, Chongqing is likely to benefit from the One Belt, One Road" strategy initiated by the Chinese government.

3QFY15 results snapshot

Revenue from sales of properties dipped in 3QFY15 and 9MFY15 because the contracted pre sales from the Ying Li International Plaza project were handed over in FY14. Barring unforeseen circumstances, we should see San Ya Wan Phrase 2A of RMB268m to be recognized in 4QFY15F (see announcement dated 14 Sep 2015).

Based on Figure 2 below, rental revenue is likely to continue on an uptrend over time, as a result of the adjustment made to the tenant mix and an increase in the office space leased out from the IFC office units.

Figure 2: Revenue from sale of properties and rental income
Source: Company
How has China Everbright Limited contributed to Ying Li?

Based on Ying Li's annual report 2014, China Everbright Limited ("CEL") holds around 14.9% of Ying Li's shares at an investment cost of $0.260 / share. This investment was completed around 4QFY14. So what synergies, or benefits has CEL brought to Ying Li?

CEL contributed to Ying Li in several ways such as

* CEL's astute mall management skills. With the help of CEL, Ying Li has rebranded its malls to iMix Park. iMix is a well-known brand used by CEL. With this brand, it is easier for Ying Li to negotiate with its tenants for better terms, as well as, attract some other tenants.

* With CEL's contacts and network, Ying Li announced on 31 Dec 2014 that it has clinched its 1st project outside Chongqing i.e. the Future Beijing, Beijing Tongzhou project.

* With CEL's extensive network, it is actively helping Ying Li to widen its funding sources.

Valuations are at lower end of 5-year range

Notwithstanding the recent appreciation in Ying Li's share price, it only trades at 0.42x P/BV and is still significantly below its average five-year price to book of around 1.21x. For the past five years, Ying Li trades between 0.37 – 1.94x P/BV. According to Shareinvestor, Ying Li's NAV / share is $0.364.

As per my previous write-up, I wish to reiterate that in times of capitulation or extremely weak market conditions, it is entirely possible that Ying Li may trade lower than its P/BV of 0.37x. What we know for now (based on statistics) is that, Ying Li is trading at levels at the lower end of their historical valuation bands. Ceteris Paribas, when sentiment recovers, coupled with Ying Li's continued delivery of good results and property sales (be it in the coming months or years), it is likely that it may re-rate nearer to their historical mean.

It is noteworthy that Ying Li's development properties amounting to RMB4.6b are recognized at cost. In other words, there may be potential development gains which may raise its net asset value over time.

Risks

Besides the risks cited in my earlier write-up (see here), there are two noteworthy points to be raised.

May need to do share consolidation or risk being put on watch list by 1 Mar 2016

Ying Li trades on the Mainboard and its share price is currently $0.152. With the recent six months extension of the minimum trading price ("MTP"), if Ying Li's historical six-month volume-weighted average stock price (VWAP) preceding 1 Mar 2016 is still below the MTP of $0.200, it will be placed on the watchlist by 1 Mar 2016. Ying Li will have a 3 year period to exit from the watchlist, failing which, it will be delisted from SGX Mainboard. Thus, there is a possibility that Ying Li may have to do a share consolidation or move to Catalist if it cannot meet the MTP. Meanwhile, the company has no plans to do a share consolidation or move to Catalist, as it believes the current weakness in the share price is due to the overall market sentiment, and is confident with the company performance in the coming year.

Limited analyst coverage

Since my write-up on Ying Li on 10 Sep, NRA has initiated coverage on Ying Li on 27 Oct 2015 with a target price $0.550. CIMB Securities, Lim & Tan and Insyte have published unrated reports. It is likely that the analysts, or the market are waiting for Ying Li to deliver on their projects before they initiate rated reports. To a certain extent, investors who understand and believe Ying Li's prospects now can purchase it with a considerable margin of safety.

Chart analysis

Ying Li has slid 23% to close $0.152 on 11 Dec 15. Ying Li's trend is down with all the exponential moving averages ("EMAs") trending downwards. Given the ADX of 20.5, the downwards trend is not strong. Indicators such as RSI and MACD are near three month lows. Based on current chart developments (See Chart 1 below), it is unlikely to revisit the levels around $0.130 +, last seen before my first write-up. Any pull back is unlikely to breach below $0.143 – 0.148 on a sustained basis.

Near term supports: $0.148 / 0.143 / 0.139

Near term resistances: $0.156 – 0.158 / 0.166 – 0.168 / 0.170
Chart 1: Ying Li has slid 23% to close $0.152
Source: CIMB chart as of 11 Dec 15
Conclusion

This write-up is just an update to my previous write-up on Ying Li on 10 Sep 2015. The above summarises Ying Li's existing and upcoming developments. Readers can refer to Ying Li's corporate website http://www.yingligj.com/ for more information. Readers who are on my website signup list will also receive the NRA's initiation report dated 27 Oct 2015 on Ying Li.

As mentioned previously, readers who wish to be notified of my write-ups and / or informative emails, they can consider to sign up at http://ernest15percent.com so as to be included in my mailing list. However, this reader's mailing list has a one or two day lag time as I will (naturally) send information (more information, more emails and more details) to my clients first. For readers who wish to enquire on being my client, they can consider to leave their contacts here http://ernest15percent.com/index.php/about-me/

Disclaimer
Please refer to the disclaimer here