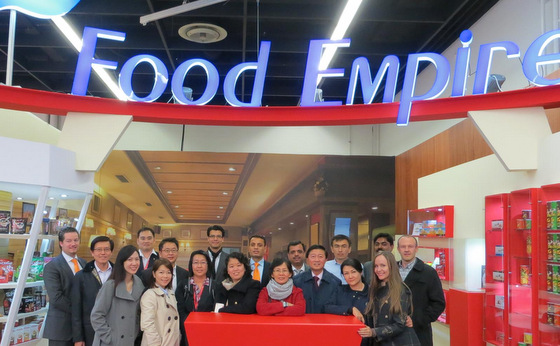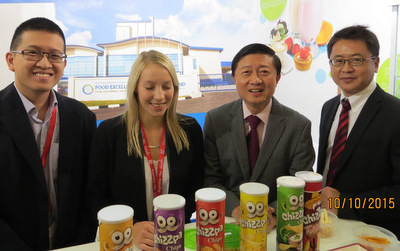 Food Empire executive chairman Tan Wang Cheow is second from right while CFO William Fong is on the extreme right.Photos: Facebook page of Tan Wang Cheow

FOOD EMPIRE, a Singapore-listed company best known for its 3-in-1 coffee products, is currently taking part in high-profile trade fair Anuga, in Cologne.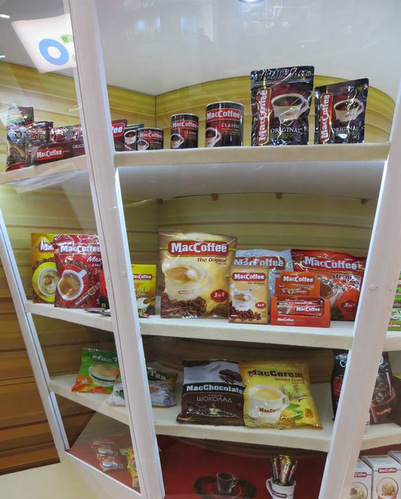 MacCoffee is the No.1 selling product in its category in Russia.Staged from 10th to 14th October 2015, Anuga has attracted over 7,000 F&B exhibitors from 100 countries.

Led by its executive chairman, Tan Wang Cheow, Food Empire -- which already exports to over 60 countries -- is exhibiting to potential distributors its wide range of products.

These include its MacCoffee and Klassno brand of coffee products, its Kracks and Chizzpa brand of potato chips, and Hyson tea.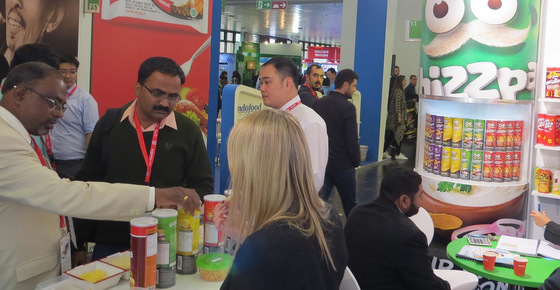 Potential distributors check out Food Empire's new offering of potato chips, Chizzpa.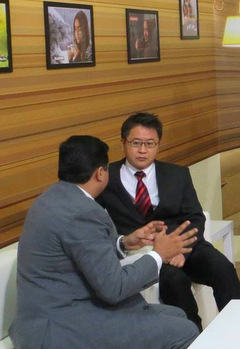 CFO William Fong (facing camera).After weathering tough times last year and early this year owing to the plunge in the Russian ruble vis-a-vis USD, Food Empire steadied itself in 2Q this year.

What's to like:

» Rise in net profit: For 1H2015, net profit attributable to shareholders was US$2.8 million (1H2014: net loss of US$0.3 million). That profit came from a turnaround in 2Q2015 when it recorded US$7.1 million net profit (2Q2014: US$2.7 million).

» Fall in other operating expenses: For 1H2015, it was US$22.2 million (1H2014: U$30.7 million).
For 2Q2015, it was US$10.8 million (2Q2014: US$15.6 million).
The decreases were mainly attributed to lower expenses for promotion activities, freight and demurrage charges, manufacturing overheads and bad and doubtful debts provision, partially offset by higher stock obsolescence provision.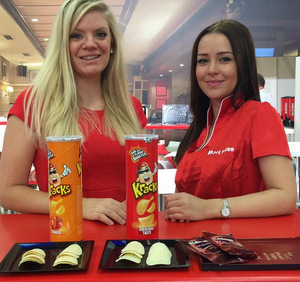 » Stronger operating cashflow: There was a net operating inflow of cash of US$6.2 million in 1H2015 (1H2014: net operating cash outflow of US$5.7 million).

» Higher cash pile: Cash and cash equivalents totalled US$24.6 million as at 30 June 2015 (30 June 2014: US$16.4 million).

The Group's non-dairy creamer plant, snack factory and the beverage manufacturing facility in Malaysia have all commenced commercial production.
The Group intends to bring up the utilisation levels of the plants and intensify marketing efforts to achieve better operational and financial performance.

The Group's other project, an instant coffee plant in India, is expected to commence commercial production by the third quarter of 2015.

See 2014 event: FOOD EMPIRE in Paris: Showcasing its growing spread of food products