Page 1 of 2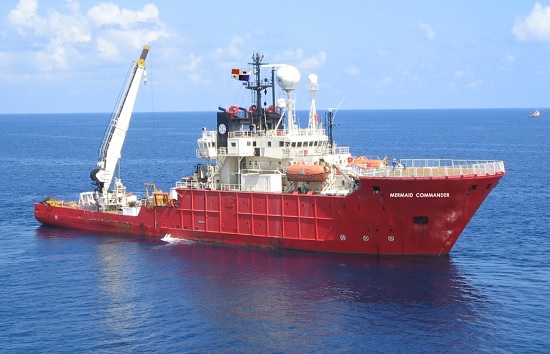 Maintenance drydocking of Mermaid Maritime's dive support vessel 'Mermaid Commander' (above) and two other DSVs dampened 1QFY2015 revenue. Photo: Company

NEGATIVE SURPRISES in 1QFY2015 dragged Mermaid Maritime into a loss of US$15.9 million, but its new cable laying business is a positive spot.

Three high-performing vessels from its fleet were drydocked for a longer than expected period and a fourth vessel that it chartered from a 3rd party had remained uncontracted.
The good news is: Its cable laying projects became profitable in February and March after some initial execution losses during 2HFY2015.
1QFY2015 Group revenue of US$60.8 million comprised of 92% from subsea inspection, repair & maintenance (IRM) services, 5% from cable laying and the remaining 3% from other services.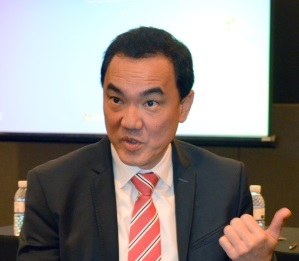 "We are the leading global subsea services specialist in terms of vessel tonnage," said executive director Joseph Chia.
NextInsight file photo
"Contracting activities are extremely active in the Middle East.
"We are actively cross selling cable laying services to our IRM customers," said executive director Joseph Chia at its telecon for analysts and fund managers on Monday.
CFO Katarat Suksawang also participated in the telecon.
Most of Mermaid's income is from the Middle East, which is the lowest cost oil producing region in the world.
Other positives include the following.

» Strong order book of US$443 million for work stretching until 2017.
This excludes contribution from its 34%-owned drilling rig associate, Asia Offshore Drilling.
» Low gearing of 0.05x provides headroom for fund raising
» The Group has secured prospective buyers from Indonesia and the Middle East for its tender rigs MTR-1 and MTR-2, which are currently under cold stack.
The Group is replacing them with two technically advanced rigs, MTR-4 and MTR-4, currently under construction and due for delivery in 2016.