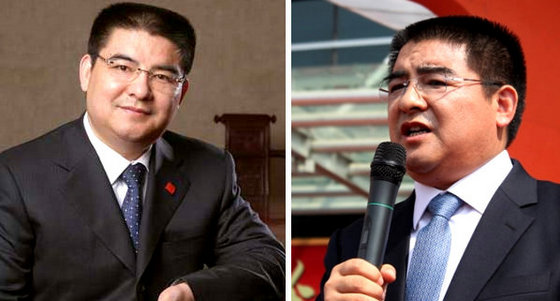 Chinese demolition and recycling mogul Mr. Chen Guangbiao is known as much for his eccentricity as he is for his charitable giving. Photos: cnr, cnfol

THERE HAS BEEN a maelstrom of media murmuring over the legitimacy and likelihood of the rather eccentric 45-year-old multimillionaire Mr. Chen Guangbiao's one billion usd bid to buy the most storied daily in the US – The New York Times.

Mr. Chen announced late last month that he was on the verge of entering negotiations to buy the 163-year-old US broadsheet, the country's third largest daily newspaper by circulation, behind only The Wall Street Journal and USA Today.

PRC chatrooms have been overwhelmingly thumbs down on the proposed buyout, calling the audacious acquisition proposal "inappropriate" with "a miniscule" chance of becoming reality.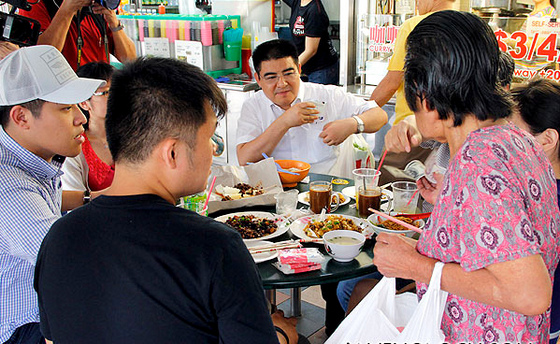 Chinese recycling mogul Mr. Chen Guangbiao (center, reaching in pocket) stunned his friends in Singapore by pulling out a US$100 bill and handing it to a tissue vendor. Photo: alvinology.com

Mr. Chen has written off the objections of his compatriots to his latest high-profile business proposition, saying "Chinese people are just too conservative."

The Jiangsu Province-born Mr. Chen, whose current net worth is around 750 million usd according to Hurun's "Rich List" of the PRC's ultra well-heeled, also responded to virtual criticism by photographing his New York-bound plane ticket and putting it on Weibo – China's equivalent to Twitter.

"Taking action is more important than everything else," he posted on his personal page.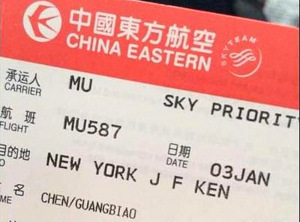 Fying China Eastern: PRC recycling philanthropist Mr. Chen Guangbiao snapped a photo of his plane ticket, proving he was bound for New York on Jan. 3 to discuss a buyout of The New York Times.
Photo: wumiiThe eccentric tycoon, who made most of his fortune buying renovated or condemned properties and recycling their building materials for a pretty profit, is low-balling the New York Times at this point, with his original offer far shy of the broadsheet's current 2.4 billion usd market value.

"There's nothing that can't be bought for the right price. If I acquire the Times, the paper will only report the truth and must verify all information," Mr. Chen said in an international media report in early January.

A recent online editorial criticized Mr. Chen's "naive and immature" stunt, given the recycling baron's stated goal of creating a US-based mega-daily with coverage of Mainland China – his beloved homeland – "more fair and objective."

But his offer price – even if it inflates over time – is unlikely to hold sway as Mr. Arthur Sulzberger Jr., chairman of "The Gray Lady," recently announced that the iconic daily -- which has been controlled by the Ochs-Sulzberger family for over a century -- is not on the selling block.

Whether or not the historic deal ever reaches the pen-to-paper stage, Mr. Chen is an interesting story in itself, worthy of front page coverage by the paper he is pursuing.

A visit in March 2013 to Singapore resulted in a telling story by Singapore-based blogger Mr. Alvin Lim.

The Mainland multimillionaire met with several local bloggers over breakfast at the Bedok Interchange Hawker Centre, and some of his actions and replies tell a lot about the man's munificence.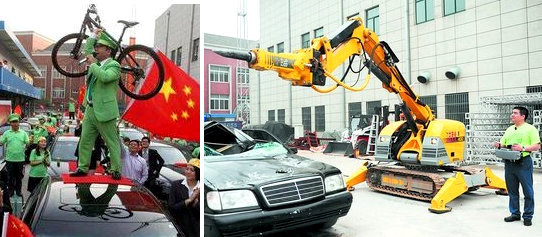 Some of recycling tycoon Mr. Chen Guangbiao's actions have earned him both fans and detractors. At left, Mr. Chen promotes Chinese cars and apparently a bicycle after dozens of Japanese vehicles were damaged in a riot in Nanjing. At right, Mr. Chen destroys a Mercedes in a PR stunt urging locals to be more thrifty and buy local. Photos: ccdy, hudong

During the course of the modest breakfast, an elderly tissue vendor approached the group's table, hoping to make a Singapore dollar or two from the sale of a few packets.

Instead, Mr. Chen reached into his pocket and pulled out a US$100 bill, which took some convincing by the group to assure the surprised hawker of its true value.

"From my limited interaction with Chen, he came across as a rather sincere and earnest person, determined to do what he thinks is right, regardless what others have to say about him," said Mr. Lim.

The generous act soon attracted the attention of others nearby, and Mr. Chen responded by giving two more "Ben Franklins" to a male and female cleaner who had meandered over to the group's breakfast table.

One streetside stall breakfast for six: Cost to Mr. Chen (300 usd + the cost of the food itself !!).

This apparent willingness to part with big money without breaking a sweat led to a telling question for the recycling baron, with one blogger named Claire asking him what was the most expensive item he ever bought for himself.

"Given his showy way of doing charity, I was quite surprised when he answered saying it is probably a Patek Philippe wristwatch he was wearing. The watch was said to be given to him by a fan and he did not even know if it was authentic," Mr. Lim said.

Mr. Chen added that he did not go for branded goods and advocated the same principle to his wife and family members.

"He also does not indulge in vices like gambling and his biggest 'vice' and hobby is doing charity, while also mentioning that if he were to visit Singapore again, he is considering going to the casinos to tell the high-rollers to donate their money to charitable causes instead.

"I don't know if it's genuine or just for show, but in the end it's for a good cause," Mr. Lim added.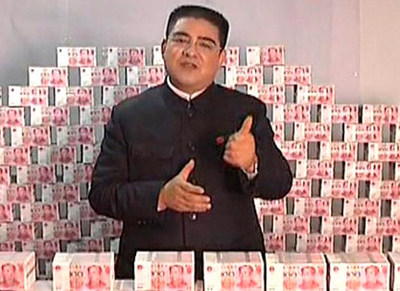 China's Mr. Chen Guangbiao is not shy about flaunting his wealth, nor giving it away. Photo: asthisWhile Mr. Chen is certainly one of the first names to come to mind in any discussion of large-scale philanthropy in China, some people are a bit put off by his showmanship in some cases.

In March of last year, the Wall Street Journal had him lecturing his countrymen on overeating.

He said he took to eating two meals a day, instead of three, for a month, and lost 6.5 kg in the process, and advocated that everyone else do the same.

"I feel better and my energy levels are much higher," he said.

The idea wasn't exactly embraced by China's massive Netizen community, with one blogger saying: "Chen Guangbiao is just showing how silly he is, China still has many people who can't get (their stomachs) full on two meals."

Mr. Chen's model of willfully opening his wallet is the charitable equivalent of rags-to-riches showmanship, with the recycling mogul a big fan of publicity stunts, money giveaways and crowds of media.

Many natural calamities – whether they be earthquakes, typhoons or droughts – present themselves as opportunities for Mr. Chen who, as it turns out, made his fortune turning trash to cash.

"When conditions are quieter, he likes to stage public distributions of money and goods, handing out 13,000 parkas one recent winter to people in three regions of China, but only after alerting the media," said online business news site Fastcompany.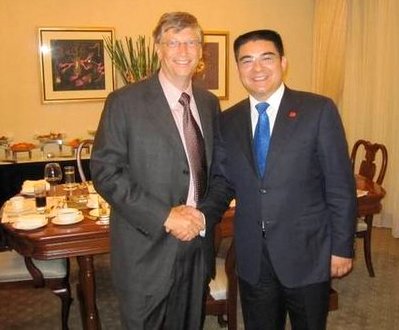 Microsoft's Mr. Bill Gates (left) counted China's Mr. Chen Guangbiao among one of the high profile tycoons at a charity conference. "Everyone knows that Bill Gates is the richest man in the world, but the position of top philanthropist is vacant. My goal is to work diligently to become the top philanthropist in the world," Chen said.
Photo: xichuBut despite the apparent randomness and carnival-like feel to his charitable acts, Mr. Chen says there's a definite goal regarding his heavily-publicized events.

China now has more US dollar billionaires than any other country except for the US, and the increasing income disparity between rich and poor has been a growing concern for leaders and society at large.

China's rich "need Chen Guangbiao to lead them, to awaken them," he says, so that they know how to behave properly, he told the business site.

There is little in the way of hardcore information online on the cash cow that propelled Mr. Chen to nearly US dollar billionaire status -- Jiangsu Huangpu Recycling Resources – other than that it specializes in demolishing crumbling edifices and bridges for a fee, and then claims all that can be pulled from the rubble for an even greater profit.

Therefore, media attention to his business affairs often centers around his highly public persona in philanthropic circles.

There is nobody else like Chen Guangbiao in the charity world. The image he's got in China is that of a showman, but there's a grudging respect for the fact that he's doing charity nonetheless," said Hurun's Rich List publisher.

Mr. Chen's grandiose pronouncements and high-profile acts rankle some Chinese billionaires, who see them as immodest -- though none have criticized him on the record.

But the Chinese authorities tolerate and even abet his self-promotion, said FastCompany.

On September 29, 2010, a government directive was issued that said simply: "All newspapers are forbidden from reporting negative news about Chen Guangbiao."

He frequently appears in the official Chinese media, giving away red envelopes of cash and distributing aid in disaster zones, and likes to build "walls of money," ostentatiously piling up banknotes, and then have himself photographed in front of them.

He once had such a "currency castle" constructed in Beijing from 15 million yuan, the money came from a larger pot of more than 19 million in cash and goods donated by Chen and 90 other entrepreneurs for distribution to poor families in three regions of China.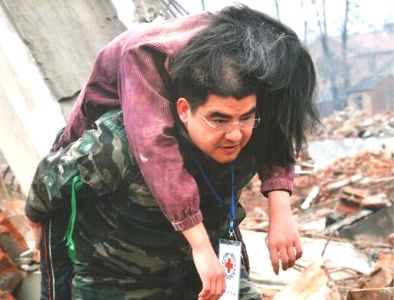 Mr. Chen Guangbiao helping with rescue efforts during the 2008 Sichuan earthquake. He spent 54 days in the quake-hit zone and donated over 100 million yuan for post-quake construction.
Photo: chinamilChinese Phoenix

As for his upbringing, it turns out it was truly a world apart from the life of luxury he now is capable of living.

Mr. Chen's newfound riches exist in painfully sharp contrast to his upbringing during which he witnessed two of his siblings starve to death when he was just four years of age

He therefore intimately knows what it's like to live on either side of the proverbial railroad tracks.

Born during the early days of the tumultuous Cultural Revolution, he was raised by a poor farmer in a village known for its fiercely-strong spirits of the potable kind.

The young Mr. Chen began toiling during his childhood, herding cattle, harvesting hay and lugging water to and from the fields, his father Mr. Chen Lisheng told Fastcompany in a 2011 interview.

As the younger Chen tells it, his giving began then too, having earned enough money during one summer of field labor to pay for not only his tuition but also those of a neighbor's children.

The father recalls his teenage son "spent a summer selling popsicles. He wanted to use the money to pay for his dormitory fees, but when he ran into poor children who couldn't afford popsicles, he would give them away for free."

There is little doubt that Chen Guangbiao took pleasure in helping others from an early age.

"His home village was a very poor place, and they suffered a lot when he was young. His neighbors, who saw him grow up, believe his (current extravagantly generous) persona is completely genuine," said Mr. Hu Xi, who describes himself as a family friend.

Mr. Chen completed high school, working during the summers to pay his tuition, and went on to study Chinese medicine in Nanjing before starting down the path of entrepreneurship.

In the early 1990s, he invented a disease-detection device, an achievement which helped him earn a growing reputation for a well-meaning eccentricity of sorts.

Officially labeled a "low-radiation ear acupuncture point illness probing and curing apparatus," the machine is basically a gutted computer monitor whose screen has been replaced by an anatomical diagram with an array of tiny lightbulbs.

Two cords connect the machine to metal prongs, which the doctor places on the patient's ears to detect interruptions in the body's qi, the Chinese word for "life force."

If any ailment is detected, the light on the diagram corresponding to that part of the body lights up and a siren shrieks.

"Like Edison, I invented it," Mr. Chen boasted.

He is fond of comparing himself to historical figures.

"I want Chinese history to remember me as Carnegie is remembered, and I want Chinese people to remember me as they remember Marx and Lenin.

"I want people for the next century to think of me when they hear the word 'philanthropist'," he said.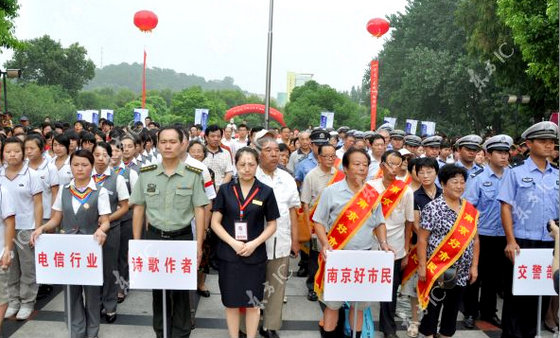 Mr. Chen Guangbiao, who studied Chinese Medicine in Nanjing, arranged "model citizens" of the city before announcing he would be offering prime residential properties at below-market prices. Photo: Jiangsu Huangpu

He also made mention of Microsoft's mega-wealthy founder. "Everyone knows that Bill Gates is the richest man in the world, but the position of top philanthropist is vacant. My goal is to work diligently to become the top philanthropist in the world."

As for his medical device invention, he claims that it can determine the gender of the unborn.

"The electrical resistance of the female fetus is less than that of the male."

He patented the device in 1994, a heady time for gimmicky devices sold to a growing, but somewhat gullible, Chinese middle class.

He says the machine made him his first fortune, but a member of his staff quietly told an interviewer later: "Chen's the only one who can use it."

In the late 1990s, Chen switched careers, finding what he called: "an invisible gold mine in the middle of the city": construction sites.

He realized that demolished buildings, with all that metal and concrete, could be valuable sources of salable materials. His company become one of China's premier dismantling and rubble-recycling firms and has has won prestigious contracts to take down some of the World Expo facilities in Shanghai and to demolish the Television Cultural Center tower in Beijing, which was set ablaze by Chinese New Year fireworks in 2009.

"The profit margin is not large, but the amount of material is tremendous," Chen says.

He declines to offer additional details about his company, which is privately held; its clients; its revenues; or its profits -- each further question is answered with a dismissive "yes, yes!" Fastcompany reported.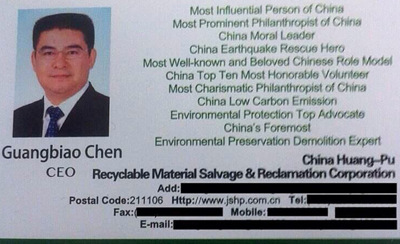 Mr. Chen's business card is filled with self-proclaimed glory! Photo: Adam Taylor/Businerss InsiderNow that he's "made it" in life, the self-styled charitable mogul and eco-activist is not afraid to flaunt his newfound riches.

He often invites media to cover gimmicks touting various causes.

Last January, for instance, he gave out cans of "fresh air" to people on the street during a particularly murky bout of pollution, and he changed his two children's names to "environmental protection" and "environment."

Other high-profile acts include smashing a German luxury car with a backhoe amid a patriotic push to encourage thrift and the purchase of domestic brands.

He also offered to replace the dozens of Japanese vehicles damaged during an anti-Japanese riot in Nanjing with Chinese models.

Despite amassing riches in this world, Mr. Chen is apparently not interested in "taking it with him" when this life is over, having pledged to give everything away upon his demise.

In an open letter to Warren Buffett and Bill Gates, he has pledged to donate all his fortune to charity after his death, without specifying any charities or causes by name.

The duo made a trip to Beijing in 2010 to talk about their Giving Pledge campaign, during which they asked the US's richest to pledge half their wealth to charity either during or after their lifetime, and help China start its own philanthropy community.

Mr. Chen wrote to Buffett and Gates that it would be a shame to hoard his wealth, and he was pleased to accept the invitation.

He was also featured in a New York Daily News piece this week saying he would put up two million usd to fund reconstructive surgery in New York -- home of the newspaper he is hoping to acquire -- for a PRC mother and daughter severely burned in 2001 in Beijing.

"I don't want to become a slave to my wealth. Every yuan I made as with the help of others so I want to give it back to society and make my life more meaningful and valuable," he said..

He was only expected to eat meat once a year – during the all-important Lunar New Year holiday.

Now he is ready to keep giving away more and more, despite having virtually nothing early on in life.


---

See also:

HUANG XI: Former Math Teacher Now Self-Made Property Mogul


For more on Mr. Chen Guangbiao, see:

CHEN GUANGBIAO: Baiku Background

China's Demolition King Eyes New York Times

Netizens Condemn Chen Guangbiao's Plan To Purchase NY Times

Source Of Chen Guangbiao's Wealth Probed

China's Charity Champion