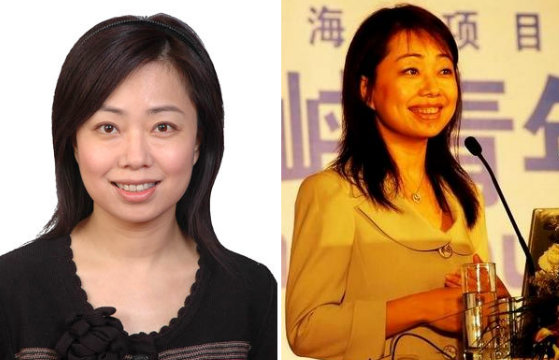 Diana Chen, a.k.a. "China's Steel Princess," was born in Beijing but calls Hong Kong home. Photos: tupian, chinavalue

WITH A NET WORTH of nearly two billion usd, one might say that Diana Chen is living on easy street.

But that would shortchange the current legal challenges that "China's Steel Princess" is facing after once being a major mover and shaker in the country's coveted rare earth minerals and iron ore market.

Ms. Chen was born in Beijing in 1971 but has called Hong Kong home since childhood, currently working out of an office in the bustling Wanchai district in the heart of the city.

Her family wields an influential government pedigree, but she has always insisted that her wealth has all been accumulated independently and not thanks to her kin's connections.

In short, she proudly advertises herself as a self-made billionaire.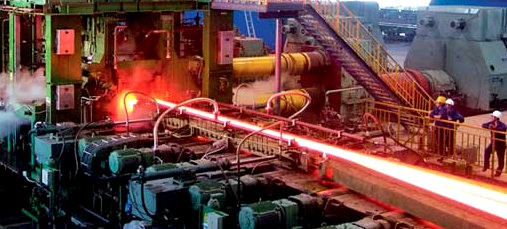 Ms. Diana Chen launched an unsuccessful hostile takeover bid for Hong Kong-listed steelmaker China Oriental.      Photo: Company

The young Ms. Chen earned an MBA in New York in 1995.

Immediately upon her return to Asia, she and her mother set up the iron ore importing firm just as China was entering its steelmaking boom era when Ms. Chen was a mere 24 years of age.

She said in a rare interview several years ago that as soon as people learn you come from an influential family, they start to ask questions about your wealth.

"My grandfather never did anything corrupt and my mother has always taught me not to rely on my grandfather's past position and achievements, and never to do anything to bring shame on his name

"Yes, this gives me guanxi (connections). But no, I have never used them," Ms. Chen professed.

Her grandfather, the late Lu Dong, was the PRC's metallurgy minister in the 1960s and 1970s.

She says the key to her stunning rise to wealth was more about good timing than anything else.

It's hard to argue the truth to that claim given the timing of her entry into China's steel boom.

The PRC's steel output more than doubled in the decade between 1995 and 2005, soaring to account for nearly 30% of global steel production at its peak.

In mid-2007, Ms. Chen said in a local media story that by 2003, she and her mother Lu Hui were importing one-fifth of Mainland China's iron ore.

"Diana was a successful guanxi merchant, organizing the trades and taking a healthy margin off the top.

"In the 1990s and early parts of this decade, we could not do business without her," said the previous chief of an international mining giant's Hong Kong office.

"Chen has extensive experience and strong relationships with many key players in the Chinese steel industry through her tenure at Pioneer Metals," steelmaker China Oriental (HK:581) stated in its 2004 annual report.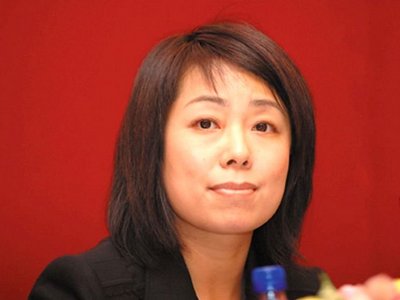 In 2003, Diana Chen said she was importing one-fifth of Mainland China's iron ore.      Photo: kankanModest, quick thinking, charming

Despite her stunning success, she apparently doesn't like to flaunt it – not an unwise decision for someone now facing a lengthy legal battle.

In media interviews, colleagues have described Ms. Chen as someone who dresses modestly but is nevertheless a charming negotiator with a broad network of connections across Hong Kong.

Her father, Chen Xiaogu, was the former secretary of the Machinery Engineering Ministry.

There is a speculative theory out there – especially as the lawsuit against mother and daughter progresses – that the firm the two set up in 1995 was actually run by the husband and father of the family.

"That would explain why Ms. Chen keeps such a low profile and is seldom seen by even her colleagues in the firm," Sinafinance learned from an associate of hers.

People close to Ms. Chen say she is very modest and generous with friends, and is a quick thinker with a great eye for investment opportunities.

She once said in a local media interview that she told a guy she was dating in the US that she did not want him to give her a diamond ring and preferred shares in a company because of their growth potential.

At the peak of her career in mid-2007 and in an attempt to further corner the downstream steel production market after dominating the raw materials side for years, Ms. Chen attempted a hostile six billion hkd takeover of China Oriental Group.

China Oriental's management mounted a vigorous defense.

After the failed takeover bid, Ms. Chen was relieved of her vice-chairman position with China Oriental following a boardroom conflict with Chairman Han Jingyuan.

The failed takeover resulted in a windfall of nearly 650 million usd for Ms. Chen after she sold her China Oriental shares to Indian steel baron Lakshmi Mittal.

She took an aggressive stance on the takeover, telling Hong Kong media exactly how she felt at the time.

"If anything other than our full takeover of China Oriental results, the company will be worth less than it is today," Ms. Chen said.

That was then, this is now.

These days, Ms. Chen's status as one of China's richest women is increasingly coming under threat thanks to legal troubles plaguing her former iron ore and rare earth metals trading dynasty that she ran with her mother.

Last month, creditors seeking to liquidate Pioneer Iron and Steel filed a lawsuit in Hong Kong against Ms. Chen and her mother for around 4.1 billion yuan.

At current exchange rates, that translates into a potential penalty of over 670 million usd, should Ms. Chen walk away from court in defeat.

That would take a huge chunk out of her reported net worth which at end-2012 apparently totaled 1.9 billion usd.

But that huge claim is coming under question as details emerging from the ongoing legal case have revealed.

In 2010, iron ore trader Pioneer Iron and Steel entered into provisional liquidation, with reported debts of over 516 million usd at the time.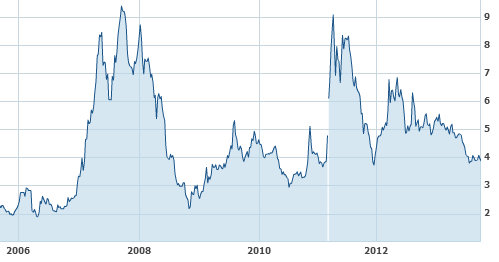 Diane Chen's firm owns a stake in Inner Mongolia Baotou Steel, miner of rare earth metals, whose A-shares have spiked during demand surges for the commodities.
Source: Yahoo Finance

Ms. Chen's ongoing court battle is complex and involves many parties, some of which read like a Who's Who in the global metals and mining sector.

According to the Strategic Research Institute, Hong Kong-based Pioneer Metals owns a 9.87%, 5.9 billion yuan stake in Shanghai-listed Inner Mongolia Baotou Steel Rare-Earth (SHA: 600111), a major provider of rare earth minerals used in the manufacture of cellphones, batteries and other increasingly indispensible electronic gadgets and components.

Ms. Chen and her mother founded iron ore importing giant Pioneer Metals in 1995.

In the current legal case, liquidators of Pioneer Iron and Steel claim they now rightfully own 70% of Pioneer Metals, which means Pioneer Iron and Steel should indirectly own 6.9% of Inner Mongolia Baotou Steel, a stake worth around 4.12 billion yuan based on current market values.

The liquidators are seeking to recover this 70% stake in Pioneer Metals, which they alleged has been illegally transferred to Chen and her mother, the court document states.

Where the case is headed and who will finish on top is anyone's guess at this point.
 
---
See also:

CHU LAM YIU: Media-Shy Mogul Bests Short Sellers 

For more on Diana Chen, see:

http://www.forbes.com/profile/ningning-chen/

http://www.worldofceos.com/dossiers/ningning-chen

http://www.asiaone.com/static/business/gallery/121012_china100/pic40.html