IN A RECENT article for NextInsight, investor Robert Stone said of S-chips: "There are only two companies that I have held for some time that I feel relatively optimistic about -- Dutech and China Sunsine."


(See: ROBERT STONE: "My experience with S-Chips & Chinese listcos - The good, the bad & the ugly").

Since then, we have published several articles on China Sunsine. We decided to update ourselves on the performance of Dutech Holdings.


But first some information on Robert's shareholding in Dutech: In the annual report 2013, he is listed as the No.4 largest shareholder with 19.2 million shares, or a 5.39% stake.

This is worth about S$4.4 million based on the recent stock price of 23 cents.

Despite the illiquidity of the stock, Robert has managed to buy the shares every year.

He first appeared in the Top 20 shareholders' list in the 2008 annual report with 8.075 m shares. (Dutech was listed in 2007).



Then his holding grew to 10.125 m (AR2009) ---> 12.3 m (AR 2010) ---> 15.143 m (AR2011) ---> 17.920 m (AR2012) and ---> 19.2 m (AR2013).



Clearly, he has patience and conviction about this business, even if the stock performance has been anything but on a strong uptrend in all these years.




Turns out that the company had a strong year in 2013 with net profit soaring 149% to RMB100.4 million -- a record in the company's history.
Dutech also achieved record revenue, which rose 44.4% to RMB1.028 billion. Dutech said it experienced buoyant demand for its core products in Asia, US and Europe.

The largest player in its industry in Asia by sales volume and production capacity, Dutech makes its money mainly from designing and manufacturing ATM safes, fire-resistant commercial safes, and safes for storing guns.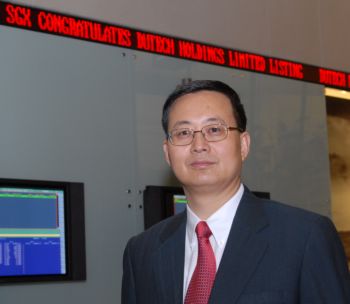 Dr Johnny Liu, executive chairman & CEO of Dutech, owns a 43% stake in the company. File photoIts facilities are in Nantong in China and Kassel in Germany.

At the latter site, Dutech owns a subsidiary, Format, which it acquired 100% of in 2011 in an all-share deal resulting in Walter Droege owning 8% of the enlarged share capital of Dutech.

It's no ordinary manufacturing business, as the safes need to meet stringent criteria (since cash, jewellery and other valuables are at stake) to be Underwriters Laboratories (UL) certified.

Dutech is one of a few, if not the only one, holding this certification in this industry in Asia, which equates to high barriers to entry in this business.

Furthermore, in Asia, Dutech is among very few ATM safe manufacturers with CEN certification by the European Committee for Standardization.
Dutech has buyers for its products in over 25 countries such as the US, Germany, UK, Japan, Sweden and Brazil.

Interestingly, Dutech has alluded to new products it was developing in 2013: "Recently, we have also expanded our product offerings to include other intelligent terminals such as gaming and ticketing machines."
The strong sales last year was accompanied by strong cash generation, leading to its cashpile hitting RMB168.8 million at end-2013 from RMB100.9 million a year earlier.

It had RMB12.5 million in short-term borrowings as at end-2013.

Thus, net cash of SGD31.3 million makes up a very significant 40% or so of its market cap.

Unfortunately, it did not declare a dividend for FY13 -- a point which is sure to be a cause for concern to more risk-averse investors. Neither did it pay a dividend for FY10 and 12.

However, it paid 1 SGD cent a share for FY11, 09 and 08, and 2 cents a share for FY07.

When contacted by us, Robert -- who attended the recent Dutech AGM -- shared this insight: "To a question on how the company was facing rising costs, he (Dr Johnny Liu, the CEO) said that actually not all costs are rising. One of the reasons for the improvement in the margins is the fall in steel prices. Steel is one of the major cost components for Dutech and they have become quite skillful in managing those costs. Overall, it looks rather encouraging."

On the point about Dutech having kept a low profile in the investment community, Robert commented: "It is true that the company has made little effort to promote itself in the past to investors but that may change in the future."

Note! After the market closed today, Dutech announced its 1Q result along with an interim dividend of 1 cent a share.


NextInsight's 2008 story: DUTECH: Making safes for ATMs around the world