Excerpts from analysts' reports
OSK-DMG says RH Petrogas is the most attractively valued exploration & production company in SG

Analysts: Lee Yue Jer & Jason Saw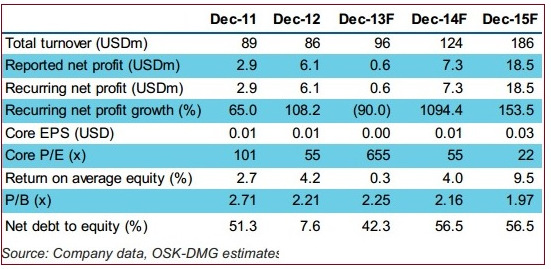 RH Petrogas announced that it has begun drilling the Klagalo-1 well to test the huge Klagalo prospect in the Basin PSC.

If successful, this could add USD305m to RHP's value.

While the Zircon-1 well test has resumed after a slight delay, we believe the resulting 12% share price pullback in the last two days is too sharp a correction for this small problem. Maintain BUY, with SGD1.33 TP.

Most attractively-valued exploration & production company in Singapore.

RHP's oilfield assets are worth SGD0.98/share today (see Figure 2).

Taking into account the upside potential from successful explorations, our SGD1.33 TP is set to parity with our net present value (NPV)-and-risking model.



RH Petrogas oilfield asets are worth 98 cents a share, says OSK-DMG. Photo: Company

RH Petrogas' powerpoint presentation materials can be downloaded here.

Previous story: RH PETROGAS: Big moves and news to come
---

Maybank maintains 'hold' rating on SPH

Analyst: Wei Bin

We hosted a post-results luncheon for SPH. During the luncheon, CEO Alan Chan and CFO Tony Mallek offered interesting insights into SPH's business and strategy going forward.

Despite the continuous weakness in its core media business, we like SPH's effort in increasing digital circulation, developing online media business and its initiatives of cost cutting.

As a defensive yield play, SPH is fairly valued at 5.1% FY14F yield, even after we cut our dividend forecast to SGD21cents due to the dilution in property income.

Maintain our HOLD rating on the stock with TP SGD4.18.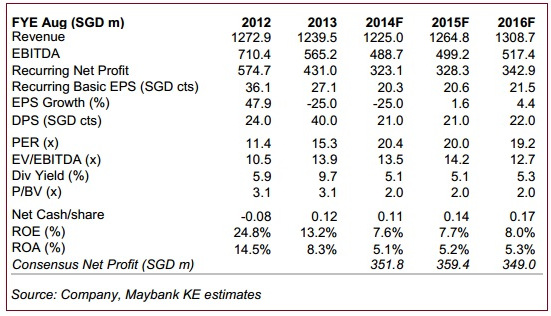 Moving into more digital circulation. We understand from the management that daily paper-based circulation has dropped below 1m copies now but the digital subscription increased very fast and managed to cover the shortfall. Now the digital circulation for certain English newspapers such as The Straits Times has accounted for 1/3 of paper-based circulation.

SPH offers two options of digital subscriptions: native iPad version with less ads and PDF version with equal amount of ads as paper-based. The profitability would not be much affected because most of the subscriber chose to read PDF version according to management.

In fact we believe that SPH can even save on printing cost as more readers move to digital subscription.
Decline in ad revenue seems moderating. Although ad revenue has been declining yoy for three consecutive quarters, the rate of decline appeared to have moderated in the latest quarter. Responding to concerns about a slowdown in property segment, Mr Chan explained that the slower take-up at new property launches would bode well for SPH as developers would then be more aggressive in advertising, thus lifting the demand for display ads.

But in our view, Classified ad revenue may shrink due to government cooling measures on property and auto sectors.


---

UBS Investment Research says 'sell' Ascendas REIT

Analyst: Michael Lim
Management expects the pace of rental growth to slow in FY15, as the gap between expiring and market rents narrows. To offset this, AREIT can drive portfolio occupancies up from the current 90.1%, which was 3.5ppt lower QoQ due to the recent completion of Nexus@one-north and A-REIT City@Jinqiao.

We are circumspect on net expansionary demand for industrial space as leasing activity has slowed in the past quarters, although as observed from AREIT's portfolio, there may be pockets of new demand from sectors like precision engineering and transport & storage.
Expansion to Iskandar Malaysia possible in the medium term On acquisitions, apart from its sponsor's pipeline of business and science parks in Singapore, AREIT is considering expanding to Iskandar Malaysia, though we think its nearer-term focus would remain on AEIs and development projects locally.
Valuation: Maintain Sell rating Our DCF-derived price target of S$2.21 assumes a 2.4% risk-free rate.