Excerpts from analysts' reports

AmFraser says Sing Holdings is strongly undervalued, fair value 56 cents

Analyst: Sarah Wong

· Growing asset values. Sing Holdings boasts of potential strong growth in book values over the next three years.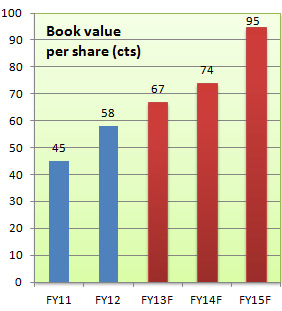 Sing Holdings' stock closed at 44 cents recently, a substantial discount to its growing book value as estimated by AmFraser Research.We estimate sales of current and future development projects to propel Sing Holdings' book value per share to S$0.95 by FY2015.

Its current book value stands at S$0.63, a figure still significantly higher than Sing Holdings' current share price of a mere S$0.415.

· Strongly undervalued; Maintain BUY with FV of S$0.56. We maintain that Sing Holdings presents deep value as a niche developer, and investors stand to gain exposure into a growing NAV story Sing Holdings presents.

Trading at only 0.65x P/B and at a steep discount of more than 55% to our RNAV estimate of S$0.93, we believe there is minimal downside risks to Sing Holdings.

Sing Holdings remains our choice pick for a value play—maintain BUY with an unchanged fair value of S$0.56 based on 40% discount to RNAV. BUY.

Recent story: SING HOLDINGS: On Robin plot ratio, new property strategy and dividends
AmFraser downgrades Saizen REIT to 'hold' as yen depreciates

Analyst: Eileen Goh

· Bearing short-term pain. Amid aggressive monetary easing measures by the Bank of Japan (BoJ) in a bid to jumpstart its stuttering economy and end deflation, the Japanese Yen has experienced substantial depreciatory pressures in recent months.

The Japanese Yen has weakened from JPY/S$64.6 in May 2012 to JPY/S$80.3 currently. Due to a weakening yen, Saizen REIT will inevitably have to bear the near-term pain of a declining NAV and distributions in S$ terms.
· Upgrade TP to S$0.220, Downgrade to HOLD. Despite our higher revised target price of S$0.220, we downgrade our call to HOLD given the limited scope for capital upside from current valuations.

Based on our revised FV of S$0.220, this represents a potential capital upside of only 5.8%.
Saizen REIT's recent price appreciation and the impact of a weaker yen have also dampened its attractiveness as a high yield play. We project Saizen REIT's FY13 yield at 5.9%. This translates to appr
ox. 450 basis points over the risk-free rate, leaving little room for comfort once interest rates begin to tick up.