Time & date: 3 pm, 10 April 2013.

Venue: SIF Building, Robinson Road




SING HOLDINGS is keenly waiting to know if the plot ratio for its Robin Road site, where it has cleared the previous buildings, will be revised higher under the Master Plan expected to be released in this 2Q. (The Master Plan guides Singapore's physical development over the next 10 to 15 years).

"We will not launch the project until we know the plot ratio. We have demolished everything, called for a tender and prepared 2 schemes and even submitted one for approval," said Sing Holdings CEO Lee Sze Hao.

"Once it is announced that the plot ratio is still 1.4, we will go ahead with the existing scheme. If it's more than 1.4, it's back to the drawing board for us and we really have to work fast."

An upward revision of the plot ratio will, of course, be a bonus for the company, as it would be able to build higher. News of this could also boost its stock price, which gained 53% in 2012 after rising from 27.5 cents to 42 cents.

Asked for the key selling points of the Robin project, Mr Lee said one of them is its proximity (about 200 m) to the upcoming Stevens MRT station, and it being just 1 km from top schools Anglo-Chinese School (Barker Road) and Singapore Chinese Girls School.

The Robin project was one of the topics discussed at the AGM attended by a sizeable number of shareholders. We bring you other highlights of the discussion, which shed insights into the company's upcoming projects, its longer-term direction and -- the perennial favourite topic of some shareholders -- its thinking about dividends: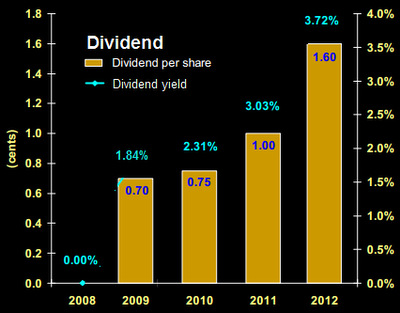 For FY2012, Sing Holdings will be paying 1 cent a share in ordinary dividend and 0.6 cent in special dividend.Q: Your dividend payment is modest -- it's about 15% of profit. Is it because the company's gearing is quite high?

Lee Sze Hao: Our net debt is $225 million while our shareholder equity is $203 million, giving a gearing of 1.1X.

Q: Do you expect the gearing to come down by the end of the current financial year?

Lee Sze Hao: With the TOP of The Laurels, we expect our gearing to come down a lot. What level it goes down to depends on whether we reinvest the money into another project. As it is, our gearing is actually at a comfortable level.

For the Robin site, our purchase price was $177 million. We used $70-80 million cash to pay for it. For the Punggol project, the financing is also not very high. If you are asking if we can continue to pay a dividend, yes, we can.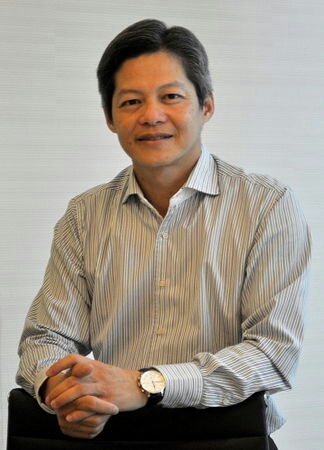 Lee Sze Hao, CEO of Sing Holdings.
NextInsight file photo.The 1.6-cent for FY2012 means a 3.7% yield, which is quite good compared to most other property companies. We have compiled the whole list -- and we are higher than two-thirds of them. We calculate the yield based on the stock price at the time we announced the dividend.

Q: Why don't you have a dividend policy -- maybe give one third of profit for dividends, keep one third for reinvestment and one third for savings?

Lee Sze Leong (non-executive director): For property companies, it's difficult to have a fixed dividend policy. We are a capital-intensive business, and it's hard for management to put aside one-third of the cash and let it sit there.

Q: How about a scrip dividend scheme?

Lee Sze Hao: We did study that. But it is not cost-effective.

Tay Puay Kuan, CFO: One of the reasons we held back was the cost. While it is $2,500 for the normal cash dividend scheme, the cost is $15,000 for a scrip dividend scheme payable to CDP (Central Depository). This is before transaction costs. So if only a few shareholders take up the scrip, the admin cost is 6X higher.

Lee Sze Hao: We studied some of the companies that have just implemented the scrip dividend scheme. The take-up rate for scrip was very low.
Q: Would you consider a bonus share issue?

Lee Sze Hao: In addition to the special dividend (0.6 cent a share), we considered giving bonus shares. The SGX came up with a ruling that if your stock price is below 50 cents, you can't have a bonus issue.

At this juncture, Mr Lee presented a slide on the land tenders that Sing Holdings took part in in recent months. His point was that tenders require cash deposits and, if it had been successful in the tenders, the company would have required a lot of cash to fund the projects. The one tender that Sing Holdings clinched was for a $162 million piece of land to build an executive condo in Punggol. Mr Lee''s pledge was, Sing Holdings would continue to dish out dividends but it had to be at a 'sustainable' level, and if its dividend yield is higher than the average among property developers, "we would be happy".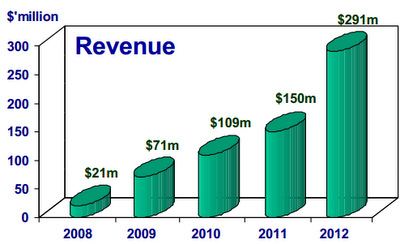 Q: How much revenue can you recognise in 2013? Would it be higher than last year's?

Lee Sze Hao: Just on Laurels alone, the revenue to be recognised is $210 million. The total revenue may not be higher than last year's. A lot depends on when we launch our Robin project.

Q: Can you build a mixed-development at Robin?

Lee Sze Hao: The site is zoned for residential development only. We did ask the authority about the possibility of a mixed-development but the answer was 'no'.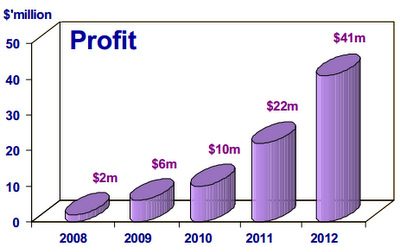 Q: When do you expect to sell the remaining 8 units of The Laurels?

Lee Sze Hao: Demand for high-end properties is now quite slow. But because we have sold 221 out of 229 units, there is no need for us to slash prices to sell. Our current asking price is $2,900-3,000 psf. The sizes of the units are 1,281 sq ft and 1,302 sq ft.

Q: As for BizTech Centre (in Aljunied Road), you have 50 units now, or as of last year?

Lee Sze Hao: As of now. We had more last year but sold to tenants who came to us to buy. We sold at $850 psf while our carrying cost was $535 psf. We sold up to a point where we decided to hold the rest for recurring income.

Q: Sing Holdings has done well in property development but you don't have much in recurring income. What's your strategy when the government is against property prices going higher and anyone who thinks the next 5 years will be a repeat of the bull market of the past 5 years -- he must be living in the clouds.

Lee Sze Hao: That's why we stopped selling our units at BizTech. Over the last 1-2 years, we have looked at properties that could give us good enough yields -- commercial buildings in the CBD, small to medium-sized properties....

But yields are low compared with yields from property development, so we prefer to put money into property development.

If you look at what we have done -- Punggol is the first EC (executive condominium) we have ever taken on. Our past projects have been mid- to high-end. Laurels is very high-end. Will we do another Laurels? The answer is no for now. The government's market cooling measures hit at investors but not genuine first-time home buyers, so the EC is not affected. For the next EC project, we would be happy to tender for it.

Q: Will you do mixed developments?

Lee Sze Hao: Yes, I would like to but I don't think the $8,000-9,000 psf shops are sustainable, although some developers have done well selling those very small shops.

Q: Talking about recurring income, I see you have shares of Sing Investments which give 3-4% dividend yields. Are you looking at other listed companies' shares?

Lee Sze Hao: The Board has set a limit for how much we can invest in shares as that is not our core business. With our excess cash, we have bought some shares. For example, we bought MapleTree Industrial Trust, which gave a very good yield. We bought at $1.10, now it's $1.485.

Q: Are your Sing Investments shares a core holding?

Lee Sze Leong: We inherited the shares before our company's listing and have no plan to sell them since we are, as you said, getting a good yield.

Q: Regarding the Robin project, your purchase price is $1,300 psf ppr. Construction cost could be $300psf.... What is your indicative launch price and how confident are you about sales?

Lee Sze Hao: I can't tell you the launch price because it depends on when we launch it and what the plot ratio is. Look at a nearby project in Robin Road -- Robin Suites -- which has sold over 20 units at $2,500 psf. I'm not saying we will sell also at that level. The units are very small. A bit further away, the Cyan project has transacted at $2,200-2,300 psf for units of various sizes. You can check out the prices at the URA website.


---

Recent stories:


SING HOLDINGS, AUSGROUP: What analysts now say

KEVIN SCULLY: Raising target price of Sing Holdings