Cedric Yang contributed this article to NextInsight, looking at current challenges facing companies and how they are able to overcome them. Part 1 was: "My Investment Thesis for ISDN and AEM in Tough Times" -- Part 1
#1 Semiconductor downcycle
Several semiconductor foundries have been reporting slowing demand due to a recession, ushering an anticipated downcycle in semiconductor industries.

Demand for chips has softened but far from over.

AEM stock price

$3.97

52-week range

$3.86 – $5.37

PE (ttm)

12.4

Market cap

S$1.23 b

Shares outstanding

309.1 m

Dividend
yield (ttm)

1.9%

One-year return

-1.5%

Source: Yahoo!
This is due to new streams of demand as compared to previous downcycles. (See McKinsey article Semiconductor shortage: How the automotive industry can succeed)

Covid has accelerated the integration of semiconductor chips into almost everything we use on a daily basis.

I coin this as a leap decade, where technology adoption is likely to be ramped up to where it could be 10 years later if not for Covid. (See McKinsey article How Covid-19 has pushed companies over the technology tipping-point and transformed business forever)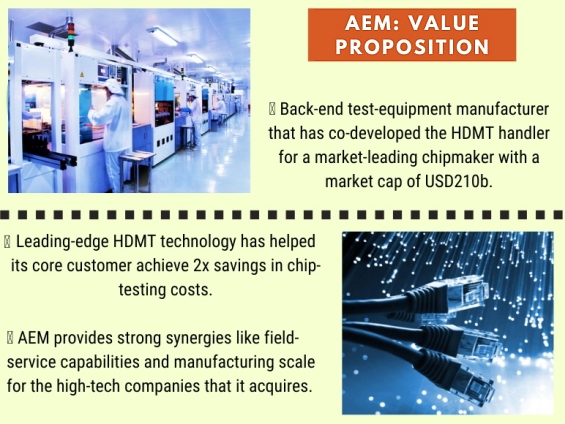 AEM is in the business of providing innovative testing solutions for semiconductors. They term it Test 2.0, a disruptive paradigm for Semiconductor 2.0 era.

As semiconductor demand continues to be hot (though there could be some short-term softening), the demand for robust testing solutions will remain high.

I often put out an anecdote for AEM's investment. During the gold rush of 1850s, those who got rich were not the miners. It was those businesses standing outside the goldmines selling different kinds of innovative mining materials.

Regardless of the success of gold mining, these businesses were able to put free cash flow into their businesses to re-invent, improve, customize, patent their mining tools and equipment for other miners as well.

It could be said of AEM, which has been constantly re-inventing, improving, customizing their solutions and patenting their technologies, an incredible moat that gives them pricing power, drawing even interest from Temasek Holdings.

Aside from Intel, its key customer, AEM has been engaging several top semiconductor companies to diversify its revenue streams.


#2

Worldwide hiring freeze and layoffs
With an increasing risk of recession and the end of easy monetary policies, companies have started laying off workers and freezing hiring.

This is a good thing because the labor market is too tight, driving up wages for employees with skills in demand.

As wages go up, inflation goes up due to loose spending habits, net profitability of companies may go down.

Despite the global slowdown in hiring, AEM continues to invest in its capabilities, technologies, and manpower by expansion.

(See Business Times article AEM to add 300 jobs in Singapore-Malaysia-US expansion)

I had a business mentor who told me that successful enterprises are those who invest in their capabilities and workers during economic downturns, because they will be ready for more opportunities when the economy recovers.

AEM continues to be singularly focused on the flywheel model, sacrificing short-term cash payout to reinvest and double down on disruptive testing solutions.


#3

The CHIPS for America Act
The delay in the US Congress' approval for the CHIPS for America Act has created uncertainty over major semiconductor foundries investments, indirectly affecting the purchase of testing equipment.

However I believe it will be approved soon as semiconductor chip manufacturing is politically strategic for Europe and America.

(The Act incentivizes investment in the U.S. semiconductor industry. While it was passed in January 2021, a funding package has not been approved by Congress).

Intel is expected to benefit from the Act and major semiconductor companies are ramping up their investments in building advanced chip foundries to cater to a surge in demand from 2025. (See Business Korea article: Top Foundry Companies Making Massive Investments)

AEM is expected to benefit strongly in this next tailwind.

Conclusion
I am invested in both AEM and ISDN, and this article should be treated as an opinion piece and not as investment advice.