Excerpts from CGS-CIMB report

Analyst: William Tng, CFA

AEM Holdings Ltd
Adding capacity for growth

■
AEM announced its expansion plans today
(16 Jun 2022)
that
will more
than
double its current manufacturing space in Malaysia, US and Singapore.

AEM

Share price:
$4.20

Target:
$6.85
■
We also note the successful conclusion of new product developments such
as
a
CMOS testing solution with UTAC and AEM
'
s own Trident platform.

■
We r
eiterate
our
Add
call with a
TP
o
f
S$6.85.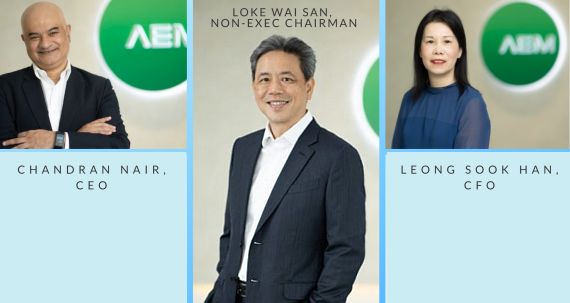 Expansion plans announced
● AEM announced its expansion plans via SGX's company announcement platform today (16 June 2022) at 12.27pm.

● AEM will have a new site in Penang and the US. Together with expansion in the Singapore site, AEM expects to more than double its current manufacturing space in these three countries and create more than 300 additional jobs.

● AEM will also expand its Research and Development (R&D) centres in these three countries.

● The expansion is slated to come online by the end of 3Q22F.

● The Penang expansion includes an R&D lab and AEM will also seek to double its headcount in Malaysia to support this expansion.

● The US expansion plan will include R&D, prototyping and manufacturing in Arizona and California.

● Meanwhile, the expansion efforts in Singapore will focus on R&D.

New product offerings
● On 13 Jun 2022, UTAC Holdings Ltd (UTAC, Unlisted), a semiconductor test and assembly services provider announced a new cost-effective, next-generation test
system solution for Complementary Metal-Oxide Semiconductor (CMOS) image sensors. This test solution was jointly developed together with AEM.

● According to AEM, the company delivered its fully integrated CMOS Image Sensor Test Cell to UTAC in 2021. This complete solution includes a tester, illuminator, and handler.

● According to its 2021 Annual Report, AEM has also developed its own new high-power System Level Test (SLT) platform, "Trident". Trident leverages on AEM's strength in advanced thermal control and will be positioned to capitalise on solving daunting test challenges stemming from the new and rapidly growing heterogeneous package industry.


Reiterate Add

●

We reiterate ou

r Add call

with a

TP of S$6.85 based on a

15.62x (10% premium to

AEM's 2 s.d. above its FY17

-

21 historical average forward P/E multiple of

14.2x) at an

FY23F EPS forecast of S$0.4384.

●
Potential re
-
rating catalysts are stronger
-
than
-
expected orders from its major customer
and earlier
-
than
-
expected success in securing orders from other potential customers.

●
Downside risks are delivery delays, aggressive competitive response and loss of so
le
supplier status or the emergence of a new supplier.

Full report here.