Excerpts from CGS-CIMB report

Analyst: William Tng, CFA


AEM Holdings Ltd


To benefit from Intel's investment in Europe
■ Intel continues its expansion plan and on 15 Mar 2022 announced possibly up to €80bn investment in Europe over the next decade.


AEM

Share price:
$4.11

Target:
$6.85
■ We expect AEM to benefit from Intel's expansion, as the latter should translate into demand for its test handler (TH) products.

■ We assume AEM will remain the sole TH supplier for Intel's current testing methodology. Reiterate Add; TP unchanged at S$6.85.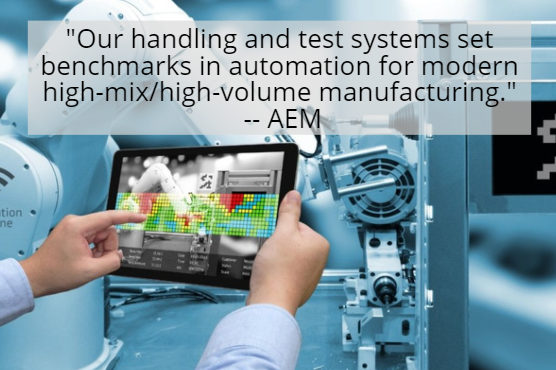 Possibly up to €80bn investment over the next decade

● Intel Corp (INTC US, Not Rated) today (15 Mar 2022) announced the first phase of its plan to possibly invest up to €80bn in the European Union over the next decade.

● The investment includes research and development (R&D), chip manufacturing and packaging technologies.

● Intel's current plans includes an initial €17bn investment for a leading-edge semiconductor fab mega-site in Magdeburg, Germany. It plans to build two fabs at
Magdeburg. Intel expects construction of these fabs to begin in the first half of 2023 and production to come online in 2027.

These new fabs will feature its most advanced Angstrom-era transistor technologies, serving the needs of its foundry customers.

● Intel is also continuing to invest in its manufacturing plant in Leixlip, Ireland with an expansion project and intends to spend €12bn to double its manufacturing space there.

● In Italy, Intel has entered into negotiations with the Italian authorities to set up a backend manufacturing facility which could potentially cost up to €4.5bn.


AEM Holdings

Stock price

Target Price

P/E (x)
CY22F CY23F

3-year
EPS CAGR

P/BV CY22F

Recurring ROE
CY22F

Dividend Yield CY22F

$4.11

$6.85

10.3

9.4

15.4%

2.57X

27.7%

2.4%


Source: CGS-CIMB
Reiterate Add


● We reiterate our Add call on AEM and TP of S$6.85.

● Our TP is based on CY23F P/E of 15.62x, 10% premium (given our FY21-24F EPS CAGR expectation of 15.4%) to AEM's 2 s.d. above FY17-21 historical average (7.4x) forward P/E multiple of 14.2x. We project FY23F EPS of S$0.4384.

● Potential re-rating catalysts are stronger-than-expected orders from its major customer and earlier-than-expected success in securing orders from other prospective customers.

● Downside risks are delivery delays, aggressive competitive response, and loss of sole supplier status or emergence of a new supplier for Intel's test handler product needs.

● Higher raw material and logistics cost could also pressure AEM's profit margins, leading to lower profitability for FY22F.

● AEM has also on 24 Feb 2022 announced that the company and two of its subsidiaries are respondents in a confidential arbitration in the US (hearing expected to be concluded in 2023).

The outcome of this arbitration is currently uncertain though we note that AEM has received legal advice from its lawyers in the US, and has been advised that based on a preliminary analysis, the claims appear to lack factual and/or legal support.

Full report here.