Big investors usually get a thorough look into a company's books and operations before committing to a sizable equity stake or handing over a fistful of cash.

Thus likely InnoVision Pomelo LP, a special purpose vehicle of Chinese private equity fund China InnoVision Capital GP Limited, would have lots of opportunities for due diligence before investing US$15 million in Singapore-listed Leader Environmental Technologies via a convertible bond.



That would include checking out Leader's existing projects in China.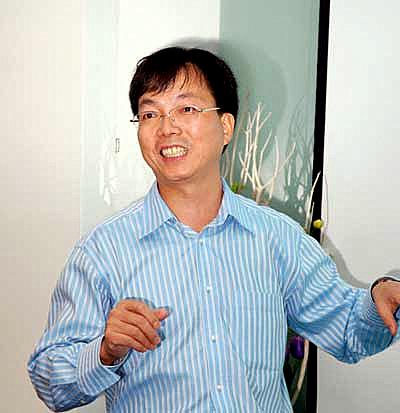 Dr Lin Yucheng, Executive Chairman of Leader Environmental Technologies. File photoIn addition, it's relevant to note that the fund's management was already familiar with Leader's management headed by Executive Chairman Dr Lin Yucheng and Executive Director Ngoo Lin Fong (more on this later).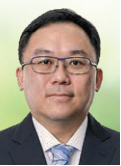 Ngoo Lin Fong, Executive Director, LeaderDr Lin and Mr Ngoo were previously Executive Chairman and CFO, respectively, of United Envirotech, a Singapore-listed water treatment company that was ultimately acquired by CITIC for an implied valuation of S$1.9 billion.

Through Leader's share placements and rights issues in 2020 and 2021, Dr Lin became the No.1 shareholder of Leader with a 27.02% stake.

He set out to transform the business focus and refresh it with a new board of directors.

Here are 5 salient things about the CB deal and Leader's current business which is in its early stages of transformation:

1. Who's behind the deal: Mr Zhao Lane Fu, the founder of InnoVision Capital, was previously with American global investment companyKKR, where he led it to numerous successful deals, such as United Envirotech.

Mr Zhao sat on the board of directors of United Envirotech for 5 years, so for several years now he and his ex-KKR colleagues have been on familiar terms with Dr Lin and his team.

2. Positive terms: The convertible bond terms are favourable for Leader. To start with, there is no annual coupon to pay which means there is no pressure on cash payments for Leader.


US$15 m convertible bond:

• Zero coupon
• Conversion price: 10 cts
• Bondholder's stake after conversion: 12.25%
• Maturity: 3 years + 2 years (at option of Company)
The price for converting the bond into shares is pegged at 10 cents. This is a whopping premium to recent market prices of the stock, which seems to reflect the bond holder's confidence in Leader's performance. Yet there is no profit target for Leader to meet.

(10 cents a share was also the price which Dr Lin paid to subscribe for shares worth S$20.5 million, raising his stake in Leader from 15.8% to 27%.)

The bondholder has the right to convert all its bonds at any time up until five business days before the final maturity date into shares.

The maturity date is 3 years, which can be extended by up to two years at the option of Leader.

3. Value-added technology: This US$15 million investment will support Leader in building up a portfolio of Sludge Treatment Projects and Artificial Intelligence (AI) Water Management Projects. Leader envisages that it can also tap financing from PRC financial institutions.

Leader owns multiple patented technologies in sludge treatment, providing cost effective and energy efficient treatment solutions to achieve the objective of carbon reduction, zero waste discharge and resource recovery.

Among other things, Leader is able to drastically reduce the water content of sludge to 30-40% and generate dried sludge with higher heating value.

The mass of the sludge can be reduced to as low as less than 10%, according to the company.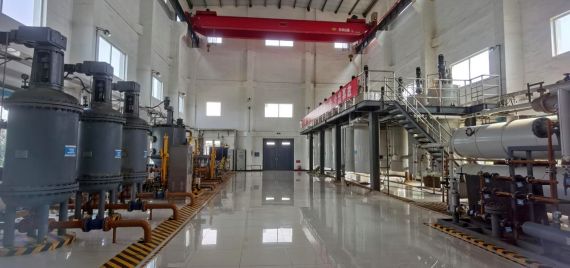 Leader Environmental Technologies' sludge plant: Continued thermal hydrolysis occurs in the tanks on the left. Photo: Company

With more Chinese provincial governments seeking environment-friendly ways, Leader's sludge treatment process stands out.

Leader provides its technical expertise in the operations and maintenance of wastewater treatment plants coupled with its proprietary AI technology which is able to predict wastewater treatment performance.

4. Large market: The treatment of sludge is a nascent industry in China. Sludge is generated from wastewater treatment plants, and has commonly been dumped at landfills or incinerated – which is environmentally unfriendly.

Contaminants removed from the wastewater treatment process are concentrated in the sludge, which pose serious problems to health and the environment if it is not properly managed.

There are currently more than 3,500 municipal wastewater treatment plants in China with the total treatment capacity of approximately 200 million tons per day generating more than 50 million tons of sludge annually.

After the plant is constructed, recurring revenue can be captured typically over 25-30 years.

When it comes to wasterwater treatment plants, Leader's solutions are said to achieve deliver 10% - 20% of cost savings mainly in energy and chemicals while ensuring compliance with high discharge standards.

As remuneration, for the contract period lasting 5-10 years, Leader receives a chunk of the cost savings while the client keeps the remainder.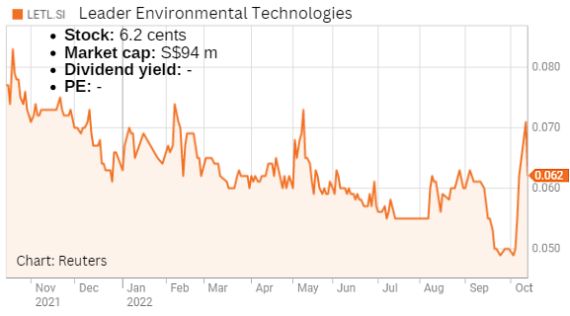 5. Financials: Leader reported 1H2022 revenue of RMB25.2 million and net loss of RMB6 million. The stock currently has a market capitalisation of S$95 million.

As the bond holder's investment signals confidence as well as provides ammunition for Leader's business growth, investors will be watching Leader clinching more projects before any significant re-rate of the stock is expected to happen.


The Powerpoint presentation is here.

See also: LEADER ENVIRONMENTAL: Raring to prove its environmental technologies; stock's up 100%