Last week, following the release of Riverstone Holdings' FY2021 results, we published excerpts of a CGS-CIMB report. Check it out: RIVERSTONE: Trading at attractive 7.2x CY23F ex-cash P/E
Below we focus on Riverstone's extraordinary dividends for FY2021 and its dividend track record.


It's been 15 years since Malaysian-based glove manufacturer Riverstone Holdings listed on the Singapore Exchange in 2006.

During this long period, one trait has become crystal clear: Riverstone consistently pays dividends even as it consistently spends on expanding its production capacity to generate higher earnings.

Every year, Riverstone has paid either the same or higher dividend than the previous year, except for 2018 when it dipped slightly.

1,200% jump in FY21 dividend over FY19's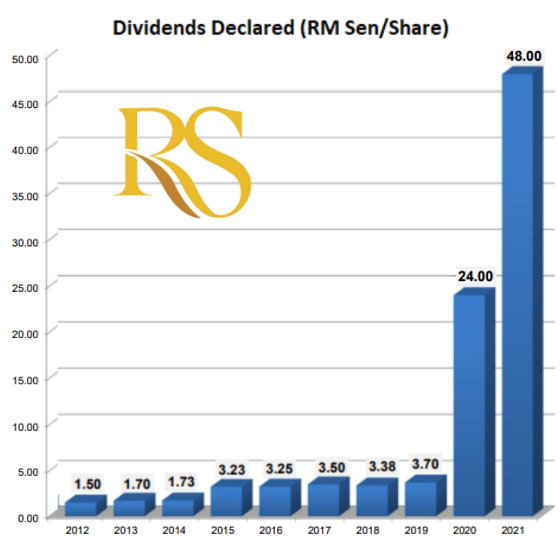 Its 2021 dividends continue on the same upward trajectory.

But it's such a sharp upswing (see chart above) you can't expect it to be repeated for a long time to come, certainly not this year as the selling prices of healthcare gloves have fallen sharply. (Riverstone's cleanroom gloves, which sell for a premium margin, continue to enjoy stable elevated selling prices, though).

The 2021 dividends are, of course, reflective of the high profitability from producing healthcare gloves during the Covid-19 pandemic, as well as cleanroom gloves for the electronics industry.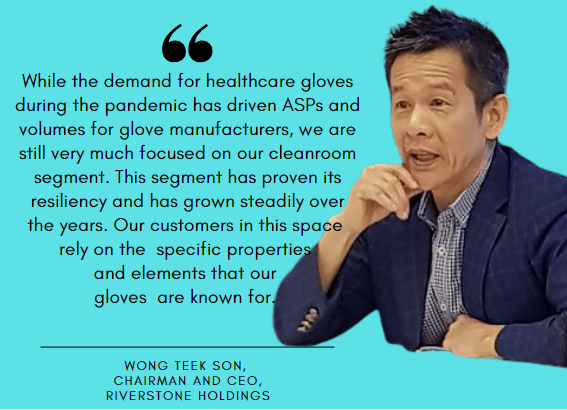 The chart below vividly illustrates a consistent payout ratio that guides the company's dividends.

And it has stayed that way -- at 40-50% of earnings -- since the company's IPO, which points to the stable and high cash generation power of the business.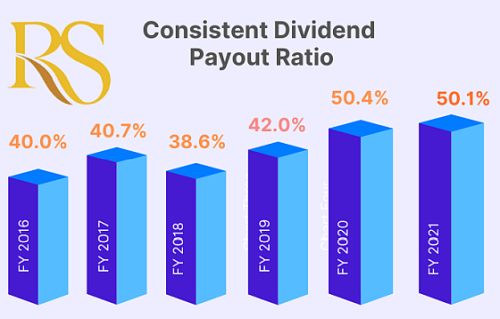 | | | |
| --- | --- | --- |
| FY2021 payout | Sen | Payment date |
| Interim dividend | 10 | 06 Oct 2021 |
| Special interim dividend | 10 | 06 Apr 2022 |
| Final dividend | 28 | 19 May 2022 |
| Total | 48 | |
The 2021 dividends total RM712 million, or 50.1% of the net earnings of RM1.42 billion.

Riverstone had RM1.6 billion in cash as at end-2021, of which RM400-500 million is reserved for corporate tax payment on it's FY2021 profit.


Year of capacity expansion

Annual capacity

Y2021A*

10.5 billion pcs

Y2022E

12.0 billion pcs

Y2023E

13.5 billion pcs

Y2024E

15.0 billion pcs

*Capacity expansion delayed by 1 year due to lockdowns in Y2021
A furtherRM300-500 million is being set aside for production capacity expansion, including automation, from 2002 through to 2024, according to management.

The expansion, as has been the case in past years, will drive equity returns from earnings growth and not just dividends.

After all, if a company makes great earnings but consistently doesn't pay out dividends, or pays out small dividends, the equity returns are likely to fall short -- even when retained earnings drive further growth.

For more info, see Riverstone's presentation deck here.