The stock of Rex International, a Singapore-listed oil explorer and producer, has hit its highest in at least the past 5 years, boosted in part by oil prices scaling the US$90 level.


Stock price

39 c

52-week range

15.5 –
39.5 cts

Market cap

S$508 m

PE (trailing)

10.5

Dividend yield (trailing)

--

1-year return

122%

Shares outstanding

1.3 b

Source: Yahoo!
The stock closed at 39 cents today, up 122% from a year ago, for a market cap of S$508 million.

Oilprice.com ventured that the strength in oil prices is largely attributed to geopolitical risk as Ukraine faces a possible Russian invasion.

"The next major move in oil could be triggered if inventories fall to critical levels," the website said in a 30 Jan 2022 article.

"Wall Street's consensus seems to be that Brent will reach US$100 by the summer."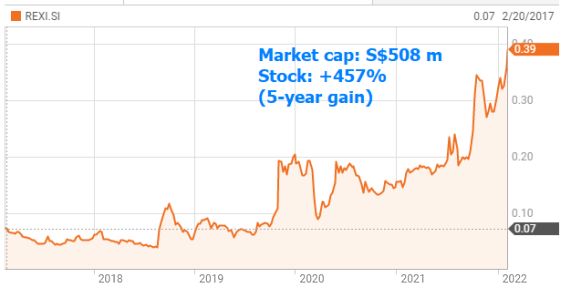 Chart: Reuters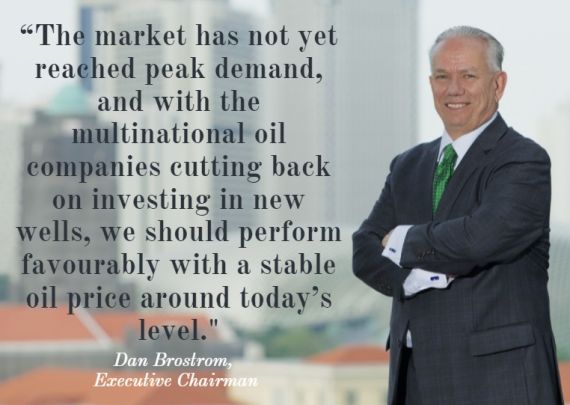 Source: Interview with Rex chairman Nov 2021


The stage for oil prices to rise had long been set as the world races towards renewable energy and put pressure on investments in fossil fuel exploration.

The under-investment will result in supply-demand dynamics favourable to oil producers for many years before oil heads into a permanent decline as renewable energy takes over.

(For the same reason, coal prices have been gaining strength, benefitting stocks like Geo Energy and Golden Energy & Resources).

There are also company-specific factors that have increasingly endeared Rex to investors, including:



Rex said on 26 January 2022, it obtained approval in-principle from the SGX-ST for transfer of listing from Catalist to the SGX Mainboard.

It said the move would enhance the long-term value for shareholders of the Company for the following reasons:

(a) it would provide the Company with a wider platform to reach out to a larger investor base (which may include institutional investors and/or overseas-based investors);

(b) it would promote the Company's corporate and business development profile and provide the Company with greater visibility and recognition in the capital markets and amongst public investors;

(c) it would facilitate more research coverage; and

(d) it would enhance the Company's branding and sustainability for talent attraction and acquisition.

Rex senior management



On Oct 19, 2021, Rex said the Board has adopted a dividend policy, which allows for dividend to be paid-out subject to eligibility, for its FY2021 results.

The dividend will supported by strong cashflow and Rex's 2021 earnings which UOB Kay Hian has forecasted to reach US$50m, vs a US$14m loss in 2020. (Full report here.)


• Jump in production capacity

Oil production in Oman by Rex in 2021 increased with the addition of two production wells to the existing Yumna 1. The Yumna 2 well and Yumna 3 well started production in Jan and Feb 2021, respectively.

In Norway, Rex's 90% subsidiary Lime Petroleum AS (LPA), acquired a 33.8434% interest in the Brage Field, transforming LPA from pure-play exploration to a full cycle exploration and production company on the Norwegian Continental Shelf.

The acquisition establishes recurring cash flow, as well as develop and drive further value in LPA's existing portfolio.

In addition, LPA continues to mature its Shrek, Fogelberg and Falk discoveries towards development and production. Contingent resources estimated by various qualified persons in the three discovery assets and attributable to LPA, total 27.74 mmboe.