For shipping-cum-oil-and-gas specialist Dan Broström, his diverse career journey - which spanned three continents and four industries - has taught him that success comes to those who dare, and act with integrity.

"Fortune favours the bold - but only if you are honest," quipped the Executive Chairman of SGX-listed oil and gas exploration and production company Rex International Holdings Ltd.

"Trustworthiness and honesty are some of my most important values. In order to succeed, I believe that not only do you need determination and courage, you must have moral strength."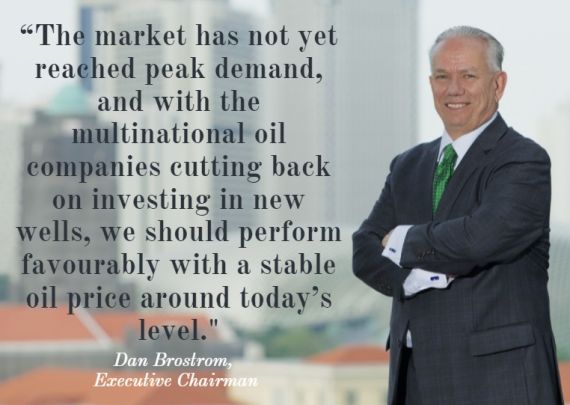 The 78-year-old Swede, who earned his Economics degree from Stanford University in the US and Bachelor of Arts in Economics degree from Gothenburg University in Sweden, has held senior roles in shipping, real estate, management consulting, and now, the oil and gas sector.

"My work in various industries has taken me to different parts of the world, and I've lived for years in London, Australia, Hong Kong and Taiwan," he recalled.

Broström, who has been with the Group since 2011, was appointed Rex's Chairman and Executive Director in January 2013.

"Rex has a Scandinavian connection through its majority shareholders, who consider Asia an important market for the oil company. In 2013, I was already working in Singapore, and they asked me to join them to help Rex tap the regional markets," he added.

Rex International was founded by three Scandinavians - Dr Karl Lidgren, Hans Lidgren and Svein Kjellesvik. Since the Group's listing on SGX Catalist eight years ago, it has achieved four offshore discoveries, one in Oman and three in Norway.

Rex's key differentiator from other exploration and production companies is its proprietary liquid hydrocarbon indicator Rex Virtual Drilling (RVD), which can pinpoint the location of oil reservoirs in the sub-surface using seismic data.

The Group also offers RVD screening services to other exploration companies as an additional tool to increase the success rate of finding oil.

Last year, Rex stepped up from oil exploration to the next level, becoming a full-fledged oil exploration and production company, as it achieved first oil in Oman with a low-cost structure.

In the Singapore Corporate Transparency Index 2021, Rex ranked 38th among 519 Mainboard- and Catalist-listed companies, up from 55 out of 577 companies in 2020. It has been the highest ranked among Singapore-listed oil exploration and production companies for the sixth consecutive year.

Boosting Output

Looking ahead, the Group remains focused on raising its reserve and production levels, Broström said.

"Production in Oman in the first half of 2021 is almost on par with the production for the entire 2020. Brent oil price has increased four-fold from about US$20 a barrel in April 2020 to above US$80 a barrel at present. With our production costs maintained at US$80,000 per day, the higher production levels translate into lower costs per barrel."

In June 2021, Rex announced that its 90% subsidiary Lime Petroleum would acquire a 33.84% stake in Norway's producing Brage Field.

Output from the Brage Field of an estimated 3,440 barrels of oil equivalent per day (net) is projected to add another leg to the Group's current oil production in Oman of around 10,000 barrels of oil per day (gross), with effect from 1 January 2021, upon completion of the acquisition. The acquisition is expected to be completed in end-November 2021.

"The investment in the Brage Field will give us a second production field, minimise production risks, as well as add to the Group's reserves and contingent resources," Broström pointed out.

"Studies are already ongoing with regard to in-fill drilling for production and new exploration drilling of high value, near-field prospects in the Brage Field."

The three discovery assets in Norway - PL1125 Falk, PL433 Fogelberg and PL838 Shrek - are also slated to be further developed in the near future.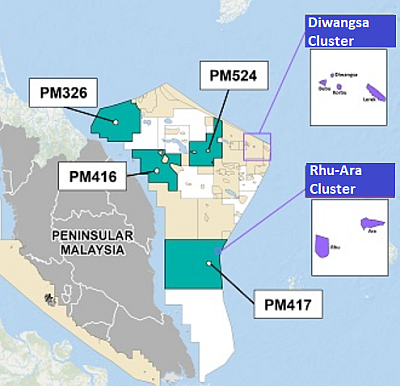 Over the next 2 years, Rex will focus on the pre-development phase of 2 oil clusters off Peninsula Malaysia.In August 2021, Rex announced that, with its Malaysian partner, it had signed two Production Sharing Contracts (PSCs) awarded earlier by Petroliam Nasional Bhd (Petronas), Malaysia's national oil corporation.

These PSCs are related to the development and production of the Rhu-Ara and the Diwangsa Clusters located in offshore Peninsular Malaysia. The Rhu-Ara Cluster contains two discovered oil fields, while the Diwangsa Cluster contains four discovered oil fields.

"Over the next two years, our focus will be on the pre-development phase of the Clusters. The anticipated production will further grow the Group's production and reserves base," Broström said. "We'll leverage on our experience in Oman, where we've proven to be an effective operator, to make these assets a success."

Seeking Alternatives

Even as it expands on its core operations, Rex is equally focused on business diversification. This can be seen from the July 2021 announcement of its plan to invest up to US$4 million in commercial drone company Xer Technologies.

This investment will allow Rex to take a stake in the fast-growing global commercial drone market, which is anticipated to reach US$501.4 billion by 2028, registering a compound annual growth rate (CAGR) of 57.5% between 2021 and 2028.

"While we believe oil will be in demand for quite some time to come, mostly because of a lack of viable alternatives, it's nevertheless clear that the long-term trend is towards clean and sustainable energy, and therefore, it's prudent for Rex to cautiously engage in alternative investments," Broström noted.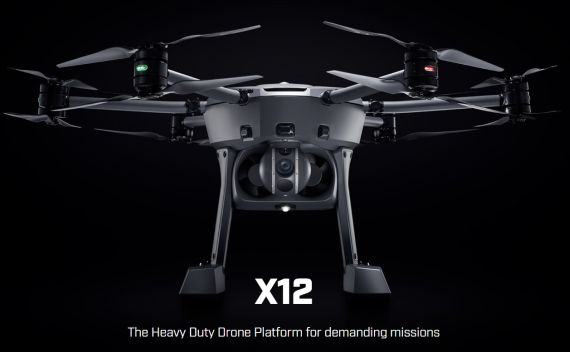 "We believe the drone market has huge growth prospects, and this market is in an infancy stage in many countries, including Southeast Asia."

Xer's unique heavy-duty drones will promote sustainable practices for corporations and government institutions by replacing larger and heavier modes of transport for a wide range of applications, minimising environmental impact and reducing carbon emissions.

"The strategy is to develop alternative businesses that can grow rapidly and be part of the Group when the demand for oil subsides. In order to achieve that, we need to find early-stage investment opportunities that Rex can acquire and become the dominant shareholder in, so that we're involved with operating and growing the business from the start," Broström added.

Prudent Management

Although the market at large is turning away from fossil fuels, this change in the global energy industry will take time. "In particular, medium-sized oil companies with low production costs and overheads will do well in the next couple of decades," Broström said.

"The market has not yet reached peak demand, and with the multinational oil companies cutting back on investing in new wells, we should perform favourably with a stable oil price around today's level. The oil is there, and so is the demand - it's just a question of price."

Nonetheless, the volatility of crude prices since 2014, exacerbated by the COVID-19 pandemic on oil demand in 2020, has been challenging, he admitted.

"We've been very prudent with our cash management, and the Group has strived to maintain zero long-term debt since we listed in 2013. This is what saved us during the hard years of 2015 to 2020," he added.

As at 30 June 2021, the Group's cash and cash equivalents and quoted investments totalled US$46.23 million.

Meanwhile, in terms of its Environmental, Social and Governance (ESG) goals, Rex is focused on maintaining Health, Safety, Security & Environment (HSSE) policies for its workers, as well as complying with various international environmental laws and regulations. The Group also aims to create value for stakeholders by managing a sustainable supply chain.


While he remains proud of the fact that Rex is the only true international oil and gas company of size on SGX today, Broström worries about how this would impact the broader investment community.

"Being the only oil and gas company of size on the Singapore bourse, there isn't enough research capacity that tracks the oil exploration and production market. This makes it difficult for investors to understand us and our industry," he pointed out.

While confident of Rex's prospects and worth, Broström is disappointed that the Group has been undervalued by the market, against peers listed in other jurisdictions.

"For 1H FY2021, we posted robust revenue and profit after tax, up 420% and 220% year-on-year respectively. At the end of the day, these results speak for themselves, and are a testament to the Group's true potential," he added.

"Rex hopes to attract, as shareholders, value investors who can see the Group is in a very strong position to achieve good EBITDA and profit going forward. To this end, we're working on a dividend policy, as well as having ongoing discussions about moving to SGX Mainboard."



Rex International Ltd

Rex International was founded by three Scandinavians - Dr Karl Lidgren, Hans Lidgren and Svein Kjellesvik. Since its listing on SGX Catalist in July 2013, the Group has achieved four offshore commercial discoveries, one in Oman and three in Norway. The Company de-risks its portfolio of exploration and development assets using its proprietary liquid hydrocarbon indicator Rex Virtual Drilling (RVD) technology to identify the location of oil reservoirs in the sub-surface through analysis of seismic data. The Group also offers RVD screening services to other oil exploration companies as an additional tool to increase the success rate of finding oil.

The company website is: www.rexih.com

Click here for the company's StockFacts page.

For the half year ended 30 June 2021 financial results, click here.

About kopi-C: the Company brew
Text: Jennifer Tan-Stanisic
Photo: Company file

This article was orginally published in kopi-C, a regular column on the SGX Research website that features C-level executives of leading companies listed on Singapore Exchange. These interviews are profiles of senior management aimed at helping investors better understand the individuals who run these corporations.

For previous editions of kopi-C: the Company brew, please click here.