Excerpts from UOB Kay Hian report

Analyst: Clement Ho

UNI-ASIA GROUP (UAG SP)

Under-The-Radar Drybulk Operator Set To Benefit From High Freight Rates

Uni-Asia is a prime beneficiary and laggard of the more than 210% ytd spike in dry bulk freight rates. We believe freight rates will stay elevated at least until end-22 given the:

Uni-Asia Group

Share price:
$1.40

Target:
$2.34
a) supply squeeze as vessels are stuck longer in ports,
b) strong demand for various commodities, and
c) dearth of drybulk newbuilds as buyers stay on the sidelines in anticipation of new ESG standards on vessel emissions.
We initiate coverage on UniAsia with a BUY. Target price: S$2.34.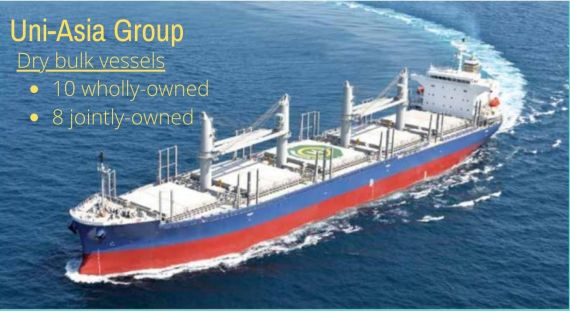 • Drybulk operator with solid dividend track record. Listed on the Singapore Exchange since Aug 07, Uni-Asia Group (Uni-Asia) operates two key segments: shipping and property. Under shipping, Uni-Asia has a combined fleet of 18 handy-sized drybulkers, with 10 wholly-owned and eight jointly-owned.

The fleet is typically hired out on a time charter basis, with Uni-Asia undertaking most of the voyage expenses, including bunker, port, fuel and crew costs. Uni-Asia has a solid dividend track record since 2017 and continued paying dividends despite a loss-making 2020.

• Freight rates to remain elevated till at least end-22. The recent spike in drybulk freight rates was primarily caused by a supply squeeze (as vessels are stuck longer in ports) and strong demand for various commodities. Furthermore, a meaningful increase on the supply end is absent, based on the global outstanding orderbook for smaller-sized vessels (up to 40,000 dwt).

This is because buyers are staying on the sidelines of new orders in anticipation of new ESG standards on vessel emissions. Also, any new vessel orders placed now will still require at least 24 months of construction.


We believe a perfect storm has begun for a demand surge in the dry bulk industry, where shipowners will likely benefit with the anticipation that freight rates will stay elevated into end-22.

• Renewal of vessels' rate to boost earnings. Of the 10 wholly-owned dry bulk carriers, six are up for renewal in 2H21 and three in 1H22.

Based on current freight rates, we estimate that 2H21 and 2021 revenue would rise 38% and 42% respectively on a yoy basis, translating to a significant EPS turnaround in 2H21 at 4.57 US cents (2H20: -4.97 US cents) and 2021 at 21.7 US cents (2020: -9.8 US cents).

As charter rates remain elevated in 2022 given the industry supply shortage, our estimates suggest a revenue growth of 15% in 2022, which implies a two-year CAGR of 27.1% over 2020-22.


• Initiate coverage with BUY and a target price of S$2.34, pegged to 8x 2021F PE (-1 SD to the mean).

This compares to regional peers which trade at an average 8.6x 2021F PE. Current valuations for Uni-Asia are attractive at 4.8x/4.2x 2021/22F PE and 2022 dividend yield of 4.3%.

Historically, the low valuation peg appended to Uni-Asia was due to a lack of liquidity, which we believe will improve given the strong earnings profile.

Full report here.