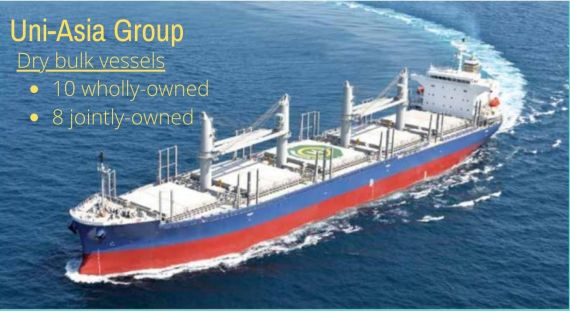 Surging demand for commodities, strong demand for cross-border trades, disruption (such as port congestion) all have boosted the dry bulk market.

There is also limited new supply of, especially, handysize bulk carriers in the coming few years arising from historical low newbuilding orderbook.

How Uni-Asia's stock has done: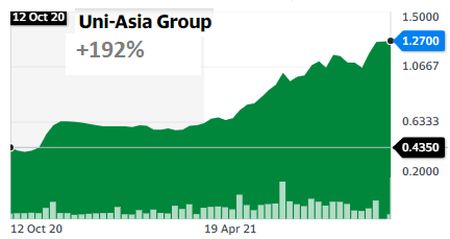 Uni-Asia currently has a market capitalisation of about S$100 million, or 3X higher than 12 months ago. Chart: Yahoo!

The stock rise reflects the expected surge in its earnings as charter rates have rocketed up (see Baltic Handysize Index chart below).

Uni-Asia's all-in operating costs (including depreciation) for its vessels is estimated to be about U$9,000 a day.

In the market, spot charter rates for handysize vessels have breached US$30,000 a day. (See industry figures here)

While Uni-Asia's vessels are chartered out for varying durations, the spot rates strongly indicate the high profitability that ship owners are enjoying.

The Baltic Handysize Index is a measure of the strength of spot freight earnings for smaller dry bulk vessels. How it has done: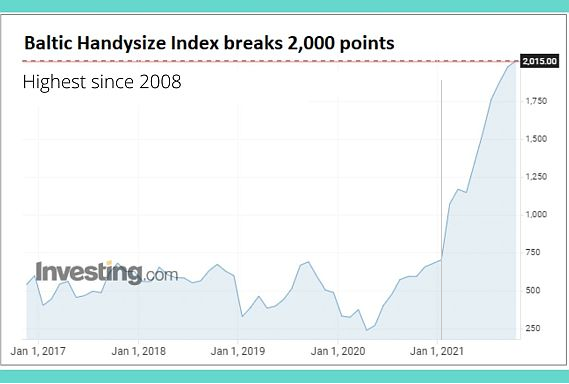 Given how the Handysize index has surged since the start of 2021, Uni-Asia's earnings trajectory is expected to be meteoric. Its 1H2021 profit was US$7.0 m, reversing from a US$3.9m loss in 1H2020.

The 2021-2022 outlook:

"While countries enforce quarantine and testing requirements, and ports face sudden disruptions due to local and regional outbreaks, the congestion that is draining the market of capacity will continue to support earnings in the dry bulk market.

"The market is expected to stay strong into 2022 until the factors that are currently beneficial to the market such as congestion and pandemic related delays, spill-over from the red hot container market, stimulus driven demand and strong growth in the manufacturing sector become less so."

-- BIMCO article.


(Bimco is the largest direct entry shipping organisation with 1,900 members in more than 130 countries)
"The Group's 10 wholly-owned dry bulk carriers are currently on relatively short charter periods due either in 2H2021 or in 2022, and would be able to reap favourable returns from the ongoing bullish shipping market."
-- Uni-Asia Group, 13 Aug 2021 announcement