The Trendlines Group announced that, after reviewing the economic outlook and the Group's potential financial prospects, the Board has adopted a dividend policy to take effect from 1 July 2021.

The policy was formulated "to give clearer expectation to shareholders of potential dividend pay-outs which will be pegged to the cash position of the Group for the relevant financial year," said Singapore-listed Trendlines.


Stock price

10.8 c

52-week
range

8.1 – 12.3 cts

PE (ttm)

--

Market cap

S$85.5 m

Shares outstanding

791.2 m

Dividend
yield (ttm)

--

1-year return

-3.7%

Source: Yahoo!
It has not paid any dividend since its listing in Nov 2015 but the possibility of a dividend is now heightened by a potential sale of a Trendlines portfolio company.

The unnamed portfolio company has received a letter of intent from an unnamed public corporation for the latter to acquire the former.

Trendlines said on 29 April 2021 that if the transaction is completed, its share of the sale proceeds to be received in cash is estimated to be approximately SGD 22 million (USD 16 million).


Dividends will be paid from the Company's Net Exit Proceeds (as defined below) according to the following formula:

• Net Exit Proceeds received during any financial year will first be applied, if necessary, to bring the Company's year-end cash balance to US$15 million.



•

Once this cash goal is met, at least 20% of the remaining Net Exit Proceeds will be paid as dividend, provided that the calculated amount is at least US$1 million.

The dividend payment is subject to Board's approval and the fulfilment of the relevant conditions prescribed by the Israeli Companies Law for the declaration of dividends.

Exit proceeds means the cash actually received by Trendlines for the relevant financial year, including by way of royalties from the occurrence, in a single transaction or in a series of related transactions, of any one or more of the following events with respect to a portfolio company:

(i) a sale or other conveyance of assets of a portfolio company (including the grant of an exclusive license of the intellectual property rights of the portfolio company not in the ordinary course of business);

(ii) a sale or other disposition of the outstanding securities of the portfolio company;

(iii) a merger, consolidation or similar transaction following which the portfolio company is not the surviving corporation ("Exit Proceeds").

Net exit proceeds means Exit Proceeds less any taxes or expenses that the Company is required to pay in connection with the exit ("Net Exit Proceeds").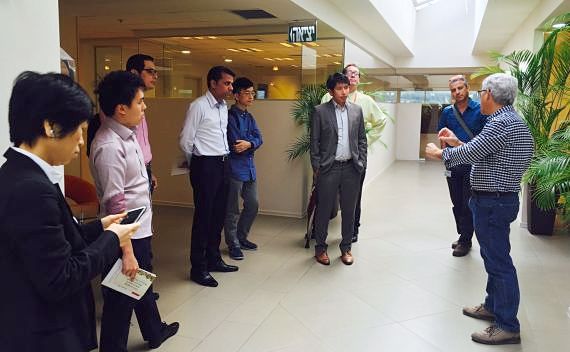 Trendlines Co-Chairman Todd Dollinger takes Singapore investors and analysts on a tour of Trendlines office in Israel in 2016.


By way of example, in a given financial year, the Company has Net Exit Proceeds of US$20 million and a year-end cash balance of US$25 million (inclusive of the Net Exit Proceeds).

Then the dividend paid following the end of that financial year would be at least US$2.0 million, being 20% of the Net Exit Proceeds in excess of the US$15 million year-end cash balance.

In the same example, if the year-end cash balance was US$35 million (inclusive of the Net Exit Proceeds), then the minimum dividend would be US$4.0 million.


Plausible scenarios in any given financial year

Scenario 1

Scenario 2

Scenario 3

Example of Net Exit Proceeds

US$20 million

US$20 million

US$20 million

Year-end cash balance, inclusive of Net Exit Proceeds

US$15 million

US$25 million

US$35 million

Cash balance in excess of cash goal of US$15 million

US$ 0 million

US$10 million

US$20 million

Minimum total dividend payable (20% of remaining Net Exit Proceeds)

N/A

US$2.0 million (~S$2.66 million)


US$4.0 million
(~ S$5.32 million)



Under the Israeli Companies Law, a company may affect a distribution only under certain conditions and only out of its distributable profits, provided that the Board determines that there is no reasonable concern that such distribution will prevent the Company from satisfying its existing and foreseeable obligations.